Taco Bell answering late night prayers with 'quesarito'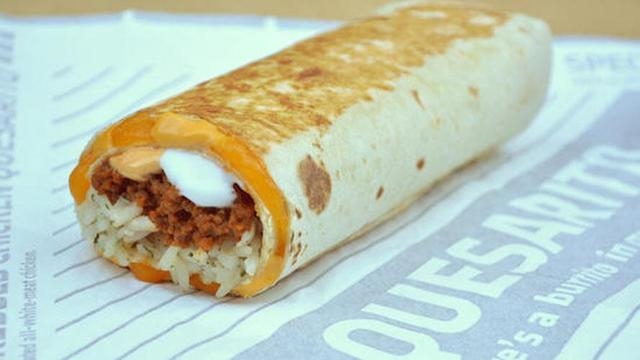 Big Chipotle fans may be familiar with the "quesarito" as a pricey secret menu option, but now Taco Bell is introducing it as one of the main choices.
Yes, you late night Bellers, this is really happening.
In case you are one of the uninitiated, a quesarito is a burrito wrapped in a cheese quesadilla.
The burrito's basic ingredients won't change — beef, rice, chipotle sauce and reduced-fat sour cream wrapped with a cheesy quesadilla — but you can spice things up a bit with shredded chicken or steak for another dollar.
"We're constantly hearing stories about two great things coming together to create something extraordinary and that takes on a life of its own," Chris Brandt, Taco Bell's chief marketing officer, said in a release.
True Taco Bells fans know that the company is not shy when it comes to combining menu items to satisfy those fast food cravings. A secret menu favorite is the "enchirito," which is a burrito dressed up as an enchilada. Another one is their now infamous waffle taco, part of the company's effort to compete with McDonald's.
The quesarito has been testing in Midwest Taco Bells since February, and hits participating stores in the national market on June 9.
Contact Kristen DeSilva at kdesilva@reviewjournal.com. Find her on Twitter: @kristendesilva