Tarkanian proposes CD3 debate; Rosen campaign calls it a 'sham'
September 26, 2016 - 1:59 pm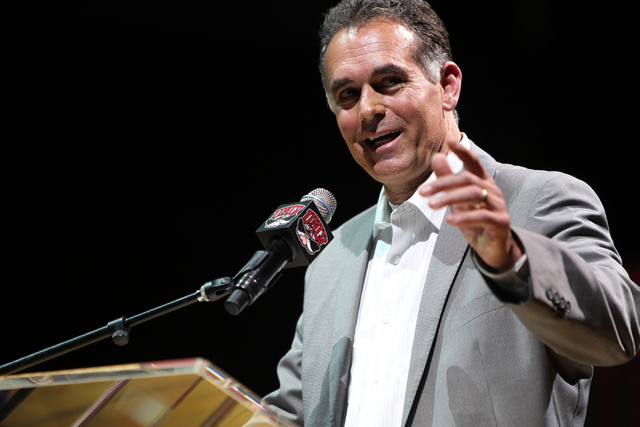 Danny Tarkanian's campaign has proposed a televised debate to opponent Jacky Rosen in the 3rd Congressional District race, one that the Rosen campaign manager is calling a "sham."
Under Tarkanian's proposal, sent Sunday to her campaign, the debate could be Oct. 3 or Oct. 4, with Sam Shad and Ray Hagar of Nevada Newsmakers as moderators. Their show airs statewide.
Tarkanian, the Republican candidate, and Rosen, the Democratic candidate, are squaring off for the open seat of U.S. Rep. Joe Heck, R-Nev., who is running for U.S. Senate.
In a statement, Tarkanian Campaign Manager Jonathan Gormley said the district deserves a debate that shows the "contrast between Danny Tarkanian, an independent voice for Nevada, and Jacky Rosen, hand-picked by status quo insiders like Harry Reid."
Rosen's campaign had proposed two debates on Aug. 9, one on KTNV-TV, Channel 13, moderated by political pundit Jon Ralston and another on NBC/Telemundo, both to air sometime in October.
Rosen's campaign said Tarkanian's camp is unrealistic: the proposed dates fall on Rosh Hashanah, a Jewish high holiday. Rosen, a prominent Jewish leader in the region, is a former president of Congregation Ner Tamid in Henderson.
Her campaign also notes that proposed moderators Shad and Hagar live in Northern Nevada, yet the race is in a congressional district in Clark County.
"Danny Tarkanian should be embarrassed because he has been involved in enough failed political campaigns to know that this debate proposal is a sham," Rosen Campaign Manager David Furr said.
Tarkanian's campaign says it's open to hearing about other dates that would work.
The district includes parts of the southern Las Vegas metropolitan area and extends south to the state's borders with Arizona and California.
It's a competitive district, and registration figures show Democratic voters have a slight edge. The district has 136,761 Democratic voters, and 130,522 Republican voters, according to Nevada secretary of state figures for August. Another 94,712 voters aren't affiliated with a party or belong to a third party.
Contact Ben Botkin at bbotkin@reviewjournal.com or 702-387-2904. Follow @BenBotkin on Twitter.
RELATED
Congressional candidate Jacky Rosen proposes two debates with opponent Danny Tarkanian
Congressional candidate Tarkanian hypes Trump at convention
Congressional candidate Jacky Rosen a newcomer, unknown to most Southern Nevadans
Rosen announces bid for Democratic nomination for 3rd Congressional District