Teacher works to revive Desert Oasis' once-thriving drama department
December 3, 2015 - 2:58 pm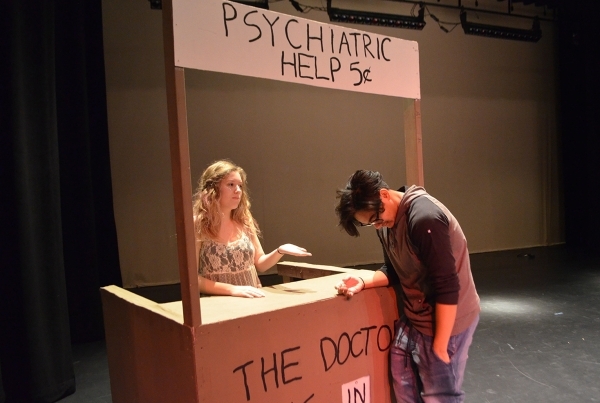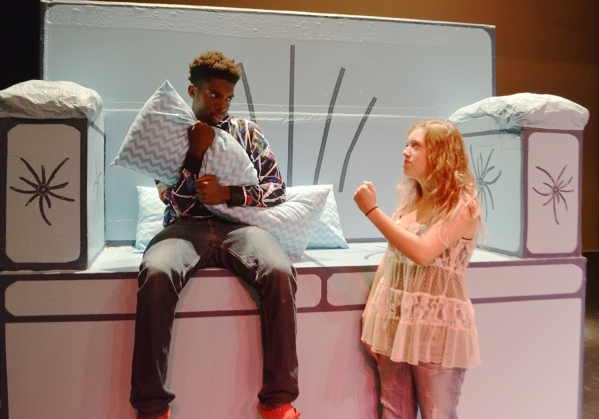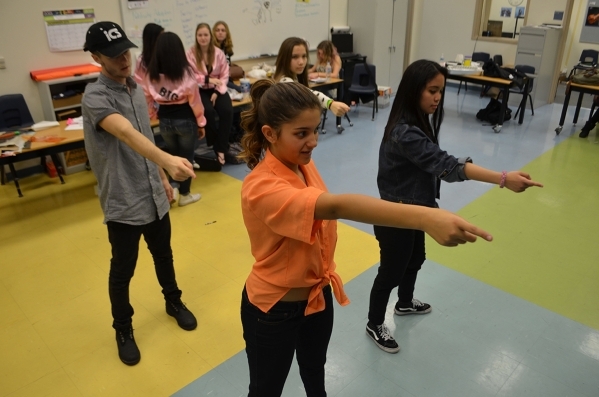 Desert Oasis' drama department, a once-proud award-winning program, was on the brink of being disbanded when it was saved by a teacher named Nancy Brown, who is preparing to direct students in "You're a Good Man, Charlie Brown" Dec. 9-12.
Brown said three years ago, the program was strong with more than 200 students, when the theater teacher had a heart attack and died. Another teacher took up the challenge, but when he left at the end of last year, the school at 6600 W. Erie Ave. wasn't in the position to hire a new instructor.
"They were actually going to get rid of the theater program," Brown said. "It was going to be gone for a year. They couldn't hire a new theater teacher from outside the school, but I had my bachelor's degree in theater, and I was already working in the special education department, so they asked me if I would take it over."
Students are greatful Brown stepped in.
"There were rumors, 'Oh, they're shutting us down,' and we were sad because high school is hard, and this has been like a home for a lot of us," said Jordyn Ross, who plays Lucy in "You're a Good Man, Charlie Brown." "We all feel comfortable in the theater, and we've all really bonded with each other. So it was scary when we thought it was over. It was really great to find out that it wasn't being canceled and that we would still have our program."
Theater club president and the show's stage manager Diana Martinez said she was ready to fight.
"I was going to petition," she said. "I was fundraising, doing everything I could to keep this program afloat, because it's meant everything to me since my freshman year. I got involved in it as soon as I got into high school. I just didn't want to see it go down."
Kimberlee Wiggins, who plays Sally Brown, said she, too, was devastated at the prospect of no theater.
"Theater has always been my passion," she said. "And I've dreamed about coming to theater as a high schooler and getting all involved, so when I heard that, it was definitely devastating to me. Then when we found out it was going to come back, I was ecstatic."
Brown said that aside from being a play she loves with her surname featured prominently, "You're a Good Man, Charlie Brown" is the perfect fit for a drama and technical theater department that's down to 65 students.
"It's a smaller play, and the theater department is small right now, but we're trying to grow it," she said.
Ross loves the show.
"It's so fun, and it's really cute, and it's funny, and I'm really honored to be such a big part of it," she said.
She said it's been particularly fun to work on the show with "The Peanuts" movie in theaters.
"When we go see it, we're like, 'Oh, that's me.' It's really exciting, and it's cool that the timing is really close," she said.
Wiggins said she was thrilled to be cast as a lead in the show.
"Sally Brown is one of those roles that is your dream role," she said. "If you could pick any role that you've ever wanted to be, I've always wanted to be Sally Brown. So I was absolutely super excited when I found out. 'My New Philosophy' is the song that she sings, and I've been singing that song forever. That's always been my song. She's sassy, and she's spunky, and she's just my favorite person right now."
The role of Charlie Brown went to Rommel Viray, a senior from Southwest Career and Technical Academy, 7050 W. Shelbourne Ave. The magnet technical school doesn't offer theater, so Viray is eligible to participate at Desert Oasis, his zoned school.
"I've always had an interest in theater, but this is my first time in a musical," Viray said. He found out about the show and the program from friends in the High School Jesters Improv League.
Karl Howard, who plays Linus, had no idea the show was a musical until auditions. With no background in music or dancing, he said he was a little shocked and scared.
"But all the cast members are like family now," he said. "I'm used to it now."
Performances of "You're a Good Man, Charlie Brown" are scheduled for 6 p.m. Dec. 9-11 and 7 p.m. Dec. 12 in the Desert Oasis High School theater. Opening night admission is $5 or free with a blanket to be donated to the Linus Project. Tickets for Dec. 10-12 are $7. A fundraising dinner is scheduled to proceed the show at 5:30 p.m. Dec. 12. Tickets for the dinner are $15. Dinner and performance tickets combined are $20. Proceeds from the dinner are slated to go to the aMasongrace Project, a local charity supporting student well-being and self-esteem. For more information, visit amasongraceproject.com.
For show tickets, visit tinyurl.com/docharliebrown.
— Contact View contributing reporter Ginger Meurer at gmeurer@viewnews.com. Find her on Twitter: @gingermmm.
'You're a Good Man, Charlie Brown'
Desert Oasis High School theater, 6600 W. Erie Ave.
Performances: 6 p.m. Dec. 9-11 and 7 p.m. Dec. 12
Opening night admission: $5 or free with blanket to be donated to the Linus Project; tickets for Dec. 10-12, $7. Purchase at ShowTix4U.com
Fundraising dinner
5:30 p.m., Dec. 12
Tickets: $15; dinner-show tickets, $20. Proceeds from dinner go to amasongraceproject.com