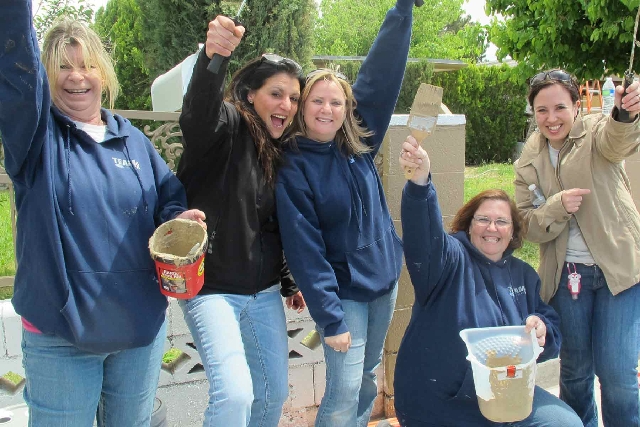 A local family living in a decaying home in a neighborhood behind the College of Southern Nevada's Cheyenne campus was recently the beneficiary of A Brush with Kindness, a program recently adopted by Team Ford Lincoln through Habitat for Humanity.
Cleaning, painting and repair efforts for houses neighboring other homes that Habitat for Humanity is building are performed by A Brush with Kindness volunteers . Team Ford members who participated in the most recent effort included Rachel Arvelo, customer relations manager; Kristine Rankens, executive secretary; Melanie Cox, titles clerk; Louise Johnstone, contract clerk; Carla Dalba, service adviser; Diego Villanueva, service valet; Dona Kennedy, service operator; Kelly Henderson, contract manager; Victoria Doorty and Sue Walton-Robertson, human resources.
A Brush with Kindness selects families based on income, need and willingness to partner. Habitat affiliates use volunteer labor and donated materials to keep costs low and take no profit for their services.
"It's really remarkable. Neighborhoods are revitalized, community connections are made and affordable housing inventory is preserved ," Arvelo said.
This program would not be possible without the generosity of Valspar paint, the co-founder and underwriter .
"It's such a great program. Habitat for Humanity offers these services because it helps families live in safe and well-maintained homes and we feel great about giving something back to the community. It's wonderful seeing our 'Team' out there," said Walton- Robertson, human resources director for Team Ford Lincoln.
Team Ford Lincoln, 5445 Drexel Road, has been the No. 1 Ford volume sales dealership in Nevada for five years. Visit www.teamford.com for more information.