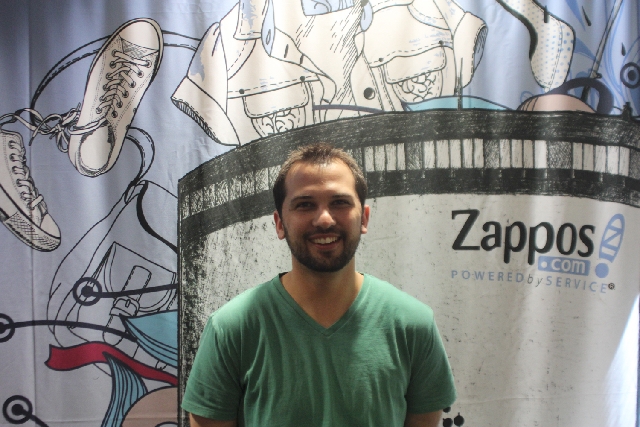 Fifty thousand more jobs in Nevada by 2014 is Gov. Brian Sandoval's grand goal in the two-year economic development plan he unveiled last year.
The plan, titled "Moving Nevada Forward," aims to diversify the state's economy by "identifying and removing obstacles to business growth," he told media at the unveiling.
But a few Las Vegas companies had already started introducing innovative products and services even before the governor embarked on this goal to lure new industries to the Silver State.
One such company is Switch, which for more than a decade has served the data storage, colocation and cloud computing needs of more than 500 companies, including some Fortune 1000 companies.
At full build-out, Las Vegas-based Switch will occupy more than 2 million square feet, making it the world's largest data center ecosystem, the company said.
Besides developing this data center, Switch developed the InNEVation center, a "unique integration of public and private business co-working space with a core mission to boost and diversify the Las Vegas economy through championing the tech startup community."
Another company that has diversified the local economy is Zappos, the online shoe retailer whose name has become synonymous with superb customer service. It has called Henderson home for several years but will soon move to downtown Las Vegas, where it is has been the main player for the area's revitalization.
Also in Las Vegas is Bigelow Aerospace, a company dedicated to "providing affordable options for spaceflight to national space agencies and corporate clients." The company has spent more than a decade in research and development to create affordable and reliable habitats in outer space.
Bigelow Aerospace, headquartered in North Las Vegas, expects these space habitats "to revolutionize space commerce."
Switch, Bigelow Aerospace and Zappos have all brought diversity in local commerce and, some say, have slowly started transforming the region's tourism-reliant economy.
Las Vegas is perfect place for data storage
Rob Roy, Switch's founder and chief operating officer, is a longtime Las Vegas resident. Apart from calling the city home, Roy discovered that the place is the "safest desert in the planet, free from natural disasters and disturbances," said Jason Mendenhall, executive vice president of cloud computing at Switch.
It was the perfect place to set up Roy's vision for the "world's safest data storage, lightning-fast Internet speed, the globe's most affordable connectivity, the world's most robust cloud ecosystem and 100 percent uninterrupted up time to keep businesses running at peak performance."
"In addition, Las Vegas provided the opportunity to recruit a strong team of technology professionals, and the community leadership has been incredibly collaborative in our efforts to grow the technology industry in Nevada," Mendenhall said. "It's a winning combination."
Switch's product is a highly secure fiber optic connectivity, not the actual hardware that will store data of its clients. A cooling technology that ensures that a client's operations will never go offline is also a guarantee. Switch links to more than 25 telecommunication providers' networks nationwide, allowing its customers to route their data anywhere in the country.
The Switch SuperNAP is the most reliable and advanced technology ecosystem and data center in the world, providing colocation, connectivity, cloud and Switch campus office opportunities, officials said.
"We've introduced a new industry segment that has helped diversify the local and state economy," Mendenhall said. "Over the last several years, Switch has built out more than a billion dollars of data center infrastructure ecosystems."
For its successful operations, Switch was cited in Sandoval's 2011 State of the State address. He said, "There's a treasure in our state that can launch this new focus on innovation. Switch is a 2 million square foot technology ecosystem campus in Las Vegas."
Switch's growth is a testament to the dedication of Rob Roy's team in technological innovation. But Roy is also passionate about contributing to the community. He does this through a center that he created solely for championing economic diversity.
"As the most successful technology entrepreneur in Nevada's history, Rob Roy is extremely passionate about enabling a more diverse Nevada economy," Mendenhall said.
"The InNEVation Center is a commitment to pay forward the success of Switch by helping to foster collaboration with Nevada's public economic entities and empower Nevada's next generation of successful startups," he said.
The center, which Switch sponsors annually for more than $1 million, is a public-private economic diversification effort.
"We bring together entrepreneurs, business leaders, mentors, investors, educators and government agencies," Mendenhall said.
Among its many activities, Switch's InNEVation center hosts networking conferences for business leaders from around the country. Its regular speakers' series offer presentations around the United States and in other countries provides an avenue for thought leadership on economic diversification. In the process, the center markets Las Vegas and its business attributes to a worldwide audience.
"These endeavors position Switch as one of Nevada's leading business diversification philanthropic organizations," Mendenhall said.
Switch employs approximately 4,000 people, making the company one of Southern Nevada's largest employers.
"We hope to see more of this in the future," he said, "as this industry grows and more companies move to Vegas due to the proximity to the Switch SuperNAPs."
He said the company, besides bringing employment opportunities, has attracted clients and partners from around the world to make both Switch and Las Vegas their home.
Tapping Las Vegas' untapped technology community
Making Las Vegas its home is one of Zappos' objectives as it recognized the potential the city can bring to the company.
"Las Vegas is the entertainment capital of the world and came with additional perks, including affordable cost of living, around-the-clock entertainment and an untapped technology community for future growth," Zappos Recruiting Manager Michael Bailen said .
That it is the embodiment of great customer service was what sold Sin City to Zappos officials looking to transfer the company's headquarters.
"(Zappos CEO) Tony Hsieh and other officials wanted to embody this element and root the business in these surroundings," Bailen said. In 2003, Zappos moved its headquarters to Henderson from San Francisco .
Only four years before transferring to Nevada, the Northern California-based Zappos was a fledgling company that sold what it aimed to be the "best selection" of shoes online. Its founder Nick Swinmurn was also passionate about giving the "best customer service" as well. Swinmurn's team, which included Hsieh, translated this combination into an annual sales figure that quadrupled after only two years.
Beyond the wide selection of shoes, the company's lightning-fast growth was sparked largely by the word-of-mouth advertising of its excellent service.
Zappos' core value is delivering "wow" through service.
"This concept is paramount to every employee, regardless of position," Bailen said.
On its website, Zappos notes, "To wow, you must differentiate yourself, which means doing something a little unconventional and innovative. You must do something that's above and beyond what's expected."
An example of going beyond what is expected is giving "surprise" free upgrades to overnight shipping for most customers. Conversations with customers are also never scripted and never timed.
In a media interview, Hsieh said, "Back in 2003, we thought of ourselves as a shoe company that offered great service. Today, we really think of the Zappos brand as about great service, and we just happen to sell shoes."
Ten years after it made Henderson home, the rapidly expanding company is poised to move closer to the center of the city as it transfers its operations to the old city hall building in downtown Las Vegas.
"Zappos is looking to further cultivate the city, especially downtown, into a tech hub, much like hotels and casinos have done for the tourism sector," Bailen said.
Former Las Vegas Mayor Oscar Goodman lauded Zappos' transfer downtown saying, "This move will bring about a critical mass of creative persons to the inner core of Las Vegas in addition to causing a significant shot in the arm for the economy and for new jobs."
Bailen said Zappos' contributions to the community include directly donating money to charities and indirectly boosting the sales of local businesses.
"We are a retailer and a tech company, but we are also consumers," he said. "Every employee becomes a patron whether it be restaurants, entertainment, clothing or services."
Zappos supports such charities as Goodie Two Shoes, Southern Nevada Animal Foundation, Three Square and Nevada Partnership for Homeless Youth.
But what the company considers its significant share in the community is that it has developed "a co-working market for tech businesses and professionals to move to or stay in the valley," Bailen said.
"We have made a large contribution to making this a fertile ground for tech startups," he said.
Level of Las Vegas' education improved
Aside from bringing more jobs, Bigelow Aerospace's greatest contribution is increasing Las Vegas' education level.
"We're bringing more jobs to the community and the education level is increased in the city," Bigelow Aerospace Vice President Jay Ingham said.
On its website, Bigelow Aerospace, said, "The commercial space industry is in its infancy and we are on the front line of the action."
With its highly complex operations that are similar to NASA , Bigelow Aerospace naturally requires highly educated and highly skilled professionals.
Bigelow Aerospace is the brainchild of commercial real estate magnate and longtime Las Vegas resident Robert T. Bigelow, who founded Budget Suites of America. It is this chain of extended-stay, affordable rental apartments that became the model of Bigelow's eventual aerospace business, a dream that was brought about by his fascination for outer space at a young age.
Bigelow Aerospace's 50-acre North Las Vegas headquarters contains its manufacturing, fabrication and testing facilities. It manufactures inflatable space stations that are high technology, low cost and available for rent to any group, organization or country .
"We anticipate that our clients primarily will be governmental and corporate entities interested in building an astronaut program or performing microgravity research. We are committed to providing service tailored directly for their needs," the company's website stated.
"We offer a way for countries to bolster their human spaceflight programs while at the same time reducing their budgets, or for smaller countries that thought human spaceflight was beyond their financial reach to enjoy capabilities that until now only the wealthiest nations have been able to sponsor," it said.
Also in the headquarters is the mission control center that will monitor and operate future space habitats. It also is where the company now monitors its two prototype habitats, Genesis I and Genesis II, which have been orbiting the Earth since 2006.
On its website, Bigelow illustrated how mission controllers sit at multimonitor consoles below two large video walls. These consoles show telemetry, spacecraft position and orbital pass times. They also show data and images transmitted by its two orbiting spacecrafts.
Bigelow's website further showed that communication takes place when either spacecraft passes over any of the company's four ground stations. These stations are strategically located around North America: in Hawaii, in Alaska, in North Las Vegas and in Maine at the former site of Loring Air Force Base.
Bigelow Aerospace's mission control consists of a small team of engineers with various backgrounds that are each responsible for the broad operation of all systems on each vehicle.
Each controller is responsible for vehicle command and control, data acquisition, vision and imagery operations, ground station operations and the development and testing of future Bigelow Aerospace modules.
The mission control now supports only the unmanned Genesis I and Genesis II . But the company expects the North Las Vegas mission control to eventually include system-specific operators who will provide around-the-clock console support when it launches manned space facilities.
Thousands of tech-savvy jobs
Clearly, Bigelow Aerospace, Zappos and Switch are the companies Sandoval envisions ushering in thousands of jobs and diversifying Nevada's economy.
Already, the three companies are aggressively recruiting individuals as they anticipate a boost in their respective businesses in the coming years. Their websites list job openings and instructions on how to apply.
More than the required educational background, work experience or license requirements, the three companies are putting a premium on the attitude of applicants who will be their future employees.
Switch's Mendenhall said the company looks for individuals who are "passionate about supporting internal and external team members, and who possess a good sense of humor as well as world-class business ethics."
"They need to have a dedication to innovation and true technology leadership. Our team is comprised of big thinkers with a commitment to technology, superior client service and a passion for detail and excellence in all they do," he also said.
Bigelow Aerospace' s website, meanwhile, said, "We value bright, intelligent people who can work in a team to meet critical deadlines. The commercial space industry is in its infancy and we are on the front line of the action
The company noted that it has a "fast-moving, hard-working workforce that is continually challenged by our objectives."
Ingham said Bigelow Aerospace prefers individuals with long-term experience in their field.
"Those who are well-established where they are. People who are very stable," he said.
But he added the company will also consider new graduates depending on their academic performance and internships while in college.
Zappos, meanwhile, always looks for an applicant's adaptability to the company's culture.
"Our recruiting team looks at several indicators that the applicant is a culture fit and is also well-suited for the position," Bailen said.
"Zappos has and always will pride itself on culture and subcultures within each department," Bailen said. "Since the creation of the company's 10 core values in 2006, everyone top to bottom has worked hard to protect what's been created," he said.
Noting its No. 1 core value of "delivering wow through service," Bailen said the concept is paramount to every employee regardless of position.
"Our CEO and (chief financial officer) even hop on the phones during peak season to help with call volume," he said.