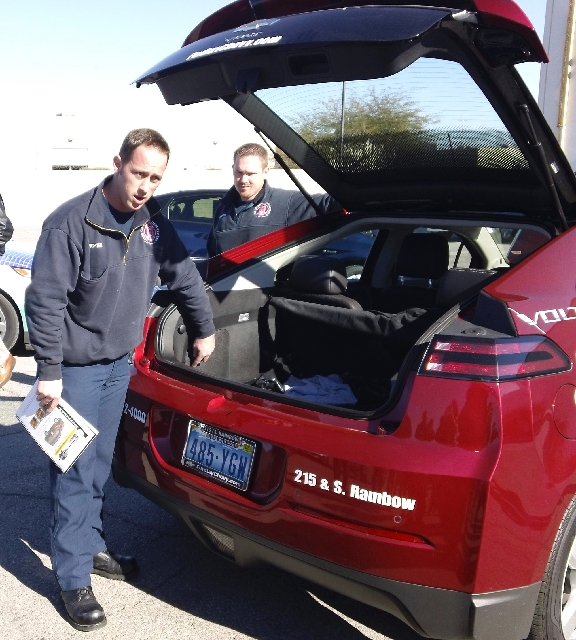 Lithium-ion batteries made headline news last month after battery packs in two Boeing 787 Dreamliners caught fire. This forced the Federal Aviation Administration and the U.S. Department of Transportation to ground Dreamliner flights until the cause of the problem was resolved.
The 787 Dreamliner flight data logs showed that the battery cells were not overcharged during both incidents. FAA investigators have been researching other possible causes for the fires, such as the electronic battery management system, recharging system, software control algorithms, battery-pack design and wiring harness.
These types of issues also must be considered in automobile accidents.
The Traffic Incident Management coalition of Southern Nevada is a multiagency task force studying the best practices for handling traffic accidents that would interrupt the flow of cars and trucks throughout the valley.
The coalition, organized in 2008 through an initiative by the U.S. Federal Highway Administration and the Nevada Department of Transportation, includes members of the Nevada Highway Patrol, Metropolitan Police Department, Regional Transportation Commission, Clark County Fire Department, medical services, hazardous material services, towing companies, highway construction supervisors, Clark County Coroner's office and Atkins Engineering .
During a meeting last month , the coalition studied how to respond to a traffic accident when an electric-drive vehicle was involved. Because electric car motors are quiet when not moving and deliver a lot of torque to the wheels, first responders should assume that an electric-drive vehicle is powered on when approaching, and allow room for sudden surges to the wheels if the transmission is still in drive mode.
The vehicle should then be shut down by putting it in park, pressing the off switch and making sure the green vehicle ready light on the dashboard goes blank.
A website created by the National Fire Protection Association, www.evsafetytraining.org, offers other safety techniques for disconnecting the internal battery packs and extracting injured passengers.
The Clark County Fire Department has begun training its firefighters to understand new alternative-fuel vehicle technologies that run on electricity and natural gas. Personnel are developing a quick reference application for alternative-fuel vehicles that can be downloaded to a mobile phone or tablet computer. Fire Station 18 recently borrowed a Chevrolet Volt from Findlay Automotive Group to create a training video for its firefighters.
Also during January, the 2013 Lithium Supply & Markets Conference was hosted at Caesars Palace by Industrial Minerals to discuss emerging market opportunities for lithium mining companies. Lithium-ion battery cells are composed of a cathode, anode and an electrolyte that allow ions to flow across their chemical components to store and release electricity. Lithium-ion battery cells are a key ingredient for the electrification of the automotive industry and could be a big driver of demand for mining companies, said Ihor Kunasz of TRU Group.
Electric-drive vehicles can contain from 10 to 90 pounds of lithium, depending upon the size of the battery pack.
In Nevada's Esmeralda County, the Clayton Valley has been home to the largest lithium mining operation in the United States. The tiny town of Silver Peak sits on top of an extinct volcano caldera. The nearby Rockwood Lithium mine has been producing both lithium carbonate and lithium hydroxide since 1966, when Kunasz first studied the site .
The mine's extraction process yields lithium by pumping out liquid brine solutions from underground aquifers into surface ponds, and then evaporating away the liquid under the bright Nevada sun. Soda ash is used to separate out the brine into lithium carbonate and sodium chloride. A limestone additive helps convert the lithium carbonate into lithium hydroxide. Both compounds of lithium are used as cathode ingredients for lithium-ion batteries. Harvesting the final products after multiple evaporative stages can take 12 to 18 months, depending upon the wind, rain, heat or other weather conditions .
Bonnie Lind, an energy industry specialist from the Nevada Governor's Office of Economic Development, attended the conference to meet with startup mining companies in the state. Several companies are exploring brine mining operations in the Silver Peak area, with hopes of speeding the evaporative process.
For more information on the lithium mining industry, visit the Industrial Minerals website at www.indmin.com.
Stan Hanel has worked in the electronics industry for more than 30 years and is a longtime member of the Electric Auto Association and the Las Vegas Electric Vehicle Association. Hanel writes and edits for EAA's "Current Events" and LVEVA's "Watts Happening" newsletters. Email him at stanhanel@aol.com.