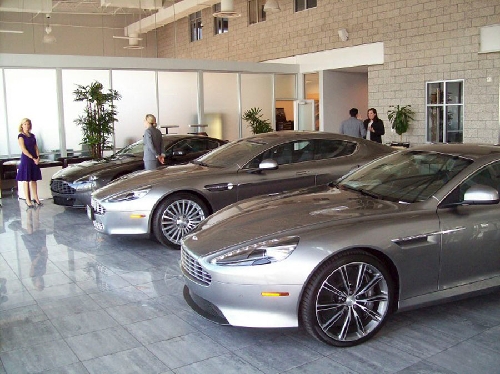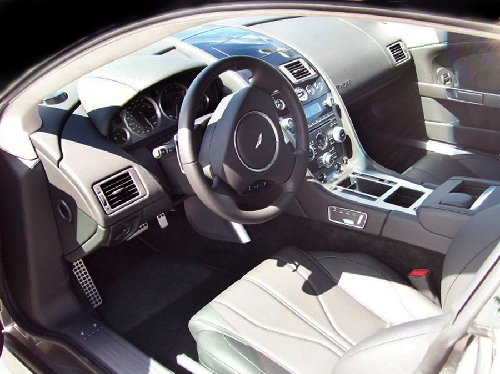 Carolyn Towbin loves art. In fact, the president and CEO of Towbin Automotive Group is not only a collector, but also a great supporter of the local Las Vegas artistic community.
"I've been eyeing that space, and I think it would be a perfect spot for something very special," Towbin said, referring to what most of us would think is just an awkward corner in the Towbin Auto of Las Vegas' main showroom.
Using her sharp sense of design and architectural intuition, Towbin is keenly aware the centerpiece of the dealership — Aston Martin — justifies a bit of a makeover. An Aston Martin, after all, is art you can drive.
"For example, I do love these marble floors, but we're taking them out and upgrading them to Aston Martin's design specifications," Towbin said. "We are, however, keeping parts of the industrial flavor of the building."
Those industrial touches include three colossal ceiling fans, one each hovering over the Rolls-Royce, Bentley and Aston Martin sections of the showroom floor.
With the grand opening of the Aston Martin portion of the dealership still a few months away, Towbin, along with her children, Josh Towbin and Jesika Towbin-Mansour, are eager to add the tony elements all three British marques deserve.
"I saved the center section of the dealership for my vision," Towbin said. "I know the right thing to do is give each maker its own identity."
Aston Martin will, however, take center stage.
"I want to incorporate the arts with some of our own events here at the dealership," Towbin said. "We have many clients who also love art, and I want to keep that energy going with our new brand — Aston Martin."
Before all that happens, however, media types were recently invited to preview the new Aston Martin Virage, as well as the manufacturer's popular V-8 Vantage S and the four-door Rapide. We're familiar with the wonderful attributes of the Vantage and the Rapide. It was the new Virage we needed to get to know.
Admittedly, if nothing else was going right, having the opportunity to drive an Aston Martin makes everything better … a lot better. Yes, it was hot outside and the air conditioning in our personal street car was having trouble keeping pace with the 100-plus temperatures, but Francesca Smith, Aston Martin the Americas' brand communications manager, was eager to go out for a tour in the Virage, so who were we to disappoint her?
The Virage is actually a resurrected model name from Aston Martin's historic arsenal of luxury sports cars. Feeling there was a demand for something between the DBS and DB9 that also carried traits from the Rapide, Aston Martin introduced the 2011 Virage.
Sitting on the showroom floor parked next to the Rapide and V-8 Vantage S, distinct styling differences were evident. Although there's no mistaking Virage is an Aston Martin, the car genuinely looks like it was conceived from a clean sheet of paper.
"An Aston Martin always presents a very distinctive silhouette," said Smith, who noted that exclusivity is achieved through handcrafting of each car that consumes more than 200 man hours, 50 of which are spent on paint alone.
Smith explained the Virage strides to offer more power and refinement than buyers would get from a standard DB9, but is a bit easier to drive than the DBS. Like the DB9 and DBS, it sports a 5.9-liter V-12 that is capable of producing 490 horsepower. Torque output for the V-12 is the same as the DBS's, at 420 pound feet. According to manufacturer figures, the Virage will sprint from 0 to 62 mph in 4.6 seconds.
So, let's just see. Before heading west on Sahara Avenue from the dealership's entrance, we settle into the redolent full-grain leather and saddle-stitched seats. Even the headliner is a complementary shade of genuine suede. You simply can't resist running your hands over everything.
To start the car, the Electronic Control Unit is inserted into a special docking station on the Virage's dashboard. The engine fired when we pressed the ECU flush with the surface. After pressing to stop the engine, the ECU automatically ejects from the dashboard for removal. It's all very James Bond-ish.
Although we were tempted by the 1,000-watt Bang&Olufsen BeoSound audio system that senses how many occupants are in the vehicle and adjusts the sound accordingly, we opted for cabin silence so we could hear that unique Aston Martin rumble from the "fully catalyzed stainless steel exhaust system with active bypass valves." And, that's directly from Aston Martin's website. Trust us. It sounds wonderful.
Using the steering-wheel-mounted paddle shifters to engage Aston Martin's signature Touchtronic 2 six-speed transmission, it was obvious (by the time we reached Torrey Pines Drive) why Aston Martin developed this car for the market. There was an ease to its driving character, thanks to Aston Martin's adaptive damping (shock absorbers in the U.S.) system that offers 10 stiffness settings — five in "Sport" mode and five in "Normal" mode.
Happy driving the Virage in whichever mode Smith selected, she did explain the Sport option would hasten gear changes and put shifting in the hands of the driver and not when the car red-lined. This might be a little risky for someone on a test drive, but thank you for offering.
Through the 20-inch, five-spoke cast alloy silver-painted wheels that were paired with Pirelli P Zero 245/35 R20 tires on the front and Pirelli P Zero 295/30 R20s on the rear, the standard carbon ceramic brakes looked enormous, which could come in handy if you ever needed to slow down from the car's published 186 mph top speed. No worries. We never came close to testing that claim and obeyed all traffic laws during our test drive. OK, we may have blipped the throttle just once, on the right-hander from West Oakey Boulevard onto South Decatur Boulevard.
"Owning and driving an Aston Martin is a lifestyle and driving experience," said Smith, who noted the iconic manufacturer boasts 136 dealerships in 42 countries, including its newest in India. China, she said, is on the horizon.
Although Aston Martin doesn't offer a hybrid option, the manufacturer is at the forefront of new technologies, especially those aimed at reducing emissions.
"Right now, Aston Martin is focusing on other green technologies," said Smith, adding that Aston Martin's legendary racing history includes years of biofuel research and development.
To the U.S. consumer, Aston Martin offers five of its seven models, many of which are also available as convertible options. The commuter Cygnet, which is a restyled version of the Toyota 1Q mini car, isn't expected to be offered in the U.S. before 2013, according to Smith. The only other Aston Martin model not available in the U.S. is the ultra-exclusive, $2 million One-77. Just 77 of the customized, carbon fiber framed cars will be produced, Smith said. The One-77, by the way, boasts a maximum speed of 220 mph.
But, the 2011 Virage, which starts at a base price of $209,995, is available to U.S. consumers, as is the DBS (base price of $271,660); Rapide ($209,995); DB9 ($187,615) and the Vantage (starting at $120,350).
The Towbin Automotive Group includes nine manufacturer franchises at five locations throughout the Las Vegas Valley. Towbin Auto of Las Vegas includes Aston Martin, Bentley and Rolls-Royce and is located at 5550 W. Sahara Ave.
For information, call 866-291-8250 or visit www.astonmartinlasvegas.net.