Texas Station marks 20 years in North Las Vegas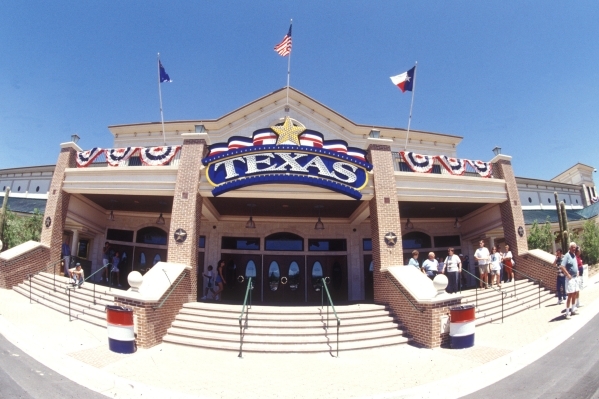 North Las Vegas casino Texas Station is celebrating its 20th anniversary this month.
Since it was built in 1995, the casino has largely attracted locals to work and play inside its 91,000-square-foot gaming floor.
"The culture of Station Casinos and our goal has always been to provide a great place for our team members to work," said Lydia Mason, general manager and vice president of Texas Station. "We are proud to be part of North Las Vegas and offer a family-friendly neighborhood casino."
Texas Station celebrated its grand opening July 12, 1995, with the Dallas Cowboys cheerleaders.
The casino, which originally launched without a food court, bowling alley or convention space, is now home to all three.
The casino's design was inspired by its owners, the Fertitta family, originally from Galveston, Texas.
The exterior was built to resemble an 1890s government architectural style found in the heart of Texas, according to its website, blog.stationcasinos.com.
"The decor is one of the things that really makes us unique," Mason said. "We have an amazing bronze replica of a cowboy on a horse at the Whisky Bar, and even the cobblestones outside the building are in the shape of Texas."
Many firsts for Station Casinos happened inside Texas Station, including the first steakhouse to be a part of the Station Casinos brand — Austins Steakhouse, Mason said.
Since it opened 20 years ago, there have been more than five expansions, including bowling lanes, a wedding chapel and a Kids Quest, she added.
The iconic interior replicates the atmosphere of the famous San Antonio River Walk.
In the middle of the river walk, guests can walk over a bridge with a water feature.
Some of the unique features of the casino include an actual oil rig set in the high limit area, which has since been updated.
Other well-kept secrets are the discreetly placed Fertitta brand and the infamous Delilah, a 7.5-foot armadillo disco ball, which has been around from day one and now hangs in the Revolver Saloon and Dance Hall at Santa Fe Station.
Another fun fact about the casino is that Floyd Mayweather fought his first fight there on Oct. 11, 1996, according to Mason.
Nearly 10 percent of the original workforce has stayed on since the launch, totaling 60 team members. Donna Doersam and Susan Delacruz are two of them.
Doersam started working as a floor person, but after six months, she was promoted to floor supervisor, a job she has held ever since.
"We've really become like a family," Doersam said. "We've gone through different stages of our lives together, from births to deaths. A lot of people don't want to come to work, but after working here for 20 years, I can honestly say that I still love coming in."
Delacruz started pushing the casino change cart, then went on to become the booth cashier, worked at the VIP slot room and now does guest services.
"We love bonding with our guests and talking to them about their everyday life," Delacruz said.
What is it about Texas Station that keeps its employees?
"We have a great work environment here," Mason said. "We strive to create a sense of community."
An example of that can be found in the casino's Kids Quest childcare facility.
"It's a great neighborhood casino where locals can eat, play and drink without having to deal with the traffic of the Strip or the downtown area," said North Las Vegas Mayor Pro Tem Pamela Goynes-Brown. "It's a win/win for the casino and for the community because it generates revenue for our city."
Guests, as well as other team members, will be able to recognize those who have spent 20 years at Texas Station by their special pins.
In honor of its anniversary, Texas Station will be celebrating 20 Good Deeds.
One of these good deeds included the use of a building and construction costs to Southern Nevada Children First charity. Texas Station also donates numerous stuffed animals to the North Las Vegas Police Department.
It is not the first time the casino has given back to its community.
Texas Station is part of the Smart Start program, which helps schools that have been deemed most in-need by the Clark County School District with financial help.
One of the many initiatives the casino does as part of this program is clean out its wishing well once or twice a year and donate the money to assist the students.
"We've had a fun month celebrating our anniversary, and we look forward to another 20 years here," Mason said. "We will continue to improve and invest on our property."
Visit texasstation.sclv.com.
— To reach North View reporter Sandy Lopez, email slopez@viewnews.com or call 702-383-4686. Find her on Twitter: @JournalismSandy.