TGI Fridays mistletoe drone injures photographer
December 9, 2014 - 3:24 pm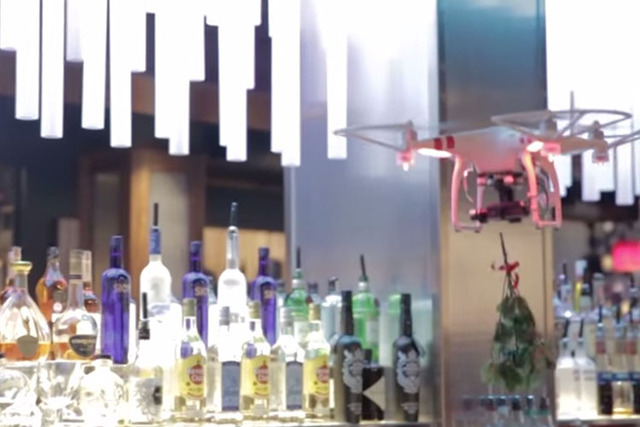 NEW YORK — A photographer taking pictures of a "mobile mistletoe" designed to encourage holiday kisses at a TGI Fridays restaurant in Brooklyn is recovering after being clipped on the nose by the drone.
The incident occurred as Georgine Benvenuto was working on a local newspaper story about the airborne mistletoe last Thursday. As part of a one-day promotion, couples kissing under the drone as it flew over them would win restaurant gift cards.
As the drone was being demonstrated in an area away from customers so Benvenuto could take pictures, its spinning blades clipped her in the face, said Vanessa Ogle, a reporter for the Brooklyn Daily newspaper, who also was working on the story.
"There was a lot of blood," Ogle said. "She had to keep putting pressure on the wound."
Ogle said Benvenuto was not hospitalized. Benvenuto did not respond to a request for comment.
TGI Fridays declined to provide details about the incident. In an emailed statement, the chain's chief marketing officer, Brian Gies, called the accident "an isolated event."
The promotion was modeled on a publicity scheme by the restaurant chain in the United Kingdom. A public relations firm for the chain said the promotion was held last Wednesday in a restaurant on Long Island and on Thursday in Brooklyn.
Ogle said a TGI Fridays representative blamed her for the accident after she flinched when the drone pilot landed the flying device on the palm of her hand.
"I flipped it off because the rotor blades were uncovered and it wasn't something I wanted on my hand," Ogle said. "They later claimed that caused the damage which led to the accident."