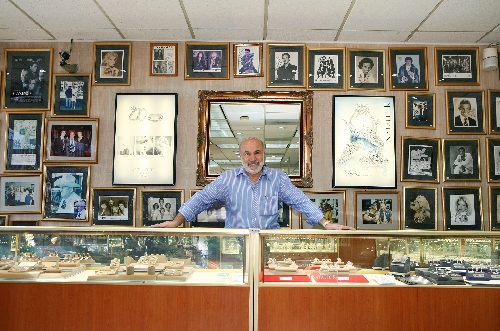 Thirty-five years ago, Mordechai Yerushalmi had a decision to make: keep repairing ground-breaking but temperamental 360 Computers or handle diamonds and other precious stones every day.
No contest.
Yerushalmi, along with his wife, Vicki, began a wholesale business that would transform into The Jewelers of Las Vegas, now 12 locations, including Red Rock Resort. Yerushalmi's three sons, Benny, Leor and Elad, and daughter Natalie have joined the company in various management roles.
But back then, he was a 30-year-old man with one store at 2400 Western Ave.
"It was the only building out there; everything else was just desert," Mordechai Yerushalmi said.
As his business grew — he opened his second store after only a year and a half — so did his client base. Some of them were celebrities.
He was with Elvis Presley when a security guard admired the singer's ring.
"Elvis took it off his hand and gave it to the guy," he said. "And the guy was like, 'No, I couldn't' … Elvis wouldn't take it back."
The superstar ended up buying a lot of jewelry from Yerushalmi but not for himself. It was all given away.
"He'd come to the store and point to a tray and say, 'Give me the whole thing,' " Yerushalmi said.
A tray held as many as two dozen items — watches, rings and bracelets.
Yerushalmi's daughter Natalie, now vice president of marketing, said going backstage to Elvis' dressing room was a treat for her father, who always has idolized the singer.
"My dad has told us forever that he truly got goose bumps the second he saw him (Elvis)," she said.
In the 1970s, Yerushalmi told Liberace he would make him a special ring based on the piano used in his show. Yerushalmi studied a picture of Liberace's piano and crafted the ring to look like it. The resulting ring was a combination of onyx, white coral and diamonds. He topped it off with a large initial, L.
Liberace loved it and wore it often.
The ring was worth $6,500 then, back when gold prices were $37 an ounce. Today, it would be 10 times that, Yerushalmi said.
When Bill Cosby was performing in Las Vegas, he played tennis nearly every morning. He often would swing by the jewelry store, find something he liked and point it out to Yerushalmi.
"He'd say, 'I'll be back to pick that up,' " the jeweler said.
Sure enough, after his game, he'd return and buy the item.
When the movie "Casino" was filming in town, Robert De Niro came to see if the store could provide jewelry on a quick turnaround basis and toured the manufacturing facility.
Natalie Yerushalmi recalled how movie requests would be received in the morning and had to be ready that same evening.
"We definitely had to hustle to finish things, but it was an amazing experience to be a part of that, and we had such a fun time doing it," she said.
Boxing stars came to Las Vegas for their bouts. One day, Larry Holmes stopped by Yerushalmi's shop in the Dunes, which was mostly glass-walled. By the time the fighter went to leave, a large crowd was pressed against the glass, waiting to greet him.
The boxing champ signed autographs and posed for pictures.
Yerushalmi was set to tape a commercial the next day, and Holmes reworked his schedule to be in it. They filmed a number of commercials together.
"I tried to pay him, but he wouldn't take it," Yerushalmi said.
Similarly, TV commercials shot with former University of Nevada, Las Vegas, Runnin' Rebels coach Jerry Tarkanian and UNLV basketball star Larry Johnson gained cult status in Las Vegas.
Mike Tyson proved to be a gracious fan pleaser. The boxer was at dinner with the jeweler and his family when a young boy slipped into the private dining room at the Tropicana, approached them and asked for an autograph.
Tyson agreed and went out and signed autographs for a number of people, letting his dinner go cold.
The one celebrity Yerushalmi always will be grateful to is Jerry Lewis.
Yerushalmi was a huge fan of Cliff Richard and The Shadows. Popular in Europe, the band sold more than 250 million records worldwide. He wanted nothing more than to see them in concert, he said.
But every time Yerushalmi tried to get tickets to a show, something always prevented it.
Years passed, and Yerushalmi gave up his dream.
Then, a couple of years ago, he learned the band was slated for a 50-year reunion concert. He hurried to secure a ticket, but the event had sold out. Yerushalmi learned the band had added a show in Australia — also sold out.
Lewis learned of the dilemma. Two days later, Yerushalmi was handed two tickets to the concert in Australia. In February 2010, he and his wife jetted off and finally fulfilled his dream.
"I don't think he realized what a favor he did for me," he said of Lewis.
Yerushalmi said the one celebrity he'd love to meet is Clint Eastwood.
"Those spaghetti westerns, they were my favorites," he said.
He may soon join the list of celebrities. Four weeks of taping episodes for a possible reality show about the store, "Vegas Rocks," recently wrapped up. The show is being shopped around to various networks.
Contact Summerlin/Summerlin South View reporter Jan Hogan at jhogan@viewnews.com or 387-2949.
The Jewelers of Las Vegas
The Jewelers of Las Vegas Summerlin store is at 8502 Lake Mead Blvd. Hours are from 10 a.m. to 6 p.m. Monday through Saturday.
For more information, call 242-2000 or visit thejewelers.com.