Three Towbin Fiats for three Lykins brothers
December 9, 2013 - 9:23 am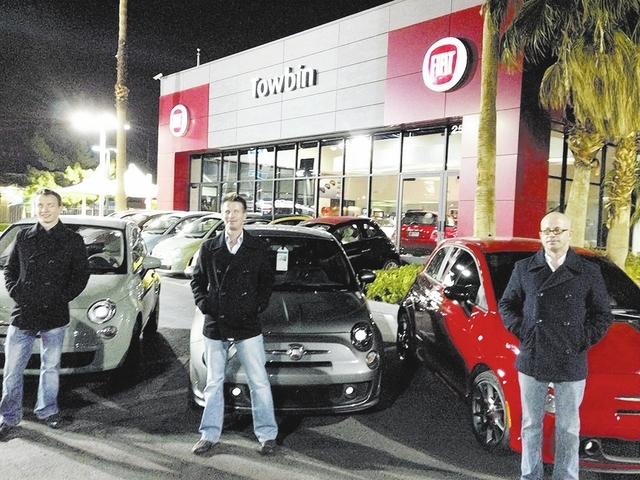 At Towbin Fiat of Las Vegas, Fiats stay in the family. Just ask the Lykins brothers, who recently came in to the Fiat dealership and walked away with three new Fiat 500s.
"I was the first one to buy a Fiat," said Christian Lykins, the eldest brother. "After my brothers saw my new car, they both ended up purchasing one of their own."
Christian Lykins purchased a Fiat 500 Abarth in red in September. After conducting research on comparable cars on the market, he began test driving cars on the weekends.
"I was looking for a fun car to drive," he said. "Something fuel-efficient but that you could still put your foot on the gas pedal and go."
That was when he decided to stop in at Towbin Fiat of Las Vegas. After test driving the Fiat 500 Abarth, he drove off in his new car. The Abarth is the sports model of the Fiat lineup and features a 1.4-liter MultiAir Turbo engine, a growling, aggressive exhaust system and performance suspension.
When Josephi Lykins saw his older brother's ride, he knew he wanted one as well. Josephi Lykins ultimately drove off in a 2013 Fiat 500 Pop. He was looking for an affordable car that would help him save money on gas as he safely drove from point A to B. The Fiat 500 Pop gets an estimated 40 mpg highway.
Aminidab Lykins, the middle brother, was the final one to purchase a Fiat and ultimately drove off in a Fiat 500 Sport Turbo.
The newest dealership in the Towbin Automotive Group, Towbin Fiat of Las Vegas, is at 2550 S. Jones Blvd. and has been named No. 1 in the nation in sales. Towbin Fiat is open 9 a.m. to 8 p.m. Monday through Friday and 9 a.m. to 9 p.m. on Saturday.
For more information, call 702-900-3428, or visit www.FiatLV.com. Follow the dealership at www.facebook.com/FiatofLasVegas or www.facebook.com/TowbinAutomotive.