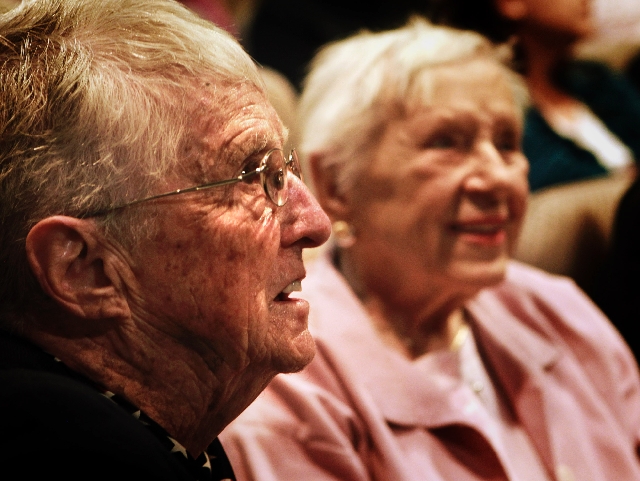 If anyone were to ask Richard Zimpfer about his experience serving during World War II, he would shrug it off.
"I'm the lucky one," Zimpfer said as he reached into his pocket to pull out a handkerchief to wipe away the tears. "I'm no hero. I'm just one of the guys who went there to serve."
Zimpfer, 90, along with Billie D'Entremont, 93, and Evie Hallas, 90, were honored for their service during the war at the Veterans Court graduation ceremony March 7 inside the Henderson Municipal Court.
"I'm not much of a braggart," Hallas said. "I just lived a good life. I'm thankful I'm still alive."
Each shared memories of their time serving during World War II.
Like many other Americans, after the attack on Pearl Harbor, D'Entremont was looking for a way to get involved.
"Everyone felt like they had to do something," she said. "I tried to get work in a factory like Rosie the Riveter, but I didn't weigh enough."
She weighed 95 pounds, and the requirement was at least 100.
D'Entremont then decided to join the Coast Guard.
"She was one of 40 women deployed from the U.S.," said Judge Mark Stevens, a veteran himself who oversees the Veterans Court. "They essentially told her they would determine the future of women being deployed depending on how they did."
She served in Hawaii as a medical yeoman.
When the war was over, she tried to get discharged in Hawaii — something highly unusual for a woman.
"Even though I was 26, I still needed to get a letter from my parents," she said. "I had to get a letter I would have a job and a place to live."
She stayed in Hawaii and raised her family.
Her favorite memory wasn't the time in the service but the reaction of her family.
She said families that had children serving would put a star candle in the window for others to know, something that was more common for the men who were serving, she said.
But when she came home to visit, her father had put one in the window for her.
"My father was proud of me like other men who were serving," she said. "It was exciting."
Hallas was inspired to join the Navy after four of her brothers enlisted.
"My first brother died in battle," she said.
Hallas was in the Navy as a cartographer working on maps of enemy bases.
"We pretty much worked 24 hours a day," she said. "We would work two hours, sleep two hours, work six hours, sleep four hours and work again. This was seven days a week."
Zimpfer was in the U.S. Army and in charge of air defense, where he would maintain anti-aircraft systems.
"There were about 50 of us," he said.
One of the craziest things Zimpfer said he did was when he drove to retrieve an explosive that didn't detonate.
"I put it on my lap and drove back," he recalled.
Even though they all grew up and served all over, they now live in Henderson.
During the presentation, audience members asked the veterans questions such as, what advice would they give to returning veterans?
"Just put on a smile and hope you can face the next day," Hallas said.
In addition to an abundance of gratitude from all who attended, the three were presented with quilts from Moms Love Quilts, a nonprofit that sews quilts for veterans.
Two Veterans Court graduates were also acknowledged at the ceremony.
The court is designed to help defendants who might have committed crimes because of problems readjusting to life after returning home.
Since its creation in 2011, the court has had 14 graduations.
Contact Henderson/Anthem View reporter Michael Lyle at mlyle@viewnews.com or 702-387-5201.