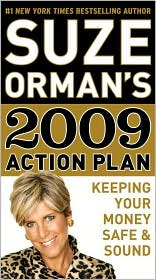 Suze Orman is all over the airwaves and while, at times, that may seem a bit much, in these times, we are wise to listen.
Her latest book, "Suze Orman's 2009 Action Plan: Keeping Your Money Safe & Sound," is a must read for anyone who still has any money.
But be warned: This is tough love Orman is handing out. No easy fixes or silly platitudes. She sees five years or more of these economic troubles and warns that we must make ready now.
That means getting rid of credit card debt before the interest rates soar out of sight or the card is canceled and must be paid off immediately. Paying the minimum every month just won't cut it anymore.
And don't even think about borrowing from your 401(k) retirement account, Orman warns. If you lose your job, that bill comes due quickly and if you can't pay it back, you'll be hit with owing tax on the whole thing and a 10 percent early withdrawal penalty if you don't meet the age requirements. (Another reason to hang on to the 401(k), Orman says, is that it is protected should you ever have to take bankruptcy.)
Orman also recommends accumulating an emergency fund that will carry you eight months, figuring that finding a new job in this environment will take longer than usual.
So, how do you do this? Orman offers a Household Cash Flow worksheet to identify places in the family budget where savings can be made.
The book is packed with useful information and handy tips, and Orman adds updates on her Web site to stay current with the news.