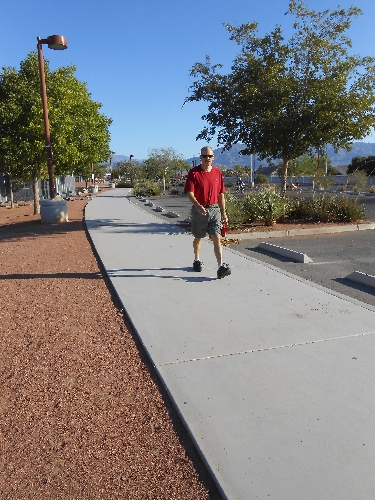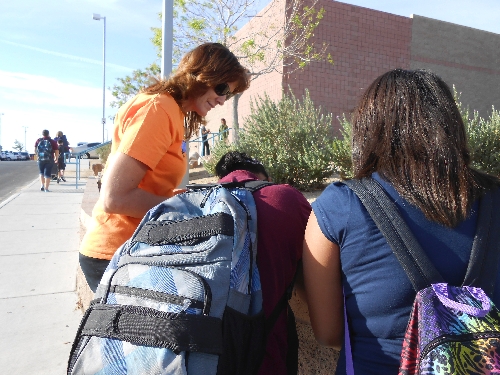 Students at Cadwallader Middle School, 7775 Elkhorn Road, helped the city of Las Vegas take a step toward a sustainable future and good health Oct . 3: Some of them walked to school.
The Use Human Power to Get to School event took place in honor of National Walk to School Day. Students who walked to school received stickers, pencils, key chains and raffle tickets for prizes throughout the following week.
But how kids get to school in Las Vegas is just one piece of a bigger puzzle, namely making every corner of the city more walkable. City planners have been striving to reach that goal, according to Greg McDermott, engineering project manager for the city's public works department. And the goal reaches well beyond a great workout.
"It's a combination of on-street bicycle lanes and trails, city wide trails," he explained. "And that will allow people to get to destinations, get to school, get to work, get to shopping without always having to get in the car."
On the trail at Centennial Hills Park, 7101 N. Buffalo Drive, Mark Gilbert, a visitor from Chicago, took a break from a family visit to keep up his morning walking routine. He stopped at a grocery store on foot, he said. But he didn't use the path to do it.
"Las Vegas is sprawl, OK?" he said, laughing. "So the trail isn't going to fix the problem of everything being far apart." Nevertheless, back home in Chicago, his morning routine is limited to a hike around a big mall, he said.
"There's no park like this that's that close," he said.
Leroy Archer, a walker who lives nearby at Wyeth Ranch, explained that he uses the park for recreation . And he uses every trail it offers, both dirt and paved. The highlights of his park experience: "The trail system I consider one of the best and accessibility to rest rooms."
A few long lights down from the park, college student Antoine Taylor stood out, alone on the vast expanse of sidewalk. He was walking to the Centennial Hills Library, 6711 N. Buffalo Drive, to study. Yes, he said, he drives to the store – and meets interesting people on the sidewalk.
Whether Las Vegans are giving in to sprawl and driving to the store or taking a hike to the library, one thing is certain : When it comes to walking, there are plans under way that are bigger than the city of Las Vegas.
The plan is to connect North Las Vegas trails to the city of Las Vegas and Clark County, all the way to Henderson, in a regional trail system that's already expanding. The list of partners in the collaborative effort includes valley cities, the county, the Regional Transportation Commission of Southern Nevada, the Clark County School District, the Southern Nevada Health District, developers and the Outside Las Vegas Foundation.
Funding made possible by the Southern Nevada Public Land Management Act and the Communities Putting Prevention to Work initiative has helped fuel the project.
And the city of Las Vegas is relying on developers to help fulfill some of its part of the plan, according to McDermott.
"If they're adjacent to a trail, they put in that piece of the trail, and that's largely how it's been developed out in the northwest," he explained. "It's a patchwork right now, so you'll have a parcel that's developed, and right next door to it, an undeveloped parcel. So the trail will end. But once development comes back and finishes out that northwest area, we'll have a good network out there."
Given the recession, he said, completion of the task may take 10 to 15 years.
Marrying walkability to development might seem like a strange twist. But on the trail at Floyd Lamb Park at Tule Springs, 9200 Tule Springs Road, with dogs Freckles and Jake, retired Centennial Hills residents Ray and Debbie Chamberlain said Las Vegas offers walking that they love, plus a convenience they just didn't get in the untamed outdoors back home in Montana.
"Costco," said Debbie Chamberlain. "It was like a day's thing. It took almost an hour to get up there, an hour back."
As for keeping the trails up, funding for operation and maintenance is limited, said Mauricia Baca, executive director of the Outside Las Vegas Foundation. "But the more people using it, the more eyes and ears you have making sure that these things are in good shape."