Tropical Smoothie Cafe location plays to Polynesian senses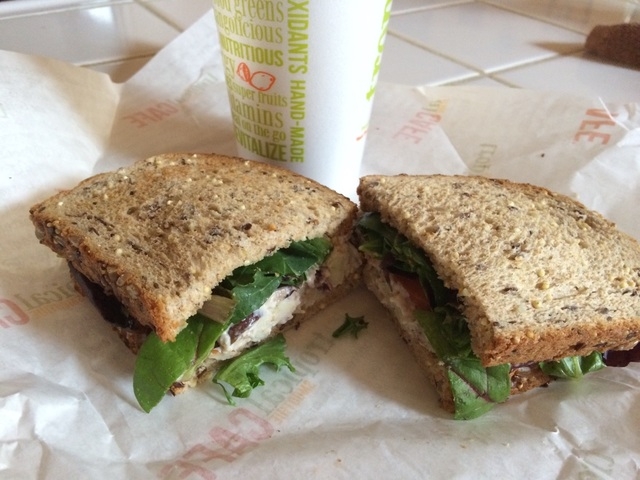 There's nothing like the sizzling heat of a Las Vegas summer to drive one to drink. And if that drink is a Tropical Smoothie, then all the better. It's a popular stop for a cool blast of good-for-you fruitiness.
Kay Han owns and operates the Tropical Smoothie Cafe at 7660 W. Cheyenne Ave., Suite 121. It's in a food court setting just west of Buffalo Drive. Han said she wanted a place that served food based on fruits such as oranges, pineapples, strawberries, blueberries, coconuts, bananas and mangoes.
"I like fruit, and I like (incorporating it) into a meal," she said. "It's a cute place, and when you come inside, there's the fresh smell of fruit."
The decor also promotes a Polynesian sense complete with bamboo accents, faux palm trees, tiki-style thatch roof accents and pops of color. About the only thing missing is a parrot.
Feel free to move the tables if you have a large group, or take the corner seat to have more privacy.
The menu favors sandwich fare, but nothing is ordinary here.
Tacos come in four varieties on a flour tortilla, including Smoked Jalapeno Chicken with bacon, cabbage, tomato and red onion; or Thai Chili Steak with cucumber, Sriracha aioli and a house recipe sweet chili slaw. The Cilantro Lime Fish tacos have grilled tilapia, cabbage, a spicy cilantro sauce and roasted pineapple salsa, while the Korean BBQ Steak is dressed with a cucumber and kale slaw and spicy Asian barbecue sauce.
There are five varieties of flatbread sandwiches: Chipotle Chicken Club; Tzatziki Steak; Chicken Pesto; Feisty Feta Chicken; and Baja Chicken.
For wrap choices, there are six, including Thai Chicken with wontons, carrots, cilantro, scallions and Thai peanut dressing, and the Jamaican Jerk Chicken with Southwestern rice with corn, black beans and asparagus, red onion and low-fat mozzarella cheese.
Of course, you can have a sandwich, too, but be prepared for Tropical Smoothie to kick things up a notch there as well . The chicken sandwich, for example, has cranberries, pecans, grapes and Granny Smith apple on seeded bread. Salads are the Loaded Spinach, Thai Chicken and Chicken Caesar.
Tropical Smoothie also offers breakfast (including omelet wraps) all day. Pair any of the food offerings with a smoothie, and you're set for the day.
Hours are from 6:30 a.m. to 9 p.m. Monday through Friday and 8 a.m. to 8 p.m. Saturday and Sunday.
Call 702-365-1931 or visit tropicalsmoothie.com.
Tropical Smoothie Cafe
Address: 7660 W. Cheyenne Ave., Suite 121; and numerous other Las Vegas Valley locations.
Hours: From 6:30 a.m. to 9 p.m. Monday through Friday and 8 a.m. to 8 p.m. Saturday and Sunday (hours vary by location).
Call 702-365-1931, or visit tropicalsmoothie.com for other locations.