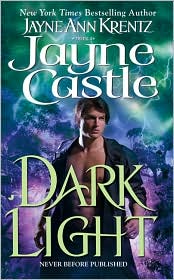 "Dark Light," by author Jayne Ann Krentz writing as Jayne Castle (Krentz also writes historical romances under the name of Amanda Quick), is the first of her paranormal romances that I have read, and I enjoyed it immensely.
Sierra McIntyre is an investigative reporter for the sleaziest gossip rag on Harmony, a planet that was discovered and populated by humans from Earth but since has been cut off from the Blue Planet. Sierra becomes embroiled in a kidnapping and drug ring that involves retired ghost hunters. To get the inside scoop and to gain protection, she marries the Ghost Hunter Guild boss, John Fontana, in a marriage of convenience. Working together, they find the true cover-up behind the drug ring and discover more than each others' psychic abilities.
This story is filled with alien artifacts and secret laboratories, tunnels and an underground jungle, alien psi and the paranormal.
If the paranormal is your kind of subject, this is a really good read. Enjoy!