Trump putting on huge act as conservative
February 23, 2016 - 7:58 am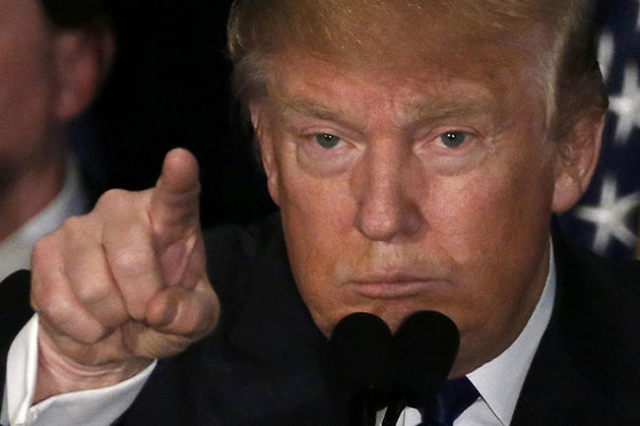 Fresh from a big victory in the South Carolina primary, America's fascist Fabian Donald Trump arrived in Las Vegas on Monday to fire up his true believers ahead of today's Nevada Republican presidential caucus.
A huge turnout was expected to rally for Trump at the South Point Arena, the popular equine center where visitors are never surprised by the sight of an impeccably groomed horse's ass. An overflow crowd was anticipated for Trump's self-aggrandizing and increasingly popular Gorgeous George routine.
These days, Trump pushes all the reactionary hot buttons with what former rival Jeb Bush called the "dog whistle language" of nationalism, bigotry and outright ethnic disdain. Of course, Trump's followers will echo their master's voice and call Bush a "low-energy" candidate who turned out to be "a loser."
The list of those Trump has gone out of his way to offend is extensive (I apologize if I've left you out), but along his campaign's Borscht Belt circuit he has denigrated women's looks, former POW U.S. Sen. John McCain, Mexicans, a disabled New York Times reporter, the Chinese, the French, a billion or so followers of Islam and Pope Francis.
Just telling it like it is, his followers shout. He's not politically correct! Yeah, Chauvinism! Go, hate speech!
Trump isn't a candidate. He's a comb-over Mussolini.
And it seems to be working.
A segment of America has always loved a tough-talking father figure who fires up their fears and prejudices — especially when he singles out minorities, society's strangers and foreigners for ridicule. It gives the partisans someone to root against. It's what I like to call "American exemptionalism."
It doesn't matter that Trump is wrong when he outrageously claims true unemployment is above 40 percent. It gives people something to grumble and grouse about. Forget that the economy has been slowly improving for the working class. Just imagine how great it will be when a pampered billionaire is in the White House.
The fact Trump is outrageous, inaccurate and not ready for prime time isn't news and only makes him more adorable in the eyes of his acolytes. As he knows better than anyone, it also makes him more fascinating to the ratings-driven political press. He doesn't have to be fair or factual; all he has to do is keep drawing a crowd. Popularity means never having to say you're sorry.
If a sitting president, member of Congress or even your local city councilman peppered his speech with foul language, you might not think he was ready to represent the community. But the occasional potty-mouth remark is just part of Trump's appeal. People imagine it makes the super-wealthy, previously bankrupted, thrice-married marketing and real estate genius with his own jet and helicopter appear more relatable to Joe Sixpack.
What a laugh.
The scariest thing is, he's closing the deal. He has reduced his dwindling gaggle of opponents to whining and simpering.
Remember just a few years ago when Trump was receiving big air time with his participation in the bigoted "birther" nonsense that once nipped at President Barack Obama like a rabid Chihuahua? Back then, Trump argued with everything but evidence that he was about to crack the Mysterious Case of the Super-Secret Kenyan-Muslim Infiltrator Who Became President.
Then he let it drop. The facts kept getting in the way.
Now it's Sen. Ted Cruz of Texas who receives the dirty end of Trump's birther shtick. Careful, America, he's a Canadian!
Here's the punch line: The best evidence shows hard-core conservative candidate Donald Trump is putting you on. A check of his own history reveals Trump's political beliefs — he's a ranking member of the government-fixer class — are far more mainstream than his menacing musings suggest. News flash: Trump wants to win, and he'll sell you anything you'll buy.
Right now, playing the angry billionaire everyman is working for him. It has sent the Republican establishment scrambling with hair ablaze to get behind inexperienced Sen. Marco Rubio of Florida, who has racked up political and celebrity endorsements aplenty in the hours leading up to the Nevada caucus.
Lest you think he makes things up, Trump recently assured a favorite national media facilitator, "I don't lie, I mean I don't lie. In fact, if anything, I'm so truthful that it gets me in trouble, OK? They say I'm too truthful. And, no, I don't lie. I don't lie. I'm self-funding my campaign. I tell the truth."
Trump is Mr. Say Anything. Sure, he hates the villainous rapist Mexicans — they're great people, the Hispanics, and he employs thousands of them. The Chinese are a devious lot — and he loves to do business with them.
He's going to be a great president on foreign policy and will again make us respected on the world stage. That's why he supports waterboarding.
Hey, at least he's not politically correct.
For now, our fascist Fabian is making America grate again.
And if he should prevail in November, I suggest Trump quickly make good on his promise to build that wall he's talked so much about.
How else will he keep us from escaping?
— John L. Smith's column appears Sunday, Tuesday, Wednesday, Friday and Saturday. Contact him at 702-383-0295 or jsmith@reviewjournal.com. On Twitter: @jlnevadasmith