Trump targets illegal immigration at his job sites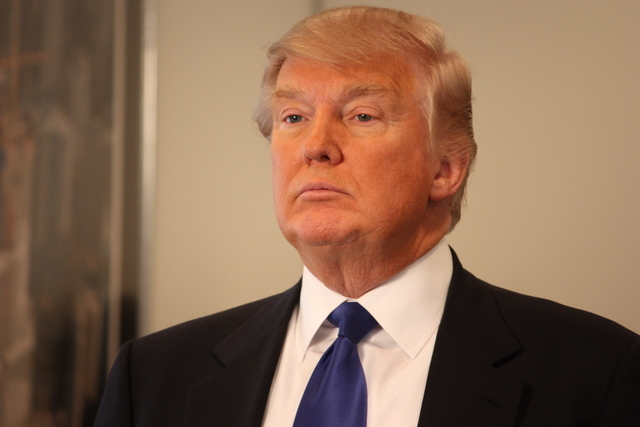 Donald Trump says he "can't guarantee" that all of the workers he employs have legal status in the United States, and warned that if he were to discover that any of them are in the U.S. illegally, "We would get rid of them immediately."
In an interview with CNN's Anderson Cooper on Wednesday, the billionaire businessmen and Republican presidential candidate addressed questions about a recent Washington Post report that said there are men working illegally at the Old Post Office Pavilion construction site in Washington, which Trump is converting into a luxury hotel.
Speaking at the Trump Tower in midtown Manhattan, Trump said that the buck "absolutely" stops with him and that he wished the Post article had named the workers so he could take prompt action.
"We have gone out of our way to make sure that everybody in that building is legal," he said. "I wish they would give us some names, we would get them out immediately."
Trump, who announced his bid for the Republican Party's nomination for president last month, has faced furious national backlash after remarking that he believes some immigrants that come into the U.S. from countries like Mexico were "rapists." He has since repeatedly stood by those comments.
TRUMP IN LAS VEGAS
Trump is scheduled to visit Las Vegas on Saturday to speak at FreedomFest.
Trump will give a 40-minute speech followed by a press conference, a producer of the annual FreedomFest event said Monday. FreedomFest bills itself as a place for liberty-loving individuals of all political stripes to meet, socialize and exchange ideas.
It's Trump's first public event in Las Vegas since he announced he's jumping into the race. Trump's speech is at Planet Hollywood, not the golden-colored Strip tower that bears his surname.
TRUMP SPEAKS ABOUT TWEET ON CNN
In the wide-ranging interview with CNN, Trump also addressed a racially charged tweet this week that has been heavily criticized.
Trump retweeted the message: "#JebBush has to like the Mexican Illegals because of his wife."
According to The Wrap, which captured a screen grab of the tweet, the tweet was soon deleted.
Trump said in the CNN interview that he had never authorized that retweet but was unapologetic.
"Do I regret it? No, I don't regret it," Trump said.
He said that he believed the immigration stance of former Florida Gov. Jeb Bush, who is also running for president, may be influenced by his wife's background.
"If he loves his wife and she's from Mexico, I think it probably has an influence on him, yes. I can understand that." Trump said.
Trump also shared his thoughts on a number of his fellow presidential candidates, including Democratic front-runner Hillary Clinton.
Calling her the "worst secretary of state in the history of the United States," the real estate mogul said Clinton has "a lot to hide."
Pressed on why, then, he had previously donated to Clinton's campaign, Trump said it was all in the name of business.
"As a businessman, I could have gotten anything from anybody and that is a part of the problem," he said. "They all love me. Let's put it that way."
CRITICIZING KRAUTHAMMER
In a separate interview with NBC News, Trump blasted the conservative commentator Charles Krauthammer — who called Trump a "rodeo clown" — as an "a totally overrated person."
Krauthammer is a Washington Post columnist whose work appears in the Las Vegas Review-Journal.
After slamming his other critics, Trump appeared to invoke Krauthammer's use of a wheelchair.
"And then I get called by a guy that can't buy a pair of pants, I get called names? Give me a break," he said.
A Trump spokeswoman told CNN after the NBC interview that Trump was referring to Jonah Goldberg, the last commentator the NBC News reporter referred to in her questioning, in his comment about buying pants.
GOLFING EVENT MOVES
Trump's organization said Tuesday that a professional golfing event scheduled for October at a Trump course in Los Angeles will be moved, the latest fallout from his vitriol against illegal immigrants from Mexico.
TRUMP PLEDGES TO WIN LATINO VOTE
Trump on Wednesday said he would win the Latino vote if he gets his party's nomination for president and claimed a "great relationship with the Mexican people," despite recent comments about immigrants that have cost him business.