Trump's candidacy fires up business of Las Vegas impersonator
February 15, 2016 - 4:24 pm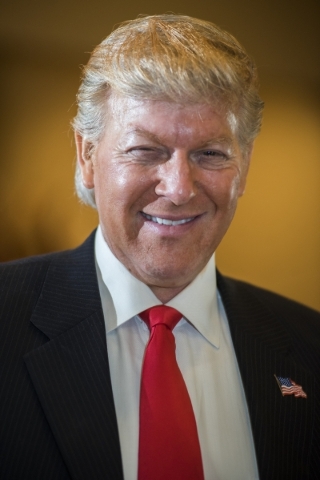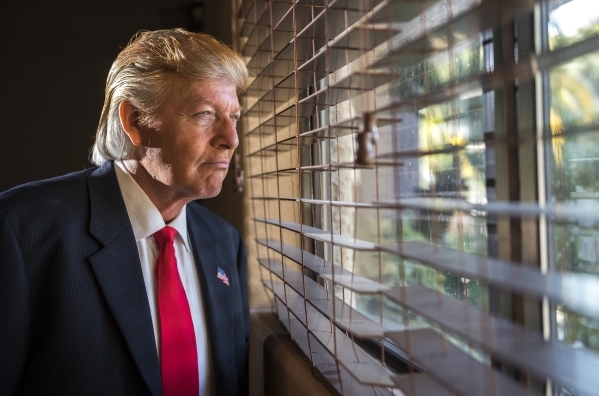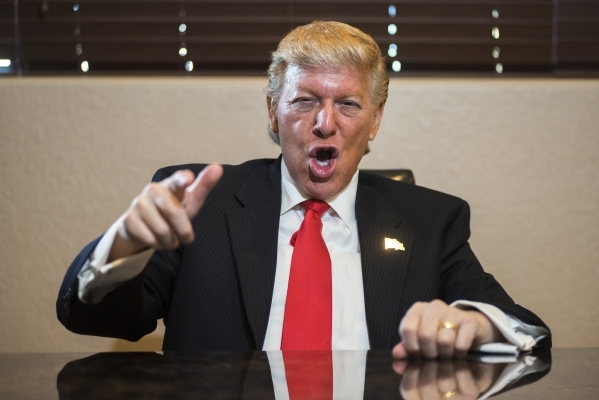 Donald Trump seeks to turn his success as an entrepreneur into the presidency.
But Las Vegas resident Robert Ensler hopes that Trump's political fortune makes him a more successful entrepreneur as an impersonator of the real estate developer and GOP candidate.
Trump's catch phrase is "You're Fired," but the 65-year-old Ensler is turning Trump's elevation on the national stage into additional gigs and appearances at corporate outings and photo ops.
Impersonations are part of the second phase of Ensler's career, which has included publishing coupon books in the San Francisco Bay area, owning restaurants and running a family antique business.
A theater arts major in college who did improvisations and sang, Ensler said he turned a mid-life crisis after a separation from his wife into a career that combines his singing and impersonation skills. It's a money-making model that includes online sale of music, photos and other memorabilia of stars such as Frank Sinatra, Dean Martin and Bobby Darin.
"I'm an entrepreneur. I'm an opportunist," Ensler said bluntly. Impersonating Dean Martin was the focal point when he moved to Las Vegas in 2002, but he couldn't land in a stage show on the Rat Pack. His business model expanded in 2004 after NBC launched Trump's reality TV show "The Apprentice."
With Trump leading many national GOP polls, he's becoming "more accepted" in the corporate world, Ensler said, and he's getting requests to appear at small corporate parties and even do motivational speeches. It's not a living, though. He still does part-time work training people who sell office machines.
"Him winning New Hampshire is very good," Ensler said. "That makes him more mainstream — the more mainstream he becomes, the more people will be calling up about Donald Trump."
Impersonating Trump is easy, Ensler said, because he tries to draw on his own business background.
"I can be a total dictator and a good businessman," Ensler said. "I have run businesses of my own for 20 to 30 years. And I pull out of his personality to re-create Donald."
Ensler won't talk about his appearance fees, which he says vary by crowd size.
"I'm not running for president so I don't have to reveal what my income is," Ensler joked. "If you can't afford $250,000 to hire Donald, hire me."
Ensler goes to every Trump political rally in Las Vegas. From a distance, people often think he's Trump. He said he has to pad out his frame to mimic a heavier Trump, and then there's the infamous Trump hairstyle.
"Every time I go to Donald's rallies or speech here in town, half the time I'm asked if I'm Donald's brother," he said.
Ensler said he's met Trump twice. The first time was in 2012 when Trump was considering running for president.
"He saw me and said, 'I know you. You're a good-looking guy,' " Ensler said.
Ensler met Trump again at a recent rally at Treasure Island. Trump told him he's "still looking good," he said.
Trump has Ensler's vote, and the impersonator said that if Trump wins the presidency he'll get a nose job to increase the resemblance.
"I taught me kids whatever business you go into, go out and have fun," Ensler said. "If you're not having fun, you're in the wrong business. This is cool."