Tupac Shakur movie spends two days filming in Las Vegas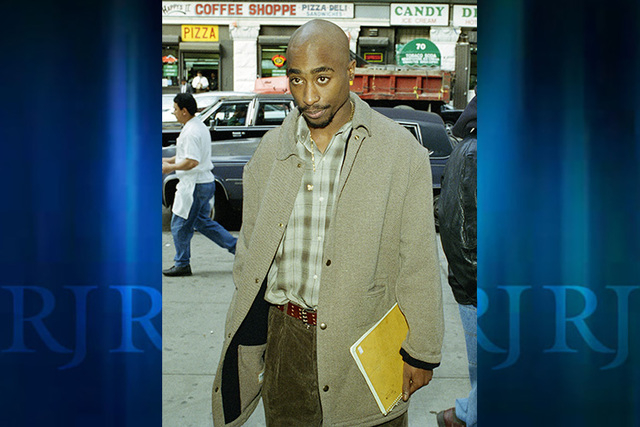 Scenes for the upcoming Tupac Shakur film were shot last week along the stretch of East Flamingo Road where the rapper was fatally wounded 20 years ago.
Morgan Creek Productions reportedly wrapped the biopic during a two-day Las Vegas shoot that ended Tuesday.
A September release of "All Eyez on Me" is anticipated to coincide with the 20th anniversary of the unsolved case.
Shortly after attending the Mike Tyson-Bruce Seldon fight at the MGM Grand on Sept. 7, 1996, Shakur was riding with rap mogul Marion "Suge" Knight. They had turned east off Las Vegas Boulevard and stopped near the intersection of Flamingo Road and Koval Lane.
Gunfire erupted from a white Cadillac. Shakur was hit multiple times. Knight was struck by a bullet fragment, receiving a minor head wound.
Shakur, 25, died six days later at UMC.
During the two-day shoot in Las Vegas, newcomer Demetrius Shipp Jr., who portrays Shakur, appeared in several Instagram posts by producer LT Hutton. Shipp was shown with Dominic L. Santana, who plays Knight, the former UNLV football player who went on to head Death Row Records.
Directing "All Eyez on Me" is Benny Boom, who replaced Carl Franklin late last year. Franklin had replaced John Singleton, who left the project last spring.
Boom is regarded as a music video industry giant. He has directed videos for Snoop Dogg, 50 Cent, Nas, Ciara, Lil' Kim, Nicki Minaj, LL Cool J and P Diddy.
Cast in the role of Chris Wallace, aka Biggie Smalls and The Notorious B.I.G., is Jamal Woolard, who also was cast as B.I.G. in "Notorious."
Wallace, a rap legend whose friendship with Shakur had soured, was killed in a drive-by shooting in Los Angeles six months after Shakur's death. Wallace's murder also remains unsolved.
ON THIS DAY
April 17, 1981: Three thousand people pack Caesars Palace Sports Pavilion for the funeral of Joe Louis, the legendary boxer who worked as a greeter at the hotel for the last decade of his life. "Howard Hughes dies, with all his billions, not a tear," Muhammad Ali says. "Joe Louis, everybody cried."
NAB SHOW UNDERWAY
The six-day National Association of Broadcasters show, one of the largest conventions in Las Vegas, opened Saturday at the Convention Center.
Two-time Academy Award-winning director Ang Lee helped kick off the opening day by releasing his latest, "Billy Lynn's Long Halftime Walk." It holds the distinction of being the first major motion picture release to have been captured in 120 frames-per-second 3-D at 4K resolution and in High Dynamic Range.
Due out in November, the film's cast includes Kristen Stewart, Vin Diesel, Steve Martin and Chris Tucker. The premise: An infantryman recounts the final hours before he and his fellow soldiers, who came home hailed as heroes, have to return to Iraq.
THE SCENE AND HEARD
Old rivals Pete Rose and Steve Garvey are teaming up to talk about baseball rivalries at the Suncoast Showroom on April 30. It begins at 7 p.m. Tickets: $19.95 plus taxes and fees.
SIGHTINGS
Imagine Dragons frontman Dan Reynolds, with his family at Hugo's (Four Queens) on Friday before heading to The Smith Center for the Performing Arts to see "Beauty and the Beast." … Nigel Lythgoe, executive producer and judge of "So You Think You Can Dance," at Coffee Bean & Tea Leaf (Miracle Mile Shops at Planet Hollywood Resort) on Friday.
THE PUNCH LINE
"Hillary Clinton and Bernie Sanders debated in Brooklyn. And they'll follow that up tomorrow with a rap battle in the Bronx." — Conan O'Brien
Norm Clarke's column appears Sunday, Monday, Wednesday and Friday. He can be reached at 702-383-0244 or norm@reviewjournal.com. Find more online at www.normclarke.com. On Twitter: @Norm_Clarke