Turkey donations light up holidays
December 24, 2010 - 12:00 am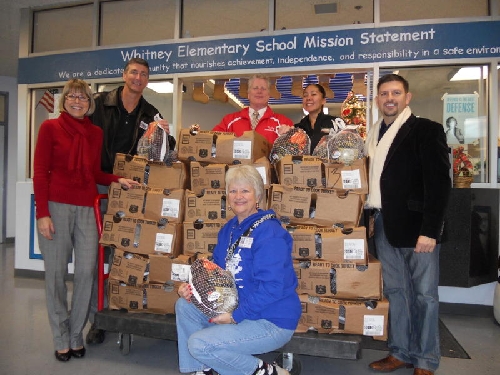 Whitney Elementary, an at-risk school situated near Boulder Highway and East Tropicana Avenue, was all smiles last Friday when several Findlay Automotive Group stores combined with other businesses donated about 100 turkeys to the families of needy students.
Included in the donation were Findlay Acura, Findlay Toyota and Findlay Lincoln Mercury, all of which are situated in the Valley Automall; Parker Dunn, CEO of www.ebizauto.com; Mary Jo Baker of www.cars.com; Mark Manendo of Collision Authority; Jeremy Hagen of Findlay Acura; Tony Lee of www.autotrader.com; and Ed Braunbeck of www.webcontrol.avv.com.
"We're so thankful for the turkeys," said Whitney Principal Sherrie Gahn, whose school has a high level of homeless or near-homeless students. "Without the donation by the wonderful people of Findlay Automotive Group and Collision Authority, many of these families would not have a traditional Christmas dinner."
Findlay Acura also sponsored a purchase of a delivery of van used to transport students to appointments for medical needs and donations.
Whitney Elementary has gained international attention during the past two years for providing exceptional student services.
"However, it's so important to point out that we could not provide the magnitude and extensiveness of the services without the community and people like the ones who showed up with the turkeys," Gahn said. "There is a never-ending need for students like the ones at Whitney, and this sort of thing illustrates the compassion and dedication of the city of Las Vegas.
"The people who help Whitney have been doing this for years making sure our kids don't go without. I am amazed and humbled by the response."
Whitney Elementary has more than 600 students from prekindergarten to fifth grade. Further information regarding the school can be found by calling 799-7790 or by visiting the Clark County School District website www.ccsd.net.