TV show makes a star out of museum administrator Mark Hall-Patton
August 8, 2011 - 11:20 pm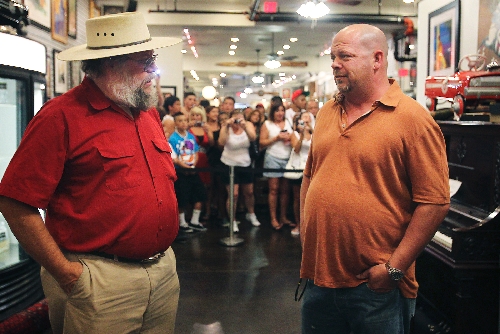 From the corner of his eye, Mark Hall-Patton can see people gawking at him because they recognize either his long beard or signature Atwood hat .
They don't identify him as the administrator for the Clark County Museums, or even as an author, but rather as the go-to history expert on the reality television show "Pawn Stars" on the History Channel.
"I was at an Arco, and a guy ran up to me because he recognized the hat and the beard," Hall-Patton said. "He said, 'I recognize you from 'Pawn Stars.' I hate you.' I don't quite know the protocol for dealing with someone who says they hate you at an Arco. He said he hated me because I never give an appraisal. I kindly explained I don't do appraisals because I am a museum administrator. I just can only speak on the history."
Even walking onto the set of "Pawn Stars" at the Gold & Silver Pawn Shop, 713 Las Vegas Blvd. South , one, two, three, four, five visitors' cameras hover in midair waiting to snap after Hall-Patton answers the question: "May I get a picture with you?"
Hall-Patton humbly answers, "Sure," and accepts that the nearly 25-foot walk to the back of the store will take at least 10 minutes, if not longer, as he wades through the tourists who all know him — or at least his face.
Store owner Rick "The Spotter" Harrison, who also has fans swarm him every time he walks onto the floor, is impressed by how much Hall-Patton knows.
"I can't stump him, I really can't," Harrison said. "He is the smartest guy I know. I can ask him any weird question, and 80 percent of the answers he knows off the top of his head."
Hall-Patton said there is an upcoming episode where Harrison is close to stumping him. But only close.
When Hall-Patton is needed, the crew calls him, explains the object and sends him a picture.
With 20,000 books in his personal collection, Hall-Patton researches until he finds the best answer possible.
"I think about the answer I need to find, not just the question," Hall-Patton said. "If you just look at the question, you might be limited. I am not trying to be egotistical, but this is just one of the things I do well."
Harrison thinks it's not what Hall-Patton reads but what he retains.
"I read a lot, but he reads a lot and remembers everything," Harrison said. "He is a great guy to know in this business. He never tells me what it is worth. He only tells me if it is real or not."
Hall-Patton said people assume that the History Channel does his research and feeds him the lines to say.
"The show isn't scripted," Hall-Patton said. "I do all my own research."
Hall-Patton's expertise has been filmed about 50 times, but not all of his appearances have aired yet.
His first appearance on "Pawn Stars" was in 2009 when he was asked to authenticate a jacket that belonged to Gen. Oscar Griswold, a Nevadan who served in World Wars I and II.
"I kept asking them, 'What is this for again?' " Hall-Patton said. "They told me for a reality show on the History Channel. I said, 'Are you sure people are going to watch this?' "
Hall-Patton watches the show to see which segments are included .
"I never know what they are going to put in," Hall-Patton said. "I go down there and tell them more than they would ever want to know about the object. They decide what to include. First time I watched, I thought, 'So that's what I look like. My desk isn't normally that clean.' "
His participation on "Pawn Stars" has benefited the museum system financially. The History Channel makes a donation each time Hall-Patton is consulted, and attendance at the Clark County Museum, 1830 S. Boulder Highway, has risen.
"People come here to see the pawn shop, but now they also come to visit the m useum," Hall-Patton said. "There is no way I could have even dreamed of this response. Today, I had people here visiting from Georgia, New Orleans and California. If I walk out into the lobby, people ask to get my autograph or take a photo. You want to get your picture taken, that is totally fine. But I am just an administrator."
Hall-Patton's Amish-style hat is a dead giveaway.
"I have been wearing hats for 25 years," Hall-Patton said. "I'll probably die in a hat."
As for the beard, Hall-Patton has worn it since Aug. 10, 1976, and it is here to stay.
"It was the day I left home for graduate school," Hall-Patton said. "I have been growing it ever since. My kids have never seen me without it."
He has worked for Clark County since 1993 as the administrator for the Howard W. Cannon Aviation Museum at McCarran International Airport. He has served as the administrator for the Clark County Museum system since 2007.
"They thought I was doing well with the aviation museum, so they gave me both," Hall-Patton said.
Hall-Patton was 8 years old when he discovered he wanted to run a museum.
"I would set up displays and take my brother and sister through them," Hall-Patton said. "I learned that was a game that my friends did not want to play. I was just talking to my brother and sister, and they get a kick out of the fact that I am doing the exact thing I wanted to do since I was 8. How many 8-year-olds say, 'I want to run a museum?' "
Besides setting up displays, Hall-Patton grew interested in history as he listened to his family tell stories.
"My uncle would always tell these stories," Hall-Patton said. "They way he told everything made history so real."
When he went to the University of California, Irvine, he first declared a chemistry major.
"Because you can't get a job with a history degree," Hall-Patton said.
But less than a year in, he realized there were a high number of chemistry students also searching for employment.
"If I was going to be unemployed, I might as well be unemployed with a degree I am interested in," Hall-Patton said.
A history professor introduced Hall-Patton to a graduate program that focused on museum studies.
"He reached into his desk and pulled out a pamphlet and said I might be interested," Hall-Patton said. "I was."
Hall-Patton packed up his '66 pick up truck and moved to attend the University of Delaware.
Because of money, Hall-Patton wasn't able to complete his graduate studies, but he received an internship and later a job.
He has worked at eight museums and consulted numerous other museums and exhibits.
He is author of the book "Asphalt Memories," which pinpoints the origins of street names in Clark County, and is a local expert who has spoken on the origins of Clark County at seminars, classes and in the media.
"My children are used to me always saying, 'Do you know where that street name comes from?' or, 'Let me tell you about the history of that,' " Hall-Patton said.
In addition to "Pawn Stars," Hall-Patton has been featured on two episodes of "American Restorations," also on the History Channel.
"People think because I am on TV, I have a different life," Hall-Patton said. "I just run a museum."
Contact Henderson and Anthem View reporter Michael Lyle at mlyle@viewnews.com or 387-5201.