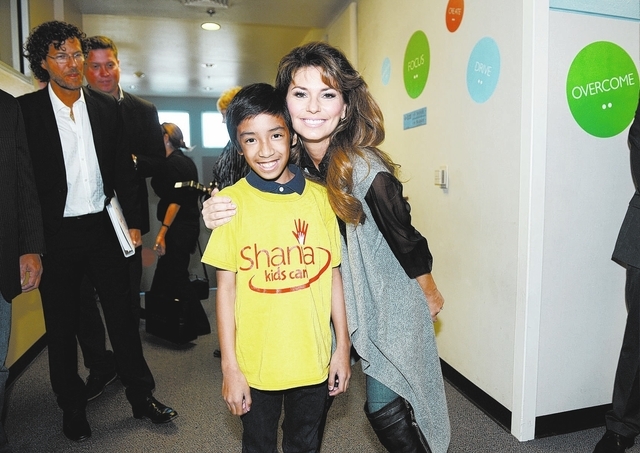 Can you walk a mile in Santa's shoes for a good cause?
Downtown today, 10,000 to 15,000 people are expected to dress like Santa and run a 5k (or walk a mile) in the Las Vegas Great Santa Run.
It's the ninth annual fundraiser for the mostly self-funded Opportunity Village, which helps Las Vegans with disabilities work and increase their life productivity.
Caesars Palace headliner Shania Twain is grand marshal, and she's bringing family.
"I've got my own little Shania team running," Twain says. "My husband will run, and my sister will run, and a few band members. It's becoming a personal event for all of us."
Teams of five or more — and individual runners — can register at 8 a.m. on-site. Santas start running at 10 a.m. from the Third Street Stage at the Fremont Street Experience.
Twain is so happy to be part of our annual Vegas Santa craze. She says she's thrilled, honored and humbled.
"I think it'll be moving," she says. "It's going to be exciting, watching all these Santas run down the road" for Opportunity Village.
Meanwhile, Twain is scheduled to sing at Caesars tonight, Sunday, Tuesday, Wednesday, next weekend and dates in January and February.
She is also running her own charity for kids in Vegas these days — Shania Kids Can.
Shania Kids Can is setting up "clubhouses" in qualifying schools for kids in need to get more access to nutritional food, social and psychological counseling and extracurricular training.
The kids Twain is trying to help are children who are growing up like she did, in dysfunctional homes.
Twain grew up quite poor, at times fending off grave paternal fights and abuse, spending some time in a homeless shelter, working hard labor jobs and providing for family members when her parents died.
But she stresses a point that social workers will tell you — kids in need can be poor like she was, but they can also be rich or middle class. Shania Kids Can is designed to help all of them.
"It's not a stigma of 'the poor.' I don't want people to think this is a poor man's problem. It is not. It is a social problem across the board," she says.
"These kids will grow up with fewer insecurities, way more likely to reach their potential, a lot less likely to be bullied, and be more productive in school.
"I'm doing this particular charity, because I've been through it, and I understand it. I'm a believer that if you have experienced something yourself, the greatest gift is to share that experience."
So Twain hopes you dress up like Santa today and donate at Opportunityvillage.org and Shaniakidscan.com.
"It's a great time to be doing it. Everybody's hearts open up more in the holiday season."
Doug Elfman's column appears on Page 3A in the main section on Mondays, Tuesdays, Thursdays and Saturdays. He also writes for Neon on Fridays. Email him at delfman@reviewjournal.com. He blogs at reviewjournal.com/elfman.