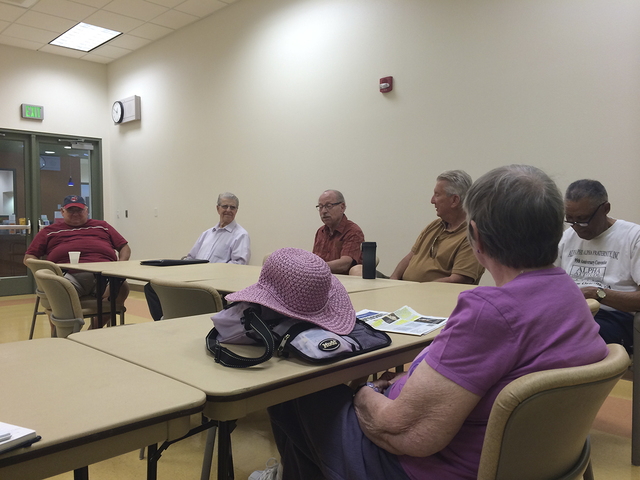 Politics are sometimes difficult to discuss, yet a group of seniors at the Centennial Hills Active Adult Center, 6601 N. Buffalo Drive, participate in active political discussions every two weeks as part of a current events discussion series intended to keep the seniors cognitively and emotionally active.
The idea of establishing such a discussion group came to Roney Fuller two years ago. Fuller, who has been a coordinator at the center since it opened to the public in August 2007, said one of the center's members suggested a space for seniors to have a conversation and expand their minds.
"Before they came to me with the idea, they had already been having discussions at the library, but it was uncomfortable for them there because they felt they might disturb others," she said. "And when they asked me for a space where they would be comfortable expressing their views and have an open discussion, I thought, 'Absolutely.' "
Fuller then found a room for the seniors to have their political discussion and made it available once a month. She said the discussion group started out with three or four people, but it has grown to twice a month and includes about 15 to 20 people per discussion session.
"In the beginning, we just wanted to try the idea of the discussion group for a few months to see how it went, but it really took off, and people have really grown to like it," she said.
"I think it's wonderful that people of different views can have a conversation instead of yelling at each other like it is so common in our world," said Debbie Crowe.
Crowe, 68, participates in the discussions regularly and said they are a good outlet for people to share their opinion and experiences.
Overall, the discussion group encompasses educated and well-spoken people with varied political views and backgrounds, including retired government employees, retired private sector employees and veterans.
As the seniors converse about a variety of topics, such as veterans' affairs and student loan debt forgiveness, it becomes clear that every person is not only educated and experienced but also active and critical readers.
"Having this discussion really causes us to read the newspaper and be attentive to what's going on in the world, so we don't come here looking stupid," Crowe said.
According to Crowe, a retired federal employee, the group discussion allows the seniors an outlet to expand their knowledge, share their thoughts and experiences and learn from others.
"When people discuss the hot topic that is in the news you are always going to have people that are on different sides of the fence and have different views," Fuller said, "So we let them know that if they come to the discussion they have to be open-minded and be level-headed."
Crowe said that even though most people have different points of view and they may disagree, everyone is respectful of each other.
"Sometimes we get a little heated, but it doesn't happen much," she said. "We don't like to yell at one another. We really like to respect each other."
Teresa Pankonen, 70, who attended her first discussion on June 25, said the group surprised her in that everyone participated respectfully.
"It is a conversation, and people were not hollering at one another like in TV when they are all screaming," she said.
Although she didn't speak much as she was getting used to the dynamics of the group, she said it was obvious that some of the opinions were valid given the career backgrounds of some of the participants.
"Your input was really great," she told Crowe. "You worked for the government many years, so I would really trust in what you have to say."
Fuller said the discussion is valuable to the center because it allows people to socialize and have good debates.
"We hit big on the fitness aspect of aging, but things like the discussion are also really helpful to these people," she said. "It is really valuable because these are smart people who want to get out of the house, socialize and meet with other intellectuals to have a nice discussion."
She saids keeping the seniors' cognitive abilities active is as important as maintaining their fitness level.
"They get into some really good debates," Fuller said. "It is really nice for them to have a good space and neutral ground to have a discussion on pretty much anything."
"It is really fun," Crowe said. "We are so different and have different perceptions, so coming to the discussion is always very interesting."
Contact reporter Maria Agreda at magreda@reviewjournal.com or on Twitter at @mjfagre.