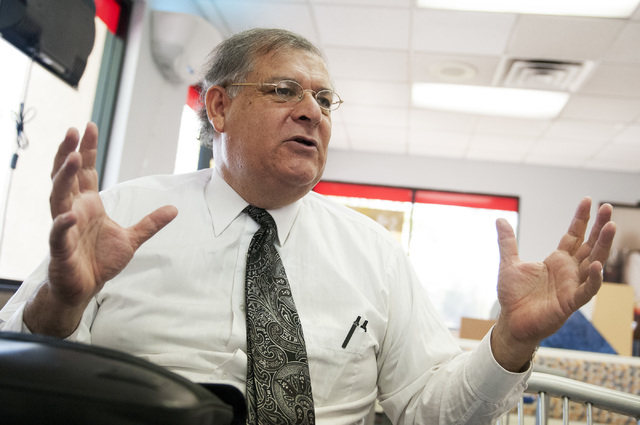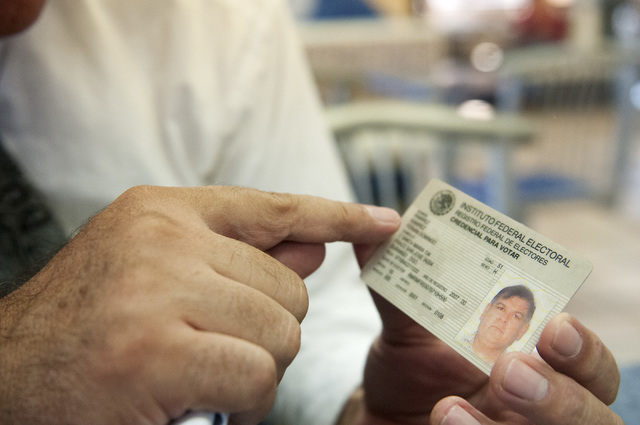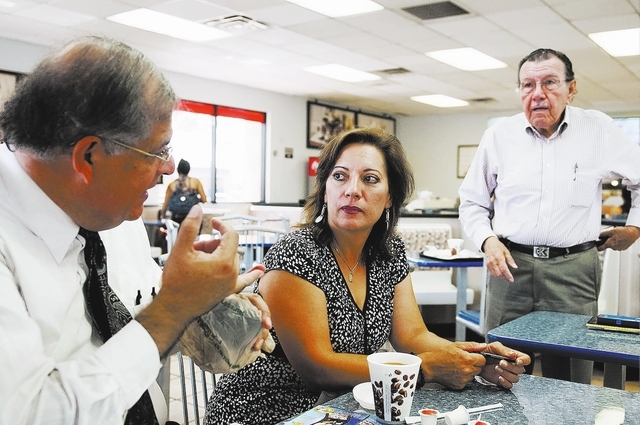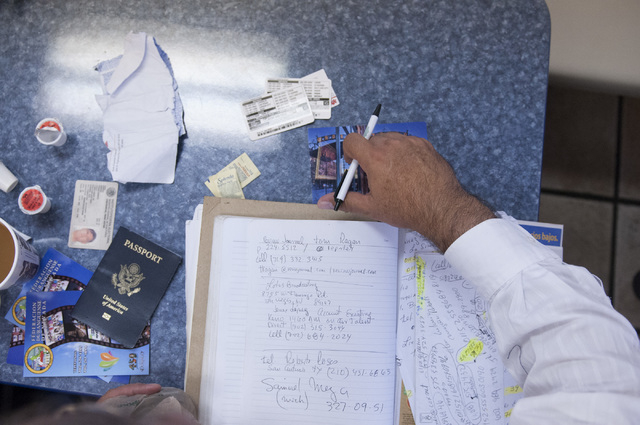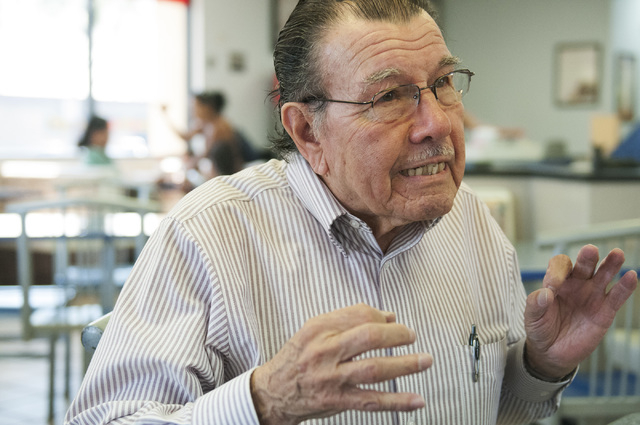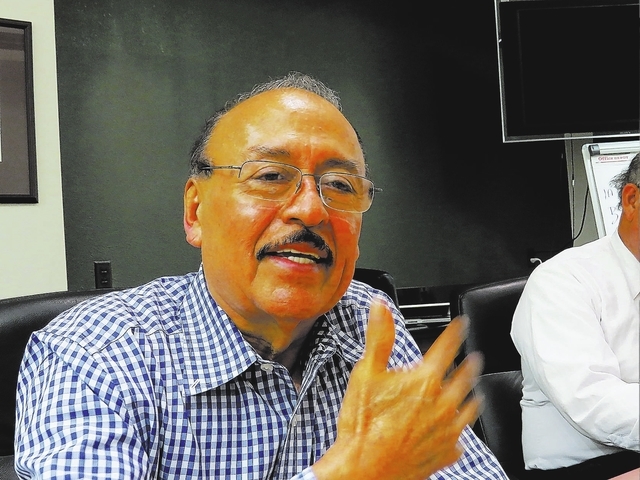 Latino votes carry major political clout in the United States. Even presidential and congressional elections have turned on them.
Now Latinos from Mexico who live in the United States could prove just as influential in the Distrito Federal, Mexico's equivalent of Washington, D.C.
Alfonso Zapata, a Houston resident who came to the United States as a farmworker years ago, is trying to tap into their voting power to create a new political party in Mexico that would not only give immigrants here a political voice to help better their lives but also improve the lives of their family members still living in Mexico.
It's a fast-growing, coalition-building, grass-roots movement that has gathered momentum in some of the larger cities across the Southwest with high concentrations of Latinos, including Nevada, where tens of thousands of Mexican immigrants live. While they might not be able to vote in U.S. elections, they still can cast votes in Mexico's presidential election, provided they're properly registered.
So Zapata these days has been tearing up the transnational campaign trail on both sides of the border, hop-scotching from one major city to the next — from Los Angeles to La Paz, from Dallas to Durango, from Phoenix to Puebla. His next scheduled pit stop will be Las Vegas, where a rally will be held at 5 p.m. Sept. 29 at the Silver Nugget. He's expected to draw 300 to 500 supporters.
"I think he has a shot," said Margarita Chaidez, 50, a Las Vegas resident who believes that Zapata, a self-made millionaire with bicultural ties, is onto something. "Mexicans here have the right to vote and everybody's vote counts. It's time we exercise that right. It's our civic duty."
Her enthusiasm is unbridled, probably because it's the first time in the history of Mexican politics where a U.S. citizen of Mexican descent has tried to create a coalition from the outside. The movement isn't too terribly different from third-party candidates who often emerge in the United States and draw voters away from major parties by focusing on special interests — in this case the plight of the immigrant and the political no man's land into which many of them fall.
The fact that Zapata has the same last name as Emiliano Zapata, the revolutionary battle hero with the trademark thick mustache, shouldn't be overlooked. In Mexico's world of politics, name recognition goes a long way; and Zapata, whose back still aches from spending years toiling in the strawberry and lettuce fields of California's Central Coast, is somewhat of revolutionary himself, only because he knows the trials and tribulations firsthand.
ZAPATA'S PLANS
In an interview with the Review -Journal, Zapata said he wanted to make one thing clear: He doesn't plan to run for the Mexican presidency if he creates the party; instead, the party's goal is to create a dialogue under its pro-immigrant banner, allowing bona fide Mexican candidates with political track records to step in and fill the political void by lobbying for their interests.
With money transfers from the U.S. amounting to billions of dollars each year, accounting for Mexico's No. 2 gross domestic product behind petroleum, Zapata says the time is long past due that the Mexican government "woke up" and be held accountable for its "pathetic" lack of action.
"I've always said that if the immigrants can't help themselves, then who's going to help them?" the 69-year-old Zapata said by phone from Mexico City, where he was getting ready to board a plane for Houston on Thursday. "And the only thing standing in the way at this moment is a bunch of signatures."
In order to legally establish his party by Mexico's electoral standards, he needs to gather 250,000 signatures in Mexico and at least 3,000 in every capital city in the 32 states that make up that nation.
To date, he has half that, and the key to the other half is pumping up interest here that will be heard in Mexico. Although signatures here will not be honored by the Mexican government, Zapata figures that for every vote of confidence he gets here, that translates into at least four votes among family members in Mexico.
The cross-border ties are immeasurable. It's not uncommon to see names of various Mexican states plastered on store fronts as a form of individual state pride — from Guadalajara tacos, Mexicali tire repair, Sinaloa shoes and Cancun restaurants. The list keeps growing as the Mexican population rises.
But time is running out. Zapata has until December to submit all his signatures to Mexico's Federal Electoral Institute, or IFE by its Spanish acronym.
SWING VOTING, MEXICAN STYLE
Zapata's movement isn't much different from the sort of swing-vote campaigning that occurs every U.S. election cycle, but there's one major drawback: If Mexican citizens who live here aren't registered in Mexico, they would need to go back to Mexico to do so, somewhat of a deal-breaker for those who live in the Silver State illegally.
But Julian Adem, the Mexican consul in Las Vegas, points out that both the Chamber of Deputies and the Chamber of Senators are trying to create a plan that would make it easier for Mexicans to register from afar and not have to make that trip back.
The Mexican government, while it might be criticized for ignoring the immigration base here, is cognizant of it, he said. During last year's presidential elections in Mexico, for example, exceptions were made for those citizens whose registration cards had expired, Adem said, adding that they were permitted to vote.
For those whose cards haven't expired — they have to be renewed every 10 years — all they need to do is show up at the nearest Mexican consulate, obtain a ballot and cast their vote via certified mail.
It's the equivalent of absentee voting, something members of the U.S. military stationed abroad do every election cycle.
But some political pundits think the creation of a new political party is all for nought, if not highly ideological. The three major parties in Mexico, from the long-ruling PRI to PAN to PRD, have had little success in improving the country's economy and stopping immigration to the north, so how is it that one man is going to suddenly emerge and solve the country's woes?
LAS VEGAS POLITICKING
While he's short on the details of his plans, Zapata has a following in Las Vegas. Humberto Pena is among them. He's excited about the prospect of a new political party.
"It's time for a change, and there's nobody better than Senor Zapata," said Pena, 68, who worked for the Mexican government helping to build ports of entry along the U.S.-Mexico border before moving to Las Vegas six years ago.
As it turns out, Pena actually met Zapata years ago while Pena was working for the Mexican consulate in the border town of Calexico, Calif., and Zapata, a farm laborer, needed to move freely between the two countries as an agricultural worker under the U.S.-instituted Bracero program.
But times were different back then, Pena said. "Mexicans could move back and forth, no problem whatsoever. In fact, it was more difficult for them to return to Mexico, not to come to the United States."
It was a time when the U.S. government invited agricultural workers, who were in high demand. Crops needed to be harvested. Zapata worked in the strawberry and lettuce fields along California's Central Coast, in the towns of Salinas and Watsonville.
Since then, he has creaed a successful janitorial services company. The lucrative company in Houston holds major contracts with big-box outlet stores and major hotel chains. That has given him both time and money to explore political opportunities.
"If there's anyone who knows the life of the immigrant and is in tune with the political ways of Mexico, it would be Zapata," said Fermin Ramirez, another Las Vegas resident who came to the United States for better opportunities and now works at a funeral parlor.
Contact reporter Tom Ragan at tragan@reviewjournal.com or 702-224-5512.