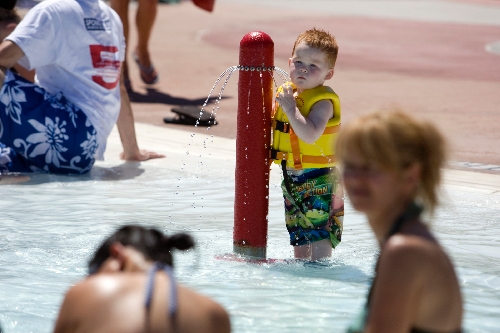 It's hot here, there and everywhere with a 702 area code these days.
The 100-degree temperatures come with the territory, but that doesn't mean desert dwellers can't have a good time.
In the H2O know
Water is a precious commodity in Las Vegas, and the Southern Nevada Water Authority has some tips for being water-smart and staying cool at the same time.
Nicole Lise, spokeswoman for the Southern Nevada Water Authority, encouraged residents to seek outdoor water features but within reason.
"We understand people need to cool off and relax," she said. "When it's being wasted and not going toward a specific use, we try to draw people's attention to water-smart measures."
Lise encouraged people to find one of the more than 70,000 pools in Las Vegas. For pool owners, Lise suggested investing in a pool cover, which can save between 10,000 and 15,000 gallons of water a year from evaporation.
Lise also suggested that residents be mindful of water conservation during play in sprinklers, Slip 'N Slides or fill-up kiddie pools. The Southern Nevada Water Authority has OK'd a daily watering schedule for summer months, except between 11 a.m. and 7 p.m., also due to evaporation.
Home carwashes are all right, also, Lise said, but on a strictly once-per-week-per-car basis.
For more information on water-related rules, visit snwa.com or call 862-3400.
Wet, wild and out
For free fun in the water, retreat to a city of Las Vegas splash pad.
The following parks are free and open to the public daily, starting at about 7 a.m.:
n Centennial Hills Park, 7101 N. Buffalo Drive.
n Estelle Neal Park, Tropical Parkway and Serene Drive.
n Gilcrease Brothers Park, 10001 Gilcrease Ave.
n Patriot Park, 4050 Thom Blvd.
n Polly Gonzalez Memorial Park, El Campo Grande and Bradley Road.
n Sunny Springs Park, 7620 Golden Talon Ave.
n Teton Trails Park, 7850 Bradley Road.
The Centennial Hills Community Center YMCA, meanwhile, offers two outdoor pools and a water park. Use of the pools and park is free for members and $5 daily for nonmembers.
For more information, call the facility at 478-9622 or visit lasvegasymca.org.
Hike on
No matter what the temperature in Las Vegas reads, it's always about 30 degrees cooler in the Humboldt-Toiyabe National Forest in the Spring Mountains National Recreation Area.
Whether it be a nature hike, lunch at the Mount Charleston Lodge, 1200 Old Park Road at the end of Highway 157, or a stay at the Resort on Mount Charleston, 2 Kyle Canyon Road, there is plenty to do 45 minutes northwest of town.
For the third year, the U.S. Forest Service is hosting free interpretive hikes in the recreation area.
Last year, 2,050 people participated in 125 hikes and programs at trailheads, campgrounds, picnic areas and fields of the recreation area, said Bob Loudon, partnership coordinator for the U.S. Forest Service.
Hiker and California native Daniel Armistead recently participated in a hike during a Las Vegas vacation.
"I forgot where I was," he said. "It's just beautiful up here."
For upcoming hikes and other additional information, call 839-5566 or visit discoverspringmountains.org.
Contact Centennial and Paradise View reporter Maggie Lillis at mlillis@viewnews.com or 477-3839.