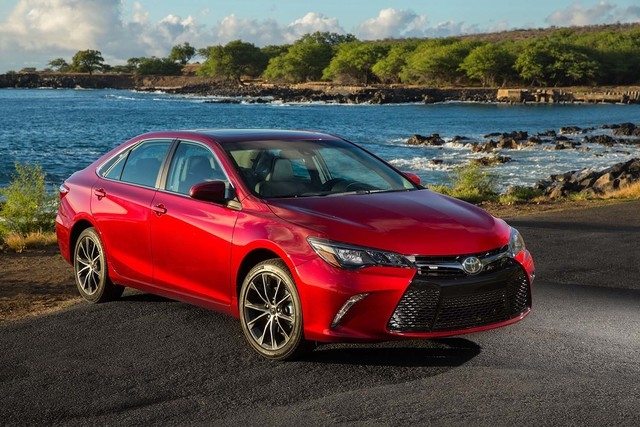 For traveling in style and comfort at an affordable price, the tried-and-true four-door sedan trumps just about anything else on the road.
For years the Toyota Camry has been one of the principal pack leaders in this segment, but being on top doesn't automatically guarantee success, especially with the Honda Accord, Nissan Altima, Ford Fusion and several other mid-size marques chasing your tailpipe.
To appeal to new and existing buyers alike, Toyota has sharpened the Camry's claws in one of the brand's more dramatic updates. In fact, you could almost consider the latest effort completely new, were it not for the carryover powertrains and basic structure although eventhat has been visited with some change. In total, Toyota touts that the number of new parts and pieces that have gone intothe 2015 Camry total close to 2,000.
The most obvious difference, though, is the Camry's dramatically different front end. A spindle-style grille/air intake that has become a major design element in other Toyota and Lexus vehicles has been installed on the Camry.
Most models get a horizontally slotted grille, while a blacked-out mesh version is worn by the sportier SE and XSE trim levels. Also apparent are the sculpted hood and lower body panels that display a bit more design "tension" and help give the car a more youthful appearance.
No makeover would be complete without a fresh set of wheels and the Camry's designers have obliged with new 16-inch wheel covers for base models and 17- and 18-inch alloy heels for the rest of the lineup. Inside, the changes are more subtle, but Toyota has installed new gauges, reshaped the control panel and recovered the seats with better-quality fabrics.
One neat available feature is a wireless charging system in a bin ahead of the shifter that will energize your smartphone or similar electronic device without having to plug it in.
Virtually unchanged are the Camry's three power teams that are proven stalwarts and remain competitive against the rest of the field. The base 2.5-literfour-cylinder is the primary workhorse for the majority of Camrys and provides 178 horsepower and 170 pound-feet of torque. It's rated at 25 mpg in the city and 35 on the highway.
Available for all but the base trim is a 3.5-liter V-6 with 268 horsepower and 248 pound-feet of torque. Consider that other sedans are coming close to 300 horsepower with their V-6 offerings.
The mpg rating is a still-respectable 21/31. For the Camry Hybrid, the carryover drivetrain consists of a 156-horsepower, 2.5-liter, four-cylinder engine linked to a 105-kilowatt (141-horsepower) electric motor for a net system output of 200 horsepower. The Hybrid earns a rating of 39 mpg in the city and 41 on the highway, numbers that are attainable only if your right foot is extremely light. While competitors offer up to nine forward gears (Chrysler200), both the base four-cylinder and optional V-6 are mated to six speed automatic transmissions, while the Hybrid has a continuously variable unit (CVT).
Along with looking bolder, Camry drivers are treated to a retuned suspension (sport-tuned for the SE version) while the electric power steering has been tweaked for more straight-line stability and a more direct feel while turning. With a starting price of $23,800, the base Camry LE shows up neatly dressed with most of the expected content, but stepping up to the XSE and XLE will really make a difference with added sport and luxury content. You'll get a power moon roof, noise-reducing windshield, push-button start and a premium audio package that's combined with a navigation system.
The result is that, like it or not, Toyota has successfully banished bland and boring from the Camry with a daring design backed by plenty of content goodness.
The sweeping cut lines in the side of the body are new to Camry, but are pretty standard with other models.
Why reinvent the wheel when you can simply put 2,000 new parts into it?
The changes to the inside are subtle, but the sweep of the dash on the passenger side is very Lexus-esque. There are new gauges and better materials throughout.
The tough part is thinking of the Camry as a sporty car. Without a manual transmission or a bigger/better engine to differentiate the XSE, the difference comes down to some style touches and a tighter suspension. You'll notice the wide "mesh"grille for the sporty XSE, as well as different wheels.
WHAT YOU SHOULD KNOW
2015 Toyota Camry
Type: Four-door, front-wheel-drive mid-size sedan
Engines: (hp) 2.5-liter DOHC I4 (178); 3.5-liter DOHC V6 (268); 2.5-liter I4 with electric motor (200, hybrid)
Transmissions: Six-speed automatic; continuously variable (Hybrid)
Market position: Mid-size sedans such as the Camry are the backbone of the auto industry. To stay on top of this highly competitive category, Toyota must maintain a regular schedule of regular physical and content upgrades.
Points: Significant redesign should provide an image boost, especially with younger buyers. Fuel-efficient four-cylinder and V6 powertrain lineup. Suspension and steering improvements should also help make Camry more competitive. Watch the competition respond with more aggressive
styling for their sedans.
Safety: Front airbags; front/rear side-impact airbags; side-curtain airbags; front knee airbags; anti-lock brakes; traction control; stability control.
MPG: (city/hwy): 25/35 (2.5) Base price (incl. destination): $23,800
BY COMPARISON
Hyundai Sonata
Base price: $22,000
Clean design plus appealing warranty should bolster Sonata's popularity.
Honda Accord
Base price: $22,900
Easy on Gas plus excellent road manners makes this a fun-to-drive sedan.
Chrysler 200
Base price: $22,700
All-new 2015 sedan looks good, has sharp styling and lots of cabin space.