Valley Automall helps foster teens celebrate holidays
December 24, 2010 - 12:00 am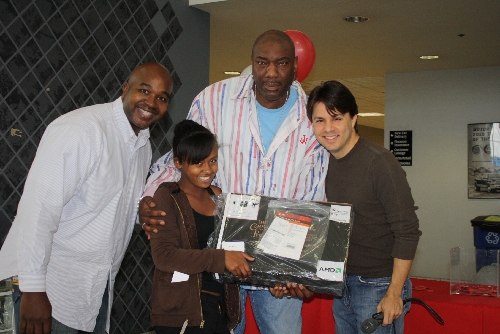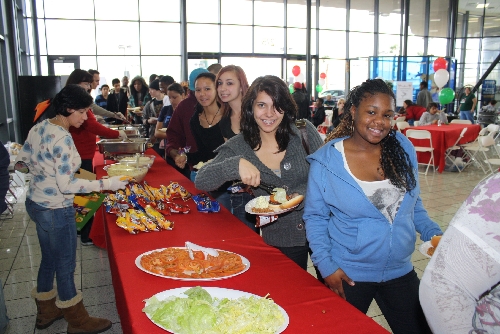 The Valley Automall held its 13th annual Foster Teens Holiday Event Dec. 19.
The daylong event gave 100 disadvantaged youths an opportunity to enjoy the season with free food, gifts and fun. It brings seasonal cheer to some of the valley's 500 foster teens that might not otherwise experience the holidays.
"Kids receive a seasonal dose of caring, happiness and joy," Valley Automall Manager Valorie Staley said. "It affords them an opportunity to see that they are loved and important, which is what the holidays are about."
Chaperoned teens arrived to a brightly colored Towbin Dodge showroom, where the festivities began with Dunkin' Donuts, coffee and hot chocolate. Next, teens received $100 from the Valley Automall Owners Association to spend on an exclusive shopping spree at local area shops and retailers, arriving by chartered coach buses.
Teens enjoyed a shopping spree at local area retailers buying clothes and tennis shoes, sporting goods and music, among other items. It was followed by a buffet-style feast of hamburgers and hot dogs, salads, baked beans and cake, along with an inspirational talk from former University of Nevada, Las Vegas basketball star Eldridge Hudson who played for Jerry Tarkanian's Running Rebels from 1982 to 1987.
"People care. You think they don't, but they do," said Hudson, who reached college basketball's Final Four with the 1986-'87 Rebels team. "Take 'can't' out of your vocabulary. You can do anything."
Hudson, who scored 752 points as a Rebel and later played overseas, encouraged kids to stay in school, stay focused and get an education.
"I connect with kids. I have two of my own," Hudson said. "Sometimes, all kids need is a pat on the back."
Foster teens additionally received free prizes during a raffle hosted by KVVU Fox 5 Chief Meteorologist Darren Peck. Schwinn mountain bikes with helmets, a personal laptop computer, a home music system and MP3 player were among the many holiday gifts kids took home. Many teens also got complimentary haircuts provided by stylist Kerri May from Studio 1 Salon in Henderson.
Event sponsors included Ford Country, Lexus of Henderson, Mercedes-Benz of Henderson, Gothic Landscape Co., Fierro Communications, Swan Advertising, KVVU Fox 5, Desert BMW, Findlay Toyota, Findlay Cadillac-Saab, Starbucks, Findlay Volkswagon, Mustang Sally's and Insight Communications.
The holiday celebration plays a key role in developing and improving foster teen self-confidence and self-worth. It gives kids encouragement, support and caring they might not get elsewhere.
"This event helps recognize neglected teens during the holiday season when many of them are separated from their families or live in group homes," said Corey Taylor, an independent living youth coordinator with Clark County's Department of Family Services. "It gives them a special day to be the center of attention and feel important."
For those interested in becoming a foster parent, call the Family Services Department at 455-0181 or visit www.clarkcountynv.gov/Depts/
foster_care.
The Valley Automall is the world's largest auto mall, with thousands of new and used vehicles. For more information, go to www.valleyautomall.com.
Valley Automall dealers include Audi Henderson, Chapman Chrysler-Jeep, Courtesy Imports, Courtesy Mazda, Desert BMW of Henderson, Desert Pontiac-GMC, Findlay Acura, Findlay Cadillac-Saab, Findlay Honda Henderson, Findlay Lincoln Mercury, Findlay Toyota, Findlay Volkswagen, Ford Country, Henderson Chevrolet, Henderson Nissan, Lexus of Henderson, Mercedes-Benz of Henderson and Towbin Dodge.