Variety of Henderson venues offers ideas for beating the heat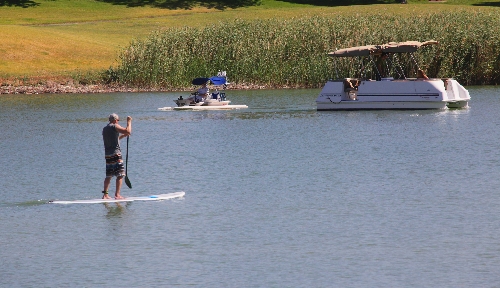 There are a variety of Henderson establishments that offer water relief and air-conditioned activities for residents to escape the 100-plus degree weather of July and August.
According to Michelle Olds, a marketing coordinator with Lake Las Vegas, there are several water activities people can do in the marina, including kayaking, canoeing, using electric boats and fishing.
"The water is very refreshing and much cooler than (the heat) outside," Olds said.
The Village at Lake Las Vegas recently added stand-up paddle boarding to its options.
"We added it because it was growing in popularity," Olds said. "(The board used) kind of looks like a huge surf board. You can stand, sit or kneel on the board and paddle using an oar. Once you get the hang of it, you just start paddling and don't realize how far you've gone. It is a great core work out, and you can enjoy peaceful and serene views."
Olds said water activities depend on people's preference.
"It depends on how physical you want to be," Olds said. "Everyone has a preference. If you want something more physical, go with the kayaking or the paddle board. If you want something more leisurely, rent an electric boat."
Olds said the electric boats and gondola rides provide a relaxing environment where people can even bring a picnic and enjoy it while on the water.
The marina accepts walk-ins and reservations to rent equipment.
"We always recommend they make a reservation," Olds said.
Getting wet
The city of Henderson has six parks with splash pads that are scheduled to be open from 9 a.m. to 9 p.m. daily: Amador Vista Park, 1562 Amador Lane; Esselmont Park, 2725 Anthem Highlands Drive; Madeira Canyon Park, 2390 Democracy Drive; Mission Hills Park, 551 E. Mission Drive; Paseo Vista Park, 2505 Paseo Verde Parkway; and Saquaro Park, 600 Pounds Way . Two other parks, Acacia Park, 50 Casa Del Fuego St., and Hayley Hendricks Park, 811 Ithaca Ave., are open from 8 a.m. to 8 p.m. daily .
The city is slated to open two more splash pads this summer at Reunion Trails Park, 44 Chapata Drive, and Hidden Falls Park, 281 W. Horizon Drive.
"Splash pads have a special soft surface made of recycled rubber so people can walk on them with bare feet without slipping," said Kim Becker, a spokeswoman with the parks and recreation department.
Becker said the splash pads have interactive features.
"You might push a button to make a stream of water come out of the ground or from overhead spouts," Becker said . "The size (of a splash pad) varies from park to park."
Becker said the best thing about the splash pads is that they are accommodating to people who might not be able to swim.
"People love splash pads because they are easily accessible, free to use, can accommodate many people and help you cool down very quickly," Becker said. "Little kids love them because they can have fun in the water even if they're nonswimmers. Splash pads are unlike pools in that there is no depth to the water. However, parents must supervise their children at all times. Anytime you have children near any kind of water, parental supervision is a must."
People of all ages can use the splash pads, but pets are not permitted.
"(Pets) are welcome in the parks but not on the splash pads," Becker said.
City pools also are open, allowing people to dive in and cool off from the triple-digit heat with a cost of $1 to $3 for a single entry or $20 to $145 for Swim & Trim passes, which allow as many as 360 entries into a pool.
From 11 a.m. to 6 p.m. Mondays through Saturdays and 1 to 5 p.m. Sundays, the Black Mountain Aquatic Complex, 599 Greenway Road; the Henderson Multigenerational Activity Pool, 250 S. Green Valley Parkway; and the Whitney Ranch Activity Pool, 1575 Galleria Drive, are scheduled to be open.
From noon to 5 p.m. seven days a week, the Silver Springs Outdoor Pool, 1951 Silver Springs Parkway; the BMI Outdoor Pool, 105 W. Basic Road; and the Wells Outdoor Pool, 1650 Price St., are scheduled to be open.
Hotels such as the M Resort, 12300 Las Vegas Blvd. South; Sunset Station, 1301 W. Sunset Road; and Green Valley Ranch Resort, 2300 Paseo Verde Parkway, also have pool options for locals.
From 9 a.m. to 8 p.m. daily, weather permitting, locals can access the pool at the M Resort for $10 per day, with hotel guests, women 21 or older and children 5 or younger having free entry.
Sunset Station has local specials for $10 a day and $20 on holidays. The pool is open from 8 a.m. to 8 p.m. daily.
The Backyard at Green Valley Ranch Resort is open to locals for $20, which includes a $10 food and beverage voucher.
Head indoors
Even though people can stay cool with outdoor activities, Henderson has other indoor options .
From 9 a.m. to 4:30 p.m. daily, the Clark County Museum, 1890 S. Boulder Highway offers different exhibits, allowing people to escape the heat.
"We have 30 acres with lots to see and do," said Mark Hall-Patton, museum administrator. "People won't be bored with just reading labels. There are hands-on materials. Kids can touch a reproduction of a prehistoric mammoth tooth, figure out how to use a pump drill or find out what a Paiute (Indian) used for a lunch box."
The exhibit area has items from Las Vegas' history, including artifacts from Native Americans to the early mining days and gambling.
In addition to Las Vegas history, the museum has an exhibit, "From Carbon Paper to .pdf: A Century of Change in the Office," which is slated to run until Oct. 28.
Office items over the last century, such as quill pens, printing presses, printers and modern and older cellphones, are displayed.
People can even use an old-fashioned typewriter to get the feel of typing in the 1930s.
"It is a good way to open dialogue," Hall-Patton said. "We found that most people spend more time remembering their experiences (using the office supplies)."
Aside from the exhibit space, the museum has display houses on Heritage Street.
"The street stays shady all summer long," Hall-Patton said.
The display houses are set up to represent different periods of history.
"So if you want to see what it was like to live in a house with no air (conditioning) in 1912, you can," Hall-Patton said.
The cost to enter the exhibit is $1 for people 18 or younger or seniors 50 or older and $2 for everyone else .
"It is the best deal in the v alley," Hall-Patton said. "Plus, it's air-conditioned."
Let's go bowling
Other indoor recreation options in Henderson include bowling, which is available at Sunset Station and Wildfire Casino, 4451 E. Sunset Road.
The 72-lane Strike Zone Bowling Center inside Sunset Station is open 24 hours a day, seven days a week.
Adult games are $3 from 8 a.m. to 6 p.m. Monday through Friday and $3.75 weekday evenings and weekends. Children 10 or younger and adults 55 or older pay $2.75 from 8 a.m. to 6 p.m. Monday through Friday and $3 weekday evenings and weekends.
Late-night games, from midnight to 8 a.m., are $1 Monday through Thursday and $2 Friday through Sunday.
Prices don't include shoe rentals, which are $3.50.
Wildfire Casino has summer prices at $2 for open play from 9 a.m. to 5:45 p.m. Monday through Saturday, 8:30 p.m. to midnight Monday through Wednesday, 6 p.m. to midnight Thursday, 6 p.m. to 2:30 a.m. Fridays and Saturdays and 9 a.m. to midnight Sunday.
Midnight bowling is from midnight to 2:30 a.m. Fridays and Saturdays and costs $1 for adults 18 or older. Rental shoes are $2.75.
Contact Henderson and Anthem View reporter Michael Lyle at mlyle@viewnews.com or 387-5201.