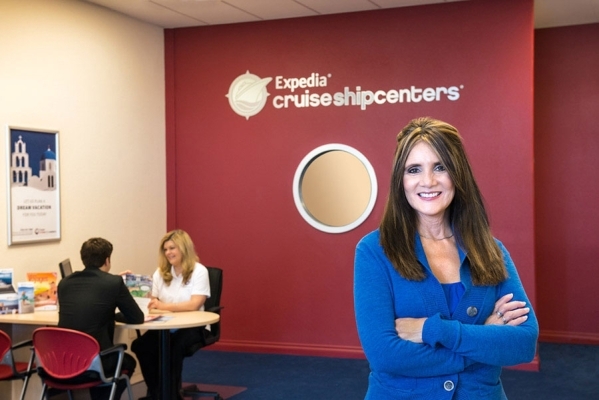 Feeling a little landlocked in the desert? Expedia CruiseShipCenters, 1930 Village Center Circle, Suite 6, might be able to help. The 2-year-old franchise can find a ship to fit just about any traveler's needs.
Franchise owner Morgan Maurer said it's an exciting time to book a cruise, especially with the new amenities that ships include. For example, one has a brewery on board, while another offers skydiving, bumper cars, a surfing simulator and, when you're ready to unwind, robotic bartenders. Sky suites include your own butler.
Can't afford such a suite, or even an outside room to see the passing scenery? Virtual balcony rooms are interior, but they project on one wall, in real time, the same scenery being viewed by those who paid for a view.
Maurer said ships are repositioned for the winter to sail the balmy waters such as in the Caribbean, Panama Canal area and along the Mexican Riviera. In the summer, they are in Alaska, the Mediterranean and the Baltic areas.
Being part of the Expedia family, Maurer said the Summerlin-based brick-and-mortar agency — which has a sister unit in Henderson at 10624 S. Eastern Ave., Suite P — is able to offer prices competitive with online sites but with insider knowledge to help book the cruise that best fits the patron. A family of four, for example, does not want a cruise touted as "romantic" and aimed specifically at newlyweds.
"Even among one cruise line, the cruises vary immensely," he said. "They might have older ships with fewer amenities all the way to the newest, most exciting ships coming out. It's hard for the consumer to differentiate between cruises because there's such a large variance. … In our business, the personal service and expertise is needed when booking a cruise, especially traveling to Europe."
Darius Veasley met Fred Morris of Expedia CruiseShipCenters through a referral from a colleague at a networking event. He has been using the Summerlin office and Morris ever since to plan trips for both himself and his parents, booking with Morris and taking advantage of the services offered through the center.
Veasley is set to cruise from Barcelona to Rome in July. Why not just book the trip online from the comfort of his home?
"Because it's a lot easier to do it in person," he said. "They explain all the details — insurance and why you should or shouldn't have it — and they read the fine print so I don't have to."
Veasley said the office also helps him discern which cruise is best-suited to him and what the land tours entail.
How has the cruise business changed in the last few years?
"Passenger demand has gone up immensely from 2005 to 2015; it's doubled. So the cruise industry is taking off," Maurer said. "All the cruise lines, the way they're selling them, they're marketing them to fill the ships instead of discounting the prices. … So now, the cruise lines are offering additional value."
The best deals in winter will likely be the Caribbean, he said, where most of the ships are repositioned and offer good value. A seven-night Western Caribbean cruise can start as low as $349, plus port fees and taxes, per person. The price includes food, entertainment and room service.
"There's a cruise line for everyone," Maurer said.
Call 702-431-7000 or visit tinyurl.com/h72ru6c.
— To reach Summerlin Area View reporter Jan Hogan, email her at jhogan@viewnews.com or call 702-387-2949.