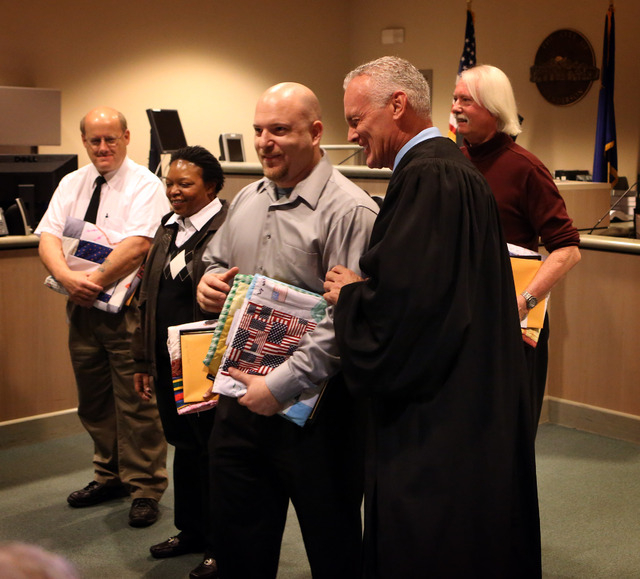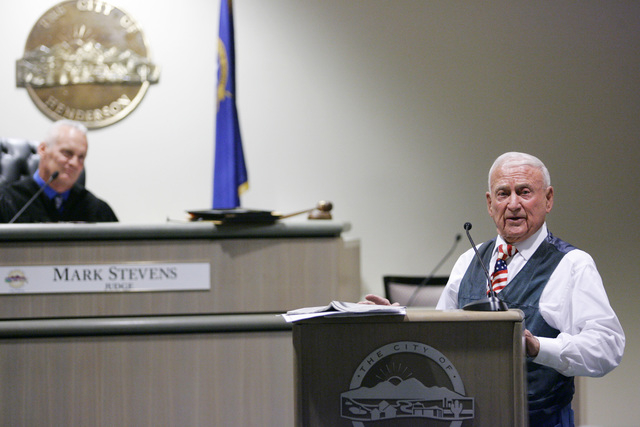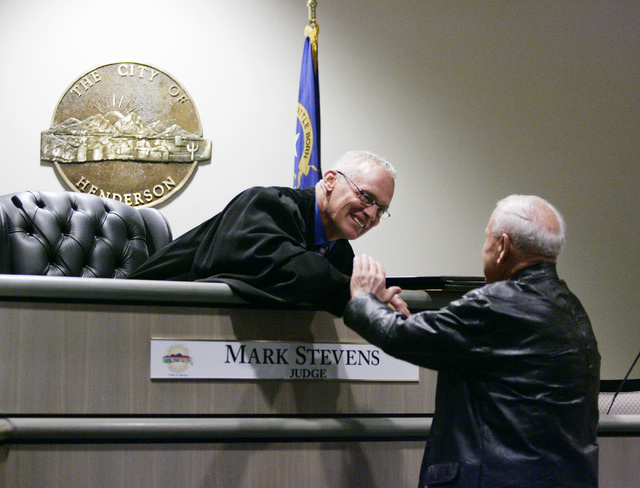 The men and women who serve in the armed forces face unique challenges when they return to civilian life. Sometimes, those challenges put them in conflict with the law. A Nevada law mandated veterans courts to address their issues.
"We have individuals coming back with post-traumatic stress disorder and post-traumatic brain injuries and drug and alcohol addiction associated with their service," said Judge Mark Stevens of Henderson Municipal Court. "Some individuals are having trouble fitting back into society."
In Henderson, the prosecutor, judge and public defender for veterans court are veterans.
The specialty court focuses more on solutions and counseling and tries to help current and former members of the armed forces reintegrate into civilian life when they find themselves in trouble with the law.
In most jurisdictions, veterans court is a weekly or monthly event. North Las Vegas' takes place on the first Monday of each month, and Las Vegas and Henderson have weekly veterans court sessions on Thursdays.
"I want to get the word out," said Chief Judge Chris Lee of North Las Vegas Justice Court. The law requires that if you're a qualifying veteran or an active duty member, you're entitled to unique veterans services when you come in contact with the criminal justice system."
Lee is in a good position to understand the issues affecting veterans. He's an officer serving in the Judge Advocate General's Corps of the U.S. Air Force Reserve. Because many veterans and active-duty military personnel live in North Las Vegas near Nellis Air Force Base or the Veterans Affairs Hospital, he feels there is a particular need for a veterans court there.
"The bigger the support network we can develop, the better," he said.
Lee said that in some cases, the regular relocation of members of the armed forces can take them away from friends, family and private support, although the military has support services.
North Las Vegas is still developing its program and is seeking resources and program partners to expand it and the services it can provide. In Henderson, the system is well established.
"The use of mentors actually helps a lot," Stevens said. "They're veterans who volunteer their time. We went to the VFW, the American Legion and other veterans groups making presentations about the program, and now we actually have as many mentors as we have veterans in the program."
The program applies to many veterans and many cases, but it isn't a get-out-of-jail-free card. Veterans who are found guilty of murder, sexual assault, parole violations, are habitual offenders or commit other more severe crimes are ineligible for the court.
"Some of the cases are more difficult, but there is a lot of hope," Stevens said. "The pride of being a veteran can help them get back on track."
Contact East Valley View reporter F. Andrew Taylor at ataylor@viewnews.com or 702-380-4532.