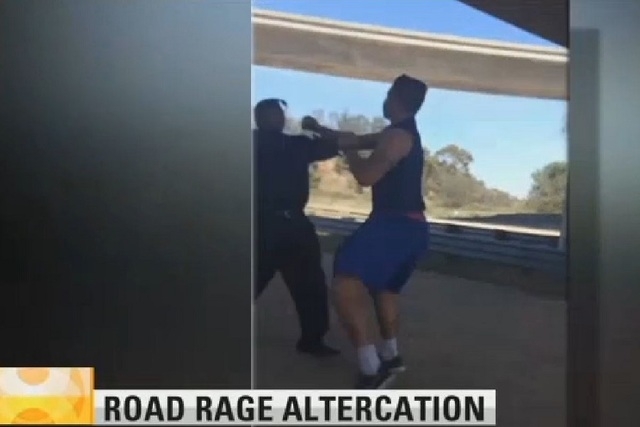 A road rage incident on the Interstate 15 near San Diego caught on camera shows a man being punched over a traffic maneuver.
The 21-second video was posted to YouTube on Sunday afternoon by "Ramirez Vibe," a local football player, and it shows him punching another driver in the face twice.
The 20-year-old, identified on Instagram as "Omar Ramirez," posted the video, according to CBS 8.
"So this (expletive) tried to cut me off and when I denied his foolish (expletive) his road rage spontaneously appeared then quickly disappeared," the YouTube post said. "He threatened to 'bust up' me and my younger brothers which was when my natural protective instinct took over and this is what happen."
Ramirez claimed the incident started when the other driver cut him off on I-15. After moments of yelling and swearing at each other, Ramirez punches the other driver twice in the face.
The other driver stumbles backward looking stunned.
Ramirez told CBS 8 he felt threatened and was protecting himself. The video was turned over to California Highway Patrol.
Contact Kristen DeSilva at 702-477-3895 or kdesilva@reviewjournal.com. Find her on Twitter: @kristendesilva