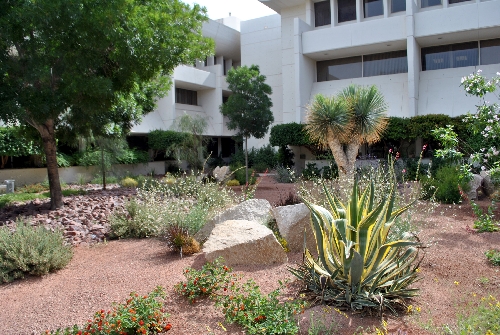 Think you can't have an aesthetically pleasing yard without using a ton of water? Think again.
Winners of the 13th annual Southern Nevada Water Authority Landscape Awards competition have torn out thirsty grass and plants in favor of desert-loving yards. The water authority recognized 12 winners in five categories. A panel of judges selected the winning landscapes based on their overall beauty, efficient water use, plant selection and design.
Besides homeowner categories, the competition awarded large-scale efforts for commercial, institutional or municipal design, and two of those winners were on the east side of town — the University of Nevada, Las Vegas, 4505 S. Maryland Parkway, and Sunset Park, 2601 E. Sunset Road.
First place went to the CEB Learning Garden, done by UNLV's landscape and grounds department, and second place was Sunset Park, by Southwick Landscape Architects.
The William D. Carlson Education Building Learning Garden at UNLV was another winner. Robert Lynn, facilities manager for landscape and grounds at the university, and his staff removed 14,000 square feet of turf and then installed drought-tolerant plants.
"We wanted to make it more attractive and more useful to the public," he said.
The change addressed building access and incorporated an area where picnic tables could go. Lynn's design kept the existing trees and added a more formal walkway, lining it with bottle trees.
The decades-long plan to swap out the turf has UNLV nearing the 1 million square-foot mark.
"We'll keep the grass along the mall for a park-like atmosphere," Lynn said.
Joe Vickers, landscape architect with Southwick, said he got to work with a blank canvas as the area of Sunset Park was vacant land with native plants. Meetings with area homeowners had determined that residents wanted much of the land to stay untouched.
So about 10 acres were used as a typical park with picnic tables, playground facilities and shade areas, and 30 acres were restored to native state with an extensive trail system, complete with interpretive/historical signage. The southern 80 acres were left natural to preserve the dunes and wildlife habitat. A lookout mound was created in the sand dune area.
The biggest obstacle was nature. From the time the plans were drawn up in 2006 to when construction began, the water table had gone from 8 feet underground to only 18 inches below the surface.
"It called for a complete change of plans," Vickers said. "We had to engineer things on the fly … move the playground, realign the roads."
It was, he said, a tough job but a fun one.
The contest's ultimate goal is to promote water-saving tactics, important in these drought-ridden years, without sacrificing aesthetics. Handing out awards is one way to start the conversation on a neighborhood level, organizers said.
When properly irrigated, the Southern Nevada Water Authority reports, water-efficient landscapes can use up to 75 percent less water than turf. Since 1999, thousands of residents and businesses have upgraded to water-smart designs, converting more than 152 million square feet of lawns to water-efficient landscaping and collectively saving more than 50 billion gallons of water.
"A stewardship ethic can't be effectively cultivated with numbers and statistics," said Doug Bennett, water authority conservation manager. "These awards take the issue of landscaping to a tangible, human level. When people who've done these projects talk passionately about the reasons and rewards, it motivates others."
For more information, visit snwa.com or call 862-3400.
Contact Summerlin and Summerlin South View reporter Jan Hogan at jhogan@viewnews.com or 387-2949.