What's the most popular religion in your home state?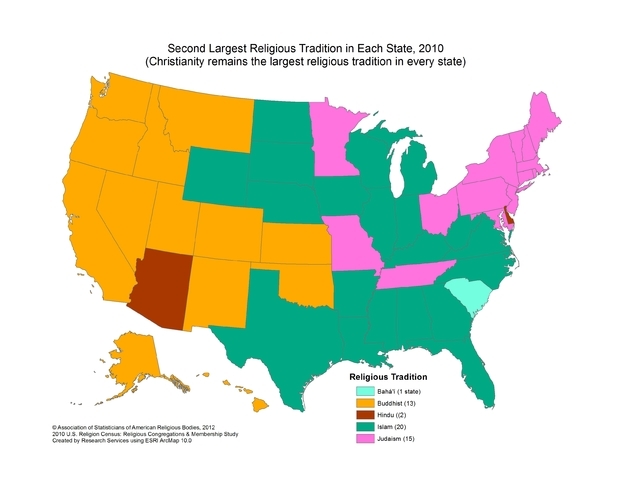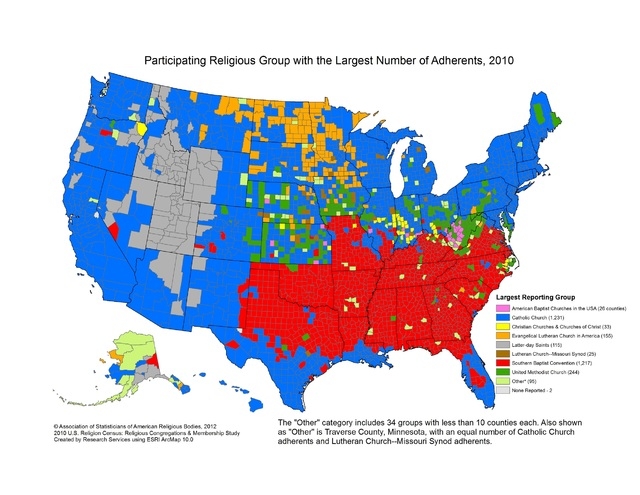 It's no secret that Christianity is the most popular religion in the U.S. A Gallup poll shows that the faith dominates 99.9 percent of counties in the United States and 77 percent of the people, and Nevada is no different.
After Christianity, the largest religion in Nevada is Buddhism, as is the case in every Western state except for Arizona, where Hinduism comes in second.
In Clark County, Buddhism is still the second most popular. For Washoe County, home of Reno, and Douglas County, Judaism comes second to Christianity and in Churchill County it's all about the Bahá'í Faith.
While Christianity dominates the South, as in the rest of the nation, the second-largest religion in the Bible Belt is Islam. The outlier here is South Carolina, which, like Churchill County, adheres to the Bahá'í Faith second after Christianity.
Islam is second-most popular in most Midwest states, as well.
The second-most followed religion across the eastern seaboard (as well as in Missouri, Minnesota and Tennessee) is Judaism, with the exception of Delaware, where Hinduism is second.
Alaska and Hawaii both favor Buddhism after Christianity.
According to Washington Post, Utah has the highest percentage of religious adherents — those who attend religious service regularly — at 79 percent. The Silver State sits at the bottom of that list.
Contact Kristen DeSilva at kdesilva@reviewjournal.com. Find her on Twitter: @kristendesilva