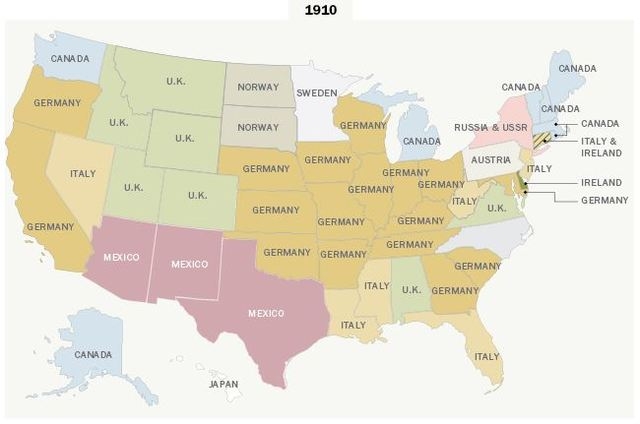 Take a look at where each state's largest immigrant population comes from, and you won't be surprised to find that in most states, Mexico tops the list. But a century ago, only three states could make that claim: Arizona, New Mexico and Texas.
The Pew Research Center compared immigration statistics from 2010 to those from 1910, and the difference a century makes is staggering. While 29 percent of immigrants in the U.S. in 2010 were born in Mexico, Germany was the main source of immigrants in 1910 (18 percent).
Germany made up the largest immigrant group in 17 states and the District of Columbia in 1910, followed by Russia and what would become the U.S.S.R. at 11 percent.
In Nevada, the largest immigrant group in 1910 hailed from Italy, a trait shared by New Jersey, West Virginia, Mississippi, Louisiana, and Florida.
Now, the largest immigrant group in Nevada was born in Mexico, as is the case in 32 other states. Interestingly, although China has the second-highest number of immigrants (5 percent of the total), it makes up the largest immigrant group only in Massachusetts.
Here a few of Pews findings:
Florida is the only state that saw its largest immigrant group come from Cuba in 2010
After Mexico, Canada is the country you'll see most on the above 2010 map, taking five states: Maine, New Hampshire, Vermont, North Dakota and Montana
Filipinos account for the largest share of immigrants in both Hawaii (45 percent) and Alaska (30 percent).
Of course, just because a country has the most immigrants in a state doesn't mean it makes up the majority of immigrants in that state. Those born in India make up the largest group of immigrants in New Jersey, West Virginia and Pennsylvania despite making up only about 10 percent of the immigrant population in all three states.
Contact Stephanie Grimes at sgrimes@reviewjournal.com. Find her on Twitter: @stephgrimes