Who likes Republicans? White people!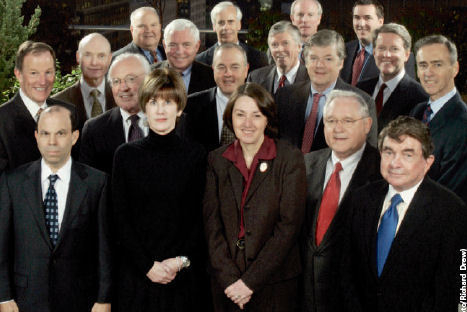 You know who likes the Republican Party? White people!
According to a new Gallup survey, the margin of white people favoring the Republican Party has grown to one of the largest seen by the polling outfit. The results of the survey are based on annual polls going back to 1995, the year Gallup first measured Hispanic ethnicity. In recent years, Gallup says, party preferences have become more polarized than at any time in the last previous two decades.
"In 2010, non-whites net party identification and leanings showed a 49-point Democratic advantage, and whites were 12 percentage points more Republican than Democratic," Gallup says. "The resulting 61-point racial and ethnic gap in party preferences is the largest Gallup has measured in the last 20 years."
The racial polarization has increased under President Barack Obama, Gallup found. The advantage for Republicans among non-Hispanic whites has grown to nearly 10 percent, while the preference for Democrats among non-whites has held steady at a whopping 47 percent. That Democratic advantage with non-whites was slightly larger during the years President Bill Clinton was in office and slightly smaller during the George W. Bush years, but the Republican advantage among whites has grown from 4.1 percent under Clinton and 5.4 percent under Bush to 9.5 percent under Obama.
Although the tendency may be to think the first black president has something to do with racial advantage in politics, Gallup says that may not be so: "It is unclear precisely what role Obama's race has played in these changes. However, the shifts do not appear to be an immediate reaction to his becoming president. Whites became slightly more Republican during 2009, the first year of Obama's presidency. However, the biggest movement came during the next year, when Obama signed the health care overhaul into law but saw his approval rating sink and his party lose its large majority in the House in that year's midterm elections. Further, whites were about as likely to favor the Republican Party at points during George W. Bush's presidency as they are now."
But, Gallup says, there are political implications in the numbers: "With the U.S. becoming increasingly racially and ethnically diverse, the balance of political power may shift toward the Democrats unless Republicans increase their advantage among a shrinking white majority, or cut into Democrats' advantage among nonwhite voters."
In terms of political registration, whites tend to favor the Republican Party 50 percent to 40 percent, while nonwhites now affiliate with Democrats by 67 percent and just 22 percent for Republicans.