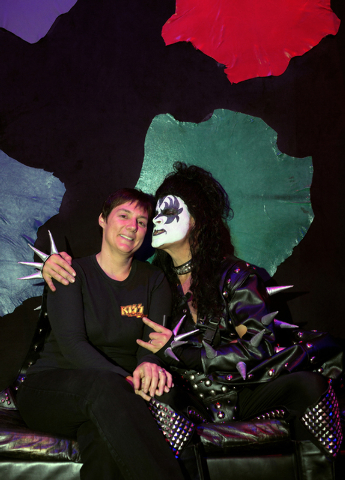 Brides and grooms have been marrying their dogs and other wild things in the wedding chapel at Kiss Monster Mini Golf.
"We had five dogs get married to a couple," says Christina Vitagliano, who own this popular place with her husband, Pat Vitagliano.
"The dogs were in Kiss outfits and leather — a little bondage," Christina says. "They got married to the bride and groom, who were in a tux and a full wedding gown. You would think they would be in jeans, but nooo, they were full on."
The Kiss attraction has been open just a year and a half, but it has been on "Extra" TV, while drawing family customers, performers such as Calvin Harris and David Copperfield, and colorful characters.
On Halloween, Pat wore Kiss gear all day as nine weddings went down past midnight.
Weddings are official but not if people wed dogs or relatives.
Wait. Relatives?
"We've had people who couldn't legally get married to each other," Christina says. "I think they were related. Cousins maybe. And they live in Vegas."
What is the craziest thing the Vitaglianos have seen in the chapel?
Oh, that would be the woman whose bouquet was made out of a toaster and Barbie dolls.
"She had naked Barbie dolls coming out of a toaster, and that's what she walked down the aisle with," Christina says.
"We don't even know why. But ours is not to question why," Pat says.
Then there was the group ceremony of swingers — three brides and three grooms.
"Clothes came off," says Pat, who officiated.
Traditional weddings happen too.
"We've had Mormons. We've had Jewish ceremonies where they bring in a rabbi. We've done some serious things," Christina says.
But it's easier to remember the ape attempt.
"We had somebody who requested a chimpanzee, but he wasn't available," Christina jokes.
Pat tries to dress in any costume a customer requests.
"We did a Batman wedding last week. It was cool," Christina says.
Pat, as Batman, led that ceremony: "Dearly beloved, we are gathered here in Sin City, the other Gotham."
The couple started their Monster Mini Golf business 10 years ago. Now they have 31 across America. They franchise them. They moved from Connecticut to Vegas to open their first Kiss spot.
"We just celebrated our 16th wedding anniversary. We got married at the Graceland Wedding Chapel in Vegas with a fat Elvis who didn't know the words to an Elvis song," Christina says.
"He had the words to 'Love Me Tender' taped to the top of his guitar," Pat says. "He goes, 'Love me,' (then he looked at his guitar) 'tender.' He did that, like, seven times."
Christina has news: She is writing a book with Kiss' Gene Simmons, to be published by Penguin in 2014 or 2015. It might be titled "Gene Simmons Is a Powerful and Attractive Man."
And support for the Kiss golf-and-chapel keeps rocking in from non-Kiss fans, though Kiss fans are often more memorable.
"We had a girl come in, she had one Gene boot and one Paul (Stanley) boot tattooed — literally the whole boot — on the her calves. Thigh-highs," Christina says. "She has Kiss boots on her legs forever."
Doug Elfman's column appears on Page 3A in the main section on Mondays, Tuesdays, Thursdays and Saturdays. He also writes for Neon on Fridays. Email him at delfman@reviewjournal.com. He blogs at reviewjournal.com/elfman.