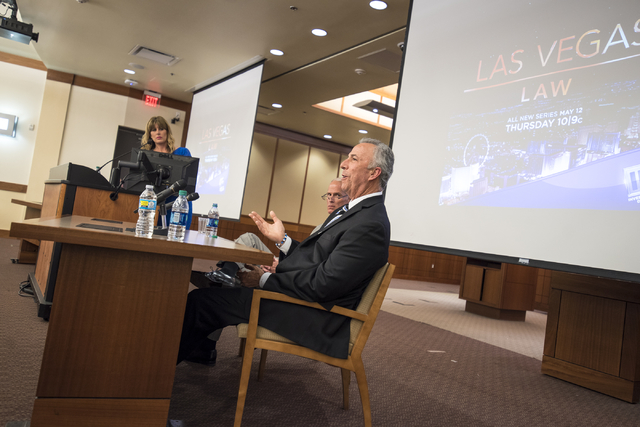 The docudrama "Las Vegas Law" is waiting to see if it will get a continuation for another season.
Clark County District Attorney Steve Wolfson and co-executive producer Michael Yudin are upbeat about their chances.
"Each episode grew," said Yudin. "People are fascinated by it and social media has been fantastic."
They are anticipating a decision from Investigation Discovery in early July. The first six episodes aired in May and June.
"I didn't want hokey or hollywoodish," Wolfson said. "I think it succeeded. I'm very proud of the way it was portrayed."
Investigation Discovery's camera crews had unprecedented access in courtrooms.
"It's really the first show doing what I call real 'Law and Order,'" said Yudin, who teamed up with co-executive producer Wayne Allyn Root of Las Vegas and others on the project.
"It's not 'Real Housewives,'" Yudin said. "We're documenting reality. We're following a process no one's got to see before."
BRENNEMAN DEPARTS
Mark Brenneman, general manager at storied Shadow Creek Golf Course for 16 of its 27 years, has returned to upstate New York to run a new course in his home state.
Brenneman, 57, starts his new job Monday at Silo Ridge Field Club in the Hudson Valley, north of New York City.
Brenneman, who grew up a two-hour drive away in Syracuse, New York, headed back East for "a great opportunity at just the right time of my life." His 85-year-old mother and family live in Syracuse.
He was the PGA head professional at Spyglass Hill when hotel mogul Steve Wynn sent Bobby Baldwin and Bill McBeath on a recruiting trip.
Wynn built Shadow Creek for a reported $60 million to lure high rollers to what is considered one of the most exclusive golf courses in the world.
"I'm honored and grateful to be a part of it," Brenneman said in a telephone interview.
During his tenure, five U.S. presidents visited Shadow Creek. "I don't think any club in America had as many, with the exception of Congressional in D.C.," he said.
Guests included many of the top golfers on the PGA tour, sports Hall of Famers and Hollywood stars.
Dustin Johnson, who won his first major June 19 with a dramatic finish in the U.S. Open at Oakmont, holds the course record for 18 holes at Shadow Creek.
His 65 in March 2015 came on the course that was lengthened by 300 yards in 2008. Tiger Woods in 2004 and Fred Couples in 2007, shared the previous record of 60.
"(Johnson) needed to go birdie, birdie, eagle to break the record," said Brenneman. He accomplished it with a seven-iron shot over water to come within a foot and a half from the 18th hole.
Sound familiar?
END OF AN ERA
The deep-fried Twinkies at Mermaids on Fremont Street had a loyal fan in comedian Kathy Griffin.
General manager Rudy Nino said Griffin "comes down even when she's not performing and has Twinkies with her crew."
About six or seven years ago she brought entertainer Bette Midler "and she loved it," said Nino. "Bette's bodyguard came down the day before to check it out."
When Griffin and Midler were leaving, they were recognized by some tourists who asked if they could take photos with them. One of the fans was celebrating a birthday. "So right there on Fremont Street, Kathy and Bette sang happy birthday to him," Nino recalled.
The Mermaid is closing Monday, along with sister companies Glitter Gulch, the topless club, and La Bayou casino. They'll become the site for a new hotel-casino being developed by Derek and Greg Stevens, who also own the D Las Vegas, the Downtown Las Vegas Events Center and Golden Gate.
THE PUNCH LINE
"The last time there was this much excitement in the streets of Cleveland was when LeBron James left Cleveland and more than a million fans gathered in the streets to burn his jersey." — Jimmy Kimmel
Norm Clarke can be reached at 702-383-0244 or norm@reviewjournal.com. Find more online at www.normclarke.com. On Twitter: @Norm_Clarke