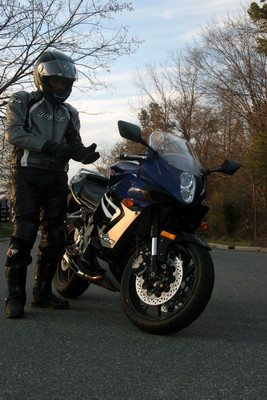 I typically ignore heat index and wind chill factors, but it's impossible to ignore the cold when riding motorcycles in the winter; it smacks you in the mouth.
Riding at 65 miles per hour in 32-degree Fahrenheit weather, the temperature feels like 13 degrees. Although it's not extremely cold in Las Vegas, riding in 40-degree weather easily feels like 20 degrees with the wind chill factor.
But just because it's cold doesn't mean that you can't enjoy riding during the winter. Proper gear is key to riding when the temperature falls below 40 degrees. A rider's feet, chest, neck, mouth and hands should always be protected.
Teri Gorrell from Scorpion Sports Inc., a protective motorcycle gear company, gives this advice: "Make sure that your gear is worn in layers and that there is ventilation in key areas so that sweat does not leave you cold and damp. And also make sure that your helmet is equipped with a fog-free shield because nothing is worse than not being able to see."
Although most cruiser riders don't like them, it's best to wear a full-face helmet such as the Scorpion EXO-1000. Full-face helmets are not only safer, but are also more comfortable when it's cold outside because the helmet protects the rider's entire head and a shield keeps wind off the rider's face. A face mask that covers the neck and mouth along with a sturdy pair of glasses is an acceptable alternative for those who prefer cruiser helmets.
A good jacket is also key. Fieldsheer Professional Motorcyclewear makes jackets with oversized collars that completely protect the neck and chin. It's a bit bulky, but, when you are well protected from the elements, a little bulk can be overlooked.
"Warm and safe is the goal when riding in winter, but you cannot get there if you do not stay dry," said Wayne Gaylord, Fieldsheer brand manager. "If you are not dry and comfortable, you cannot effectively manage the skills required to stay safe on winter roads. Layer your body with both waterproof gear, to stay dry, (and) with material that manages sweating and regulates body temperature."
When riding in temperatures below 50 degrees, winter gloves are a must, and regular winter gloves don't always do the trick. The most certain way to keep the hands warm is by using electric gloves or gloves made with special wind-blocking material.
A few of my own tricks include wearing thermal underwear to trap body warmth, drinking hot chocolate and cracking off a handful of jumping jacks just before riding off. Last, but not least, throwing your gloves and jacket in the dryer will also give riders a toasty start.
Riding in cold weather can be a pain, but that doesn't mean it can't be pleasurable, too.