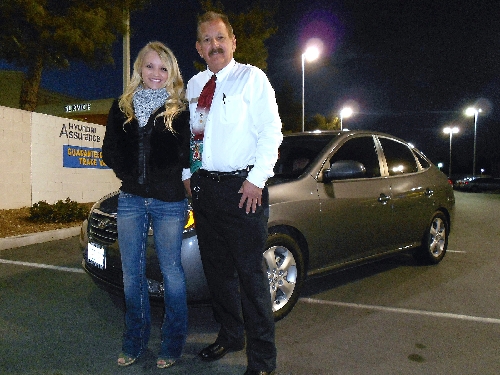 Jacqulyn Lomax heard about Hyundai through a friend. She eventually ended up at Planet Hyundai Sahara where she purchased a 2008 Elantra GLS.
Now the proud owner of a Planet Hyundai preowned certified vehicle, Lomax picked up the remainder of the car's full factory warranty along with a vehicle that suited her needs perfectly.
"I love the car," she said. "It gets excellent gas mileage. It's the first dependable car I have ever had. Considering that I have kids, knowing the car is a good one provides a great degree of peace of mind."
Lomax is so enthused with her first Hyundai that she is already contemplating the purchase of a Santa Fe sometime in the future.
"With the girls, I needed room that I found in the Elantra," she said. "With a Santa Fe, we will have more room than ever."
Lomax's sales consultant was Rob Trujillo, who has been in the car business for the past 18 years. He has sold hundreds of Elantras while working for Hyundai.
"Rob treated me very good," Lomax said. "He worked very hard for me. During my entire visit at Planet Hyundai I felt no pressure at all.
"Rob was patient, helpful and gave me the comfort of always feeling like I made my own decisions. Being a first-time buyer who didn't have established credit, the preowned vehicle was the right way for me to go. I went to other dealerships first and they wouldn't work with me, so I came here and I'm glad that I did."
Lomax didn't waste any time referring others to Trujillo.
"I feel safe sending my friends to Rob," she said. "He's someone that we can all trust."
Trujillo said the preowned Hyundais many times work better for his clients.
"Preowned certified vehicles are good buys with continuing warranties," he said. "Some people simply cannot afford a new car, so preowned vehicles, especially Hyundais, are good for many of our customers."
In Lomax's case, the dealership certified the vehicle.
"The certified-vehicle package gives her the extension of 10-year, 100,000-mile power train warranty along with the five-year, 60,000-mile warranty," Trujillo said. "The warranty provides five years of roadside assistance and unlimited mileage. That's the best warranty in the business. We run a Car Fax on our vehicles along with a multipoint inspection. The Elantra has been the top pick in Consumer Reports. In addition, the car has multi air bags on the front and the side. It also has the anchor tether for the child seats ."
Planet Hyundai is located at 7150 W. Sahara Ave. Also under the same ownership is Planet Hyundai Centennial at 6200 Centennial Center Blvd. in the northwest valley.
Further information regarding the two dealerships can be found by calling 702-938-1400 (Sahara) or 702-483-2200 (Centennial); or by visiting www.planetlv.com.