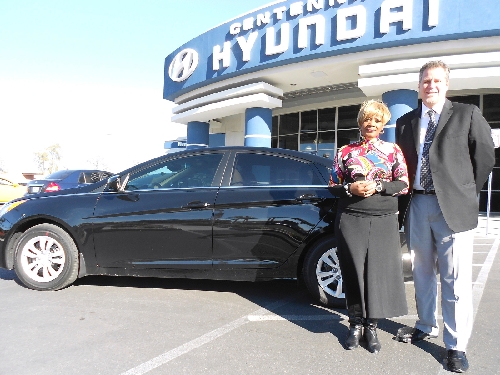 Betty Matthews-Dean watched the Hyundai Sonata GLS model being driven around Southern Nevada for about two years before she decided to get serious about the vehicle.
Matthews-Dean recently purchased a 2012 Sonata GLS at Planet Hyundai Centennial at 6200 Centennial Center Blvd.
"I just thought the body of the car was nice," she said. "I had been in an SUV for a couple of years and I was really tired of it. I liked it at first but after a while, it just wasn't me. I love the sleek look of the Sonata. It has very good lines to it. I really enjoy the looks it gets."
She said the car's power also is impressive.
"It has more power that I ever expected," Matthews-Dean said. "I was out on the freeway and tested it by sticking my foot to the floor. The car responds very well and you never feel out of control. It handles well and I just like the way it feels. When you're going around curves, it hugs them very well. You don't have to worry that it's going to fishtail on you. I feel very safe with the Sonata."
Matthews-Dean purchased the car a few weeks ago and is planning a trip to Southern California soon.
"I know that I will have peace of mind when going on long trips," she said, adding that the 10-year, 100,000-mile power train warranty "was awesome."
The vehicle also comes with a five-year, 60,000-mile bumper-to-bumper warranty along with the five-year roadside assistance with unlimited mileage, which makes Matthews-Dean feel fully protected.
The Sonata's features include Blue Link, a multifaceted communications system that offers benefits such as stolen vehicle tracking, geo-fence setting and maintenance alerts, thanks to a satellite-based system that helps the driver .
Matthews-Dean had help when searching for the car. In this case, her biggest help was her sales consultant Tracey Saunders, who has been in the car business for almost three years.
"Tracey was really good to me," she said. "He showed me everything about the car ranging from the interior to the exterior, the engine and everything else about its features. He knew his product very well and I appreciated his knowledge. I would recommend Tracey to anyone considering a vehicle purchase. He was very patient with me and let me make up my own mind. He wasn't hard and fast when he spoke."
Saunders joined Centennial Hyundai a few weeks ago.
"I left another dealership. I came here for a number of reasons. One was the styling of the vehicles along with the warranty and the price point. You can buy a vehicle here that feels like a luxury vehicle without the sticker shock of cars like it," he said.
Planet Hyundai dealerships include another store at 7150 W. Sahara Ave. For further information, call 483-2200 (Centennial) or 938-1400 (Sahara) or visit www.planetlv.com.