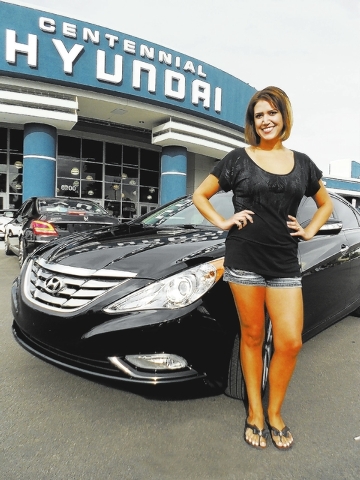 Native Las Vegan Courtney Knowles purchased her first new car recently and she's confident that she was able to get the best car for the price in her dealings at Centennial Hyundai in the northwest valley.
A hairdresser at Suite One Salon at West Charleston Boulevard and Hualapai Way, Knowles purchased a 2013 Hyundai Sonata 2.0 turbo limited.
In search of something sporty, Knowles got everything she wanted including black on black (black exterior and black interior), 18-inch rims, and a dual sun roof with gloss black piano accents on the interior of the car.
"I even have full navigation with this car," Knowles said. "I went to the hilt with this car. I felt that if I was buying my own first car, I wasn't settling for second best. For sure, I got the best of the best."
Knowles said she had been needing a new car for several years. She drove a 2005 Ford Focus for seven years.
"When I got the car home, I just kind of sat on the couch and looked at it," she said. "Owning a new car is a great confidence builder and that's certainly the case with my new Hyundai."
Although she has only had the car for a few days, Knowles said she is planning trips in the near future.
"We have many relatives who live in northern Utah," Knowles said. "This car should really be a lot of fun to drive on the highway."
She touted the Sonata's features, including great fuel efficiency, safety rating and ability to retain its value better than many comparable vehicles.
"You cannot beat the warranty on a Hyundai," Knowles said referring to the 10-year, 100,000-mile engine warranty along with a five-year, 60,000-mile bumper-to-bumper warranty. "I absolutely feel safe in this car."
Knowles said she appreciated the service she received from Centennial Hyundai.
"He was not your stereotypical car salesman," she said of David Spence. "He was honest and to the point and he did not pressure me. He did everything in his power to help me."
Centennial Hyundai is at 6200 Centennial Center Drive. It is part of a locally owned operation that includes Planet Hyundai Sahara at 7150 W. Sahara Ave. and the Planet Hyundai Used Car Superstore at 7100 W. Sahara Ave.
For more information, call 702-483-2200 (Centennial), 702-938-1400 (Sahara) or visit www.planetlv.com.