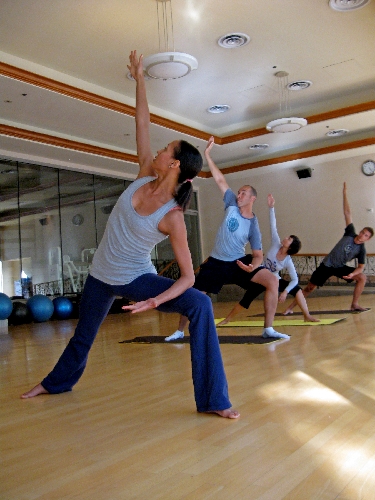 Connie Ott, an instructor for the new yoga studio at the Aquae Sulis Spa, said she owes her career to whiplash.
"Sometimes out of (experiences) come new beginnings," she said.
The spa, inside the JW Marriott at 221 N. Rampart Blvd., had its own new beginning April 23, when it began offering daily yoga classes from 6 a.m. to 7:45 p.m. The studio overlooks a pool with waterfalls.
"This is the best-kept secret in Las Vegas," Ott said of the private pool area. Some of her classes will be outside to further the benefits of yoga's effect.
"People are inside all the time, in their car, in their job, and they don't get outside to hear this – the waterfall, the birds, it's very therapeutic for the brain," Ott said.
The yoga studio will also offer "woga" – yoga done in the waist-high water.
Arzu Delp, director of resort experience for the JW Marriott, said it's all about offering more services to clients.
"It's a completion of the spa," she said. "Outside of treatments for the body, this is treatment, so to speak, for the soul."
Guest feedback will help determine the focus of the program. As membership builds, more programs will come on board, such as classes specifically geared toward golfers. The resort is also considering offering packages, combining yoga, spa treatments and lunch.
Those new to yoga will learn the correct way to do poses and also how to work out with the balls so the core is involved. Ott said people often work yoga too hard, and one doesn't have to be huffing and puffing.
"It's not a workout; it's a 'work in,' " she said. "Yoga is about going in, paying attention to your breathing, clearing your mind of all thoughts."
Ott credits yoga with turning her life around. She was rear-ended in 1976, and her soft tissue injuries led to learning about the discipline. She opened a small studio on the East Coast. Marriage brought her to Las Vegas in 1986, and since then she has devoted her life to the discipline.
She tailors all her classes to the level of attendees. Her classes end with her own touch – sound therapy that resonates with the mind and body to clear stress. An unlimited monthly pass is $100. Day passes are $35, and individual classes are $15. For more information, call 869-7807.
Contact Summerlin/Summerlin South View reporter Jan Hogan at jhogan@viewnews.com or 387-2949.