Young North Las Vegas ballroom dancer's focus, drive evident on the floor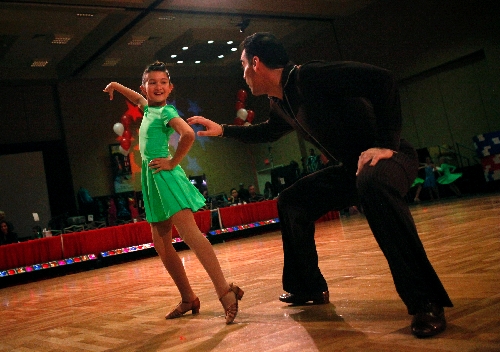 Angelique Vollmer sips a giant frappuccino that is about the same size as her at a coffee shop near the dance studio.
She has about 30 minutes before her practice. She drinks quickly. The straw makes a slurping sound.
The 10-year-old talks about her love for dance and her goals of turning professional one day.
If that doesn't work out, she'll be a surgeon. Probably a brain surgeon.
Her parents, Michael and Sheilah Vollmer, are beaming as their daughter chats about dance techniques. Angelique has been dancing most of her young life, but it wasn't until a few years ago that she got serious about her study and began competing.
This isn't just a hobby. The family drives 80 hours per week from its North Las Vegas home to the Delgado Dance Studios, 4220 S. Grand Canyon Drive, on the southwest edge of the valley. Last year, the Vollmers spent $14,000 for competitions and lessons, among other dance-related expenses.
Angelique's parents aren't pushy or competitive . When they talk about their daughter's natural talent, they're proud, enthusiastic and supportive. Mostly , they appear humbled by her accomplishments, which include a handful of national titles. There's none of this "Stage Mom" business.
"There's no push to win," Michael Vollmer said. "(We'll) support her as far as she wants to go with her dancing. If she chooses to go down another path, that's totally fine."
For all the talent packed into her skinny legs and size 2 feet, Angelique isn't a cocky prodigy. That isn't to say she doesn't enjoy a healthy competition — or first place . But she seems to understand that she has much to learn to perfect her craft.
"I never miss a show of 'Dancing With The Stars,' " Angelique said. "When I hear that music, I don't see other people dance. I dance on my own."
She'll critique the dances. She'll dance while they're dancing. She'll dance in the grocery store.
When she competes, she has placed against older contestants with more experience. She's looking for a greater challenge , said Michael Vollmer.
"I know when I'm older I'm going to be better," Angelique said. "There are 13-year-olds I know who are better than me. I started when I was 8. They have much more experience dancing, but it's good to grow and develop and progress."
Her favorite part about dancing?
"Dancing," Angelique said with a sly smile. "It feels cool. I don't really think about it; I just do it."
The family heads to the studio, so Angelique can dance with Tony Delgado, who trained Cheryl Burke of "Dancing With The Stars " — among several others — for the television program. Delgado has 18 years of professional dance experience and has performed as a dancer, singer and musician with Kool & The Gang and The Four Tops, among others.
He's been teaching Angelique since she started.
"She's better than Cheryl when Cheryl was her age," Delgado said.
In an interview after she won the 2010 World Pro/Am Latin Pre-Teen 4 Dance Championship, Angelique smiles as she clutches her trophy; she's missing a tooth. She's at a loss for words as she giggles through her answers.
Once she calms herself, it's obvious she's carefully considering her responses.
Sometimes it's difficult to remember the girl who moves with the grace of a professional dancer is still in grade school. It's hard to realize that when she started, she didn't know anything about ballroom dancing. Angelique still has time to act like any normal 10-year-old, running around with her friends, but the little girl's face instantly becomes focused when the music begins . A lot of concentration rests behind those happy, dark brown eyes. Together, the girl and her teacher gracefully sway around the room. Delgado only has to stop her a few times to make sure her shoulders are in the right place. She's gearing up for the Vegas Stars Ballroom Competition July 16.
"On the floor, nothing else matters," Michael Vollmer said. "There's no one else around her. She's so focused. It's crazy."
Contact Downtown and North Las Vegas View reporter Kristi Jourdan at kjourdan@viewnews.com or 383-0492.