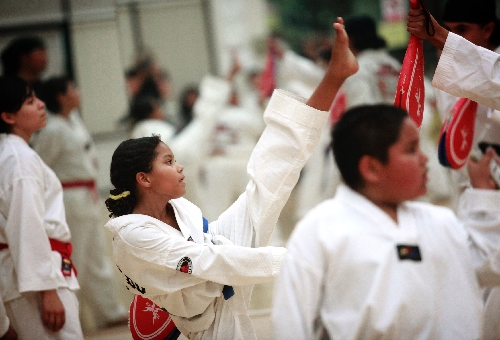 It began with a Jackie Chan cartoon and snowballed into an Olympic dream.
At 9 years old, Faith Dillon is a national tae kwon do champion, having kicked and punched her way through tournaments in Nevada and California. Most fourth-graders wouldn't dream of fighting internationally, but for Faith, it's a lifelong goal.
"Every morning before I went to kindergarten, I watched the Jackie Chan cartoon," Faith said. "It looked like they were having fun."
Dreams of competing in the 2020 Olympics (when Faith turns 18) soon followed.
Faith began training for her belt in the traditional Korean martial art at 5 years old, about one year after she saw the cartoon. A few years later, she was breaking through boards with her feet, a test commonly performed to advance to the next skilled color belt. She trains with Terry Blackburn at Two Dragons Tae Kwon Do in Las Vegas.
Blackburn said his student is finally starting to grasp his teachings as she grows older.
"Now everyone is gunning for her," he said. "You're the steppingstone for them now. So we'll keep doing what we've been doing, working hard. … She has the potential to be an Olympian and be an Olympic champion."
Faith went undefeated June 28 in five fights against competitors from across the country to win the gold medal in the grassroot sparring 8-9 division for heavyweight female blue belts at a national championship event in San Jose, Calif.
"If you're good at this, it makes you feel confident that you can do good at other things," Faith said. "It helps me do soccer, a little bit of basketball and volleyball. And it kind of helps me concentrate at school."
She trains in two-hour sessions at least five times per week at the Chuck Minker Sports Complex, 275 N. Mojave Road.
Faith also heads to the track once a week to run stairs, jump up on tractor tires and go through interval training, alternating between sprinting and jogging exercises, to build strength and stamina.
She's training for the 22nd Jimmy Kim Invitational, which is scheduled for Oct. 1, on the campus of California State University in Long Beach, Calif.
"What most impresses me about her is her heart and her dedication toward preparation," Brendan Dillon, her father, said. " … One thing you can't teach is heart, or an intense focus on achievement, on competition. She has that naturally, and that's what fuels her work habit. I'm a very proud dad."
The family travels around 10,000 miles per year and spends about $10,000 annually for tournament costs.
"The amazing thing about her is she doesn't get butterflies," Dillon said. "I get butterflies. She's very calm and cool and collected. When they say, 'Fight!' she's ready to fight."
The 4-foot-9-inch girl stands taller than most of her opponents. But her petite 76-pound frame is about 20 pounds lighter than her competitors.
"I'm not worried," Faith said about her slight build. "They should be worried about me."
Between rounds, she nibbles on a tiny Snickers bar and sips on a Gatorade for added energy.
Her success on the floor hasn't come easily. While sparring for the first time in class, she ran at a boy two years her elder, who kicked her in the chest, knocking her to the ground.
"You could see it in her eyes it hurt her," Dillon said. "But she got right back up and started sparring again."
That memory is forever etched in her mind and serves as a reminder about the importance of defending yourself, Faith added.
Competing in front of thousands of people on a national stage might make other fighters weak in the knees, but Faith said she blocks out the crowd and focuses her energy on battling her opponent.
"You have to train really hard," she said. "This makes me happy."
Contact Downtown and North Las Vegas View reporter Kristi Jourdan at kjourdan@viewnews.com or 383-0492.