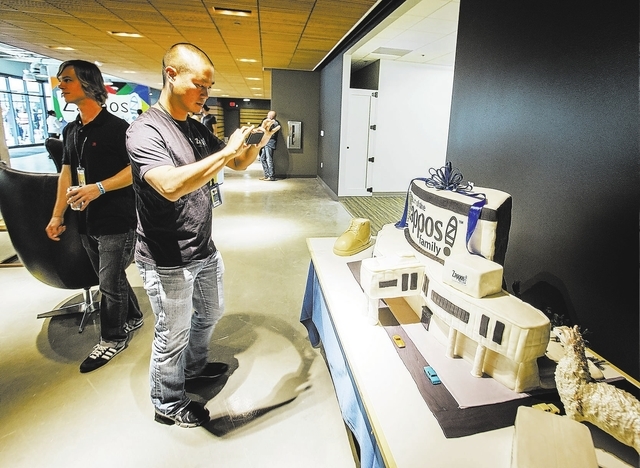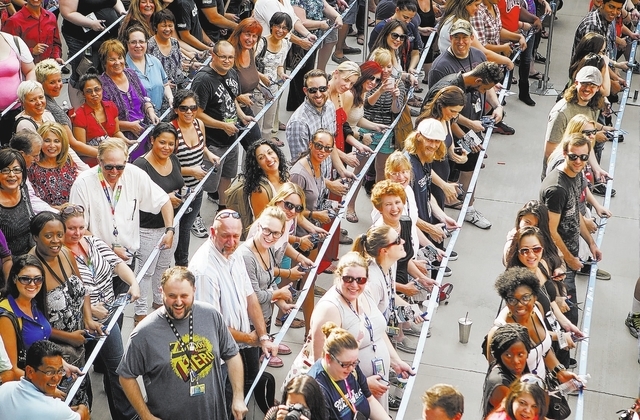 The first wave of Zappos workers to occupy the company's new headquarters in downtown Las Vegas showed up Monday morning.
But, like any Zappos function, it didn't really feel official until a member of the Camelidae family showed up for the dance party.
It was obvious this party was special, even for Zappos, because the llama wasn't even the star attraction. It shared the spotlight with Jabbawockeez dancers, a robotlike rolling greeter and an attempt to set a world record for ribbon cutting.
"We've made a lot of moves and changed states throughout the last 14 years," Fred Mossler, one of Zappos' earliest employees, told the crowd of about 1,500 at the former city hall building that is now the online retailer's new base. "Today, we feel like we are finally home."
The crowd of Zappos workers, local politicians and area business people were jammed into the plaza outside the old city hall council chambers.
Walkways ringing the plaza were also crammed with people, while others peered down on the spectacle from windows in the 10-story edifice built in 1973 and renovated to accommodate as many as 2,000 Zappos employees.
The party was the culmination of anticipation that had been building since December 2010 when the company announced plans to move from Henderson to downtown Las Vegas.
With the city building a new city hall on Main Street, then-Mayor Oscar Goodman and the City Council sold the rundown city hall to developer Andrew Donner's Resort Gaming Group, which leased it to Amazon, Zappos' corporate owner, for use as a new headquarters for the online retailer.
In addition to the city hall deal, Donner's firm and Zappos have options to buy about 10 acres across Las Vegas Boulevard for about $9.3 million, a price that is set to escalate 6 percent annually every year they don't exercise options.
The deal is seller-financed, meaning Donner's firm will pay the city directly for the real estate.
According to terms provided by the city, the closing comes with a $3 million initial payment. Interest-only payments of $600,000 annually will start in 2014 and go through 2028.
In 2029, the payments increase to $1.4 million and continue through 2043, with the total interest and principal amounting to nearly $34 million to the city.
Zappos and Amazon invested about $60 million in the renovation, which began last year and finished on time and under budget.
But the event Monday didn't cover deal points or construction timelines.
It was strictly a celebration of the long-anticipated arrival of Zappos, the capstone of Goodman's effort to revive downtown.
The new headquarters sits squarely in a neighborhood enjoying an influx of small businesses, artists and technology entrepreneurs, due in no small part to Zappos CEO Tony Hsieh's personal investment in the Downtown Project, a $350 million urban renewal venture.
"The seeds of those things already existed before we discovered it," said Hsieh, before the assembled crowd cut a mile-long ribbon wrapped around the plaza. "It is just really exciting to see all this momentum coming together."
Follow Benjamin Spillman on Twitter at @BenSpillman702 or contact him at bspillman@reviewjournal.com