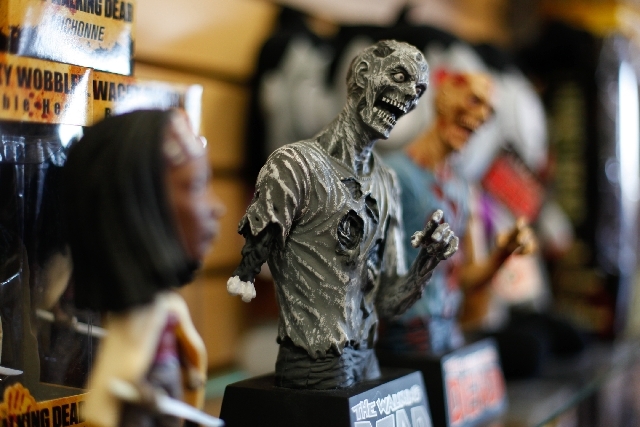 Calling all zombies. Add another icon to Las Vegas' appeal.
Zombie Zone has opened at 931 S. Rainbow Blvd., two doors north of Albertsons.
For its May 4 grand opening, the cast of "Evil Dead The Musical" was on hand to help celebrate. So was the band Acoma Chyne, and Zombien Nation gave away T-shirt packages. About 150 people showed up, keeping the store packed for the entire two-hour celebration.
The store's focus is a variety of zombie-related collectibles – films, posters, comics and other merchandise. Display racks have movies for sale. To get the idea across, a nearly 7-foot-tall statue of the character Jason from the "Friday the 13th" movies, complete with dripping machete, stands guard at the store's entrance. His buddy, a mummy, has a place behind the counter.
"Some people are into Halloween, but it's a year-round thing for some people, where they like the scary stuff, and they like to have skulls around them all the time," said Susan Weiner, who owns and operates Zombie Zone with her husband, Joel.
The idea for the store came from Joel. He's been a horror film collector since he was a child and has filled their house with his many items. In trying to procure more, he noticed that Las Vegas was lacking a brick-and-mortar headquarters for collectors like him.
"I am a zombie master," he said, "that and horror. I encompass everything. I started thinking, 'There's no store or website that has it all in one place. I told my buddy at work about it, and he said, 'Yeah, you should do it.' About a week later, he (the co-worker) said, 'Hey, did you see there's a zombie store?' My heart just sank."
But when Joel Weiner checked out the new store, he learned it had an entirely different take — survival gear. Weiner's dream was to focus on collectibles. The two stores now refer customers to each other.
Susan Weiner said her husband didn't have to convince her that opening the store was the thing to do.
"I know how popular horror has always been," she said. "With 'The Walking Dead' now, zombies are incredibly popular. But we want to have something where kids could come, so it's not just scary (stuff). We have like 'Scooby-Doo,' 'Monsters, Inc.' and all that stuff."
They floated the idea around a of couple of years before getting serious. About a year ago, they decided to take the jump. She said she was "nervous, especially with the economy the way it is. We thought we would try it, and we had help from family, our in-laws."
The shop is 1,680 square feet. She said when they looked for a location, they drove around to find a place with a lot of foot traffic that was also reasonably priced.
Some of Joel Weiner's personal collection, including motion picture soundtrack albums and 30 years of horror magazines, are at the store.
"They're on display," he said. "But I don't know if I'd sell them."
Patron Chance Massingill said the appeal for him was the horror stuff.
"I saw 'Poltergeist,' I saw 'Chainsaw Massacre II,' and … look at this Chucky doll. Isn't that fabulous?" he said. "They're so expensive online."
He said it was wonderful to have a store such as this to give Las Vegas more variety.
Creed Campbell noticed the place after coming to the shopping center for another purpose, so he decided to stop in. He was looking to see what movies Zombie Zone carried.
"I love zombie movies," he said. "I don't know, I guess I'm a horror-cape guy."
About half the store is zombie-related. Susan Weiner said that she and her husband had to search for places that would sell in bulk or wholesale. Most of the other merchandise comes from wholesalers. The novelty items are a little harder to procure, she said.
She likes items related to the AMC series "The Walking Dead."
They have three children, ages 20, 12, and 10, who speak up with their ideas. The eldest, a son, suggests which movies to carry. Their 12-year-old son keeps them abreast of the latest video games. Their 10-year-old daughter made sure they included anything cute, such as Monster High dolls.
What's the appeal?
"The attraction is: It's a safe way to be scared," Joel Weiner said. "It's the adrenaline rush. It could happen. … You go to a horror movie, and for that short period of time, you're in that movie with these characters being chased, and the frightening feeling is real. But you know you're safe. Will there be a zombie apocalypse? Who knows?" He paused. "You can only hope."
Hours are from 11 a.m. to 7 p.m. daily. For more information, call 702-362-1500.
Contact Summerlin/Summerlin South View reporter Jan Hogan at jhogan@viewnews.com or 702-387-2949.
Zombie Zone
Zombie Zone, 931 S. Rainbow Blvd., is opoen from 11 a.m. to 7 p.m. daily. For more information, call 702-362-1500.