27 tornadoes reported in deadly storms Tuesday across South
February 24, 2016 - 12:57 pm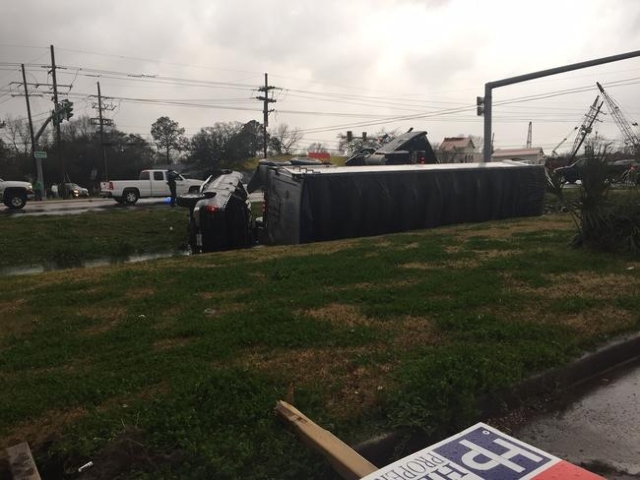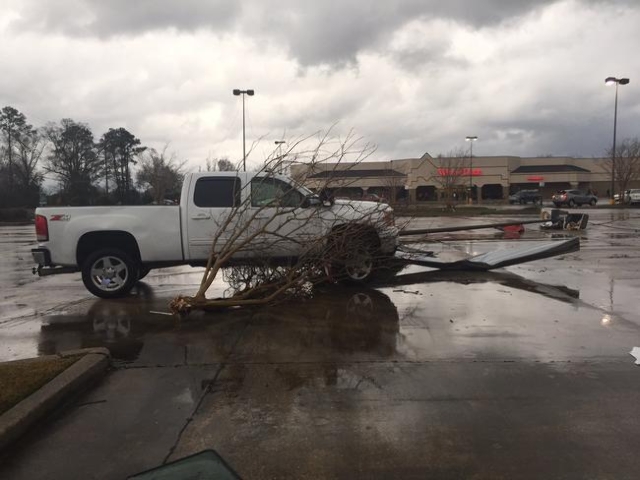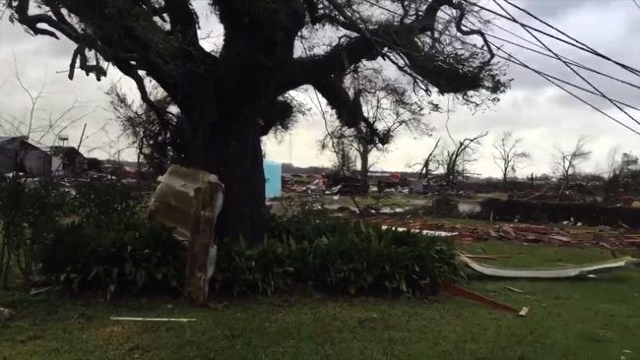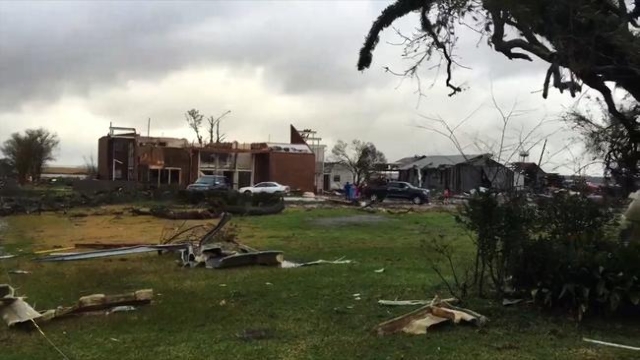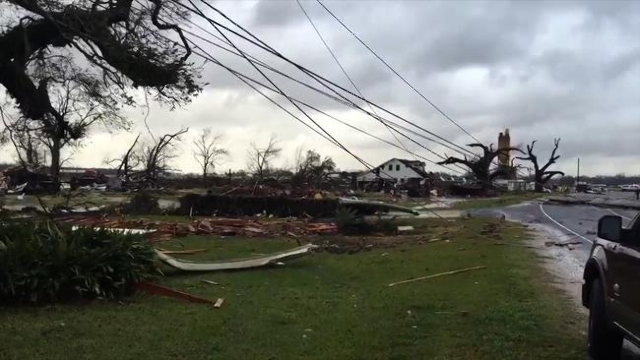 Ryan Portish hustled his dog into the bathtub and climbed in, too. Three more people piled in with them.
"They were praying, and I was crying. I was so scared," Portish told CNN affiliate WVUE from St. James Parish, Louisiana. "I heard a big rumbling sound, the whole entire house started shaking and I just knew that it was a tornado."
Portish and the others were unhurt when the twister — one of 27 reported Tuesday across the Gulf Coast — brushed past his home.
But others in Louisiana, Mississippi, Alabama and Florida were not so fortunate. Three people were killed, dozens were injured and severe damage was reported from a line of tornado-spawning storms pushing through the Deep South.
Two of the dead were in an RV park in Convent, Louisiana, not far from Portish's home. A tornado ripped through the park around 3:30 p.m. local time, leaving 160 motor homes and trailers in a field of debris.
More than 30 were injured at the RV park, seven critically, St. James Parish Sheriff Willy J. Martin said.
Aerial images of the park showed smashed cars, overturned RVs and twisted wreckage amid the dozens of empty lots.
Many of the residents were home when the twister hit, having been dismissed early from work because of the approaching storms. Martin called it a miracle that only two lives were lost.
Losing everything in 10 minutes
Twenty-five miles away in St. John the Baptist Parish, one resident says he has nothing left after a tornado left his home in shambles.
"You're sitting there one minute playing video games and the next thing you know, your house is gone — within 10 minutes," said Michael Nelson, who was home with family members.
"I've got literally nothing left," Nelson told CNN affilte WVUE. "We're all alive, so that's a blessing in itself."
The Nelsons will stay with family nearby, but they said their home is likely a total loss.
Louisiana Gov. John Bel Edwards traveled to the damaged areas and declared a state of emergency for seven parishes Tuesday night.
Water tower toppled
At a gym in Prairieville, Louisiana, Kenneth Phillips was doing squats with his wife when a glass wall crashed down and the roof began peeling up. The storm ripped it off, and people dropped their weights and fled.
"That's when we dodged the debris to make it to the locker rooms," Phillips said.
In Paincourtville, the wind downed a water tower, he said. CNN affiliate WAFB tweeted a photo of the wreckage with the hulking water tank torn in half like an a thin aluminum can.
In Livingston, Police Chief Randy Dufrene was in a restaurant when he got a good look at what he thought was a twister.
"The weather picked up real hard. We walked to the glass door to take a look," Dufrene told the station. "As soon as we got to the door, I could see the top of the tornado going down, crossing the road there. The door started sucking in where we were at."
One dead in Mississippi
In Mississippi, a man was killed when his mobile home was crushed in the storm in Lamar County, the National Weather Service said.
The Lamar County Coroner identified the victim as 73-year old Harris Dale Purvis, according to CNN affiliate WLBT.
Florida apartments crushed
Storms demolished apartment buildings north of Pensacola, Florida. The National Weather Service retweeted photos of caved-in units and rubble. Escambia County officials reported three injuries.
Several people were injured and cars were flipped over near Pensacola, said NWS meteorologist Steve Miller. Drove video showed significant damage to an apartment building in Pensacola.
Florida Gov. Rick Scott declared a state of emergency in Escambia and Santa Rosa counties Wednesday afternoon.
More storms expected
As of early Wednesday afternoon, parts of Florida and the Carolinas and Virginia remained under tornado watches, and a dozen states will be under flash flood watches or warnings through evening.
The greatest threat for continued severe weather Wednesday is in parts of North Carolina into southern Virginia, where there is a "moderate" risk of severe thunderstorms, including the possibility of strong tornadoes, according to CNN Meteorologist Dave Hennen.
The same storm system will impact much of the Midwest Wednesday night into Thursday. Blizzard warnings are in effect just south of Chicago, into northern Indiana, where whiteout conditions will develop later today. Parts of Missouri, Illinois, Indiana, and Michigan are under a winter storm warning.