Bundle up: Cold and windy for a couple of days in Vegas Valley
December 14, 2015 - 9:57 am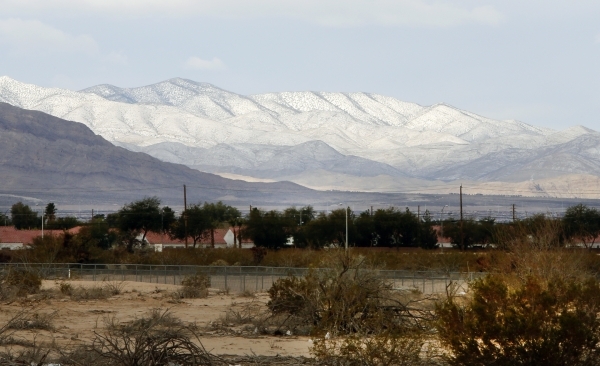 Snow has fallen along Interstate 15 near Mountain Pass in California and may be affecting travel conditions, according to the National Weather Service.
Mountain Pass saw about an inch of snow Monday morning, according to meteorologist Jim Harrison.
"Roads are slick," he said about the highway connecting Nevada and California. "Snowfall ended about 8:30 a.m."
The area will be getting a little sun bringing improvements to the road's conditions, Harrison said.
The Las Vegas Valley will be breezy and cool Monday and temperatures are expected to really drop for Tuesday, according weather service.
Monday's high will be about 50 degrees with a fair amount of clouds. The valley should expect to be done with the rain for now, but showers and snow are still expected in the mountains, according to meteorologist Caleb Steele.
Monday's winds will be between 15 and 20 mph with gusts in the 30s, Steele said.
The weather system currently over the valley, the same system bringing snow to neighboring states, will cause temperatures to plummet Tuesday, according to the weather service.
"We won't make it out of the 40s," Steele said about Tuesday's high temperature. Tuesday's low is expected to be in the upper 20s.
Temperatures are expected to get back up to the 50s by Thursday, Steele said,
Contact Lawren Linehan at llinehan@reviewjournal.com or at 702-383-0381. Find her on Twitter: @lawrenlinehan.