Cool weather expected to push into Vegas overnight
November 2, 2015 - 6:35 pm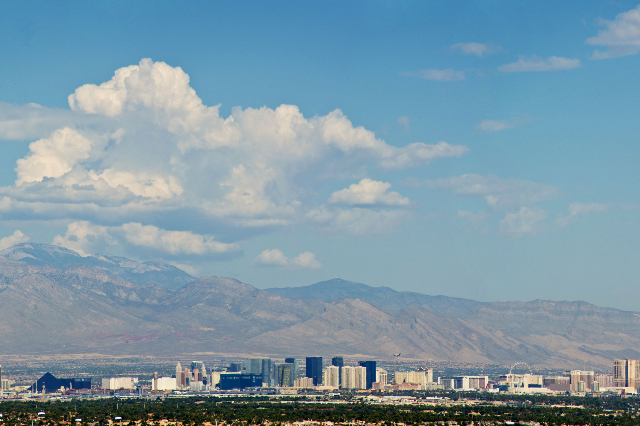 After record-setting warm temperatures Monday, the valley is about to cool down.
And quickly, according to the National Weather Service.
Monday's afternoon high temperature reached 86 degrees, the warmest Nov. 2 since 1937, the same year the weather service started recording temperatures in the valley, said meteorologist Nathan Foster. The high on that day was 84 degrees.
It was warm and windy around the valley Monday, with Red Rock seeing wind speeds as high as 48 mph. Gusts at McCarran International Airport reached 35 mph.
Tuesday is expected to be much calmer and about 20 degrees cooler, Foster said.
A cold, low-pressure system is dropping down from the Pacific Northwest and bringing with it high temperatures of about 62 degrees, Foster said. The valley will see a slight chance for showers — about 20 percent.
Lows Tuesday night should drop to a chilly 49 degrees.
Wednesday will see even lower high temperatures: the warmest part of the day will be 59 degrees, Foster said. Nighttime temperatures are expected to fall to 46 degrees.
Las Vegas isn't expected to get a lot of moisture from the system, but there's a good chance Mount Charleston will get about an inch of snow over the next couple of days, Foster said.
Mount Charleston on Tuesday could see snowfall at elevations as low as 6,500 feet, and on Wednesday snow is expected as low as 5,500 feet.
Thursday should see afternoon highs near 61 degrees before temperatures in the valley rebound for the weekend, Foster said. Highs over the weekend are forecast in the low 70s.
Contact Kimber Laux at klaux@reviewjournal.com or 702-383-0381. Find her on Twitter: @lauxkimber